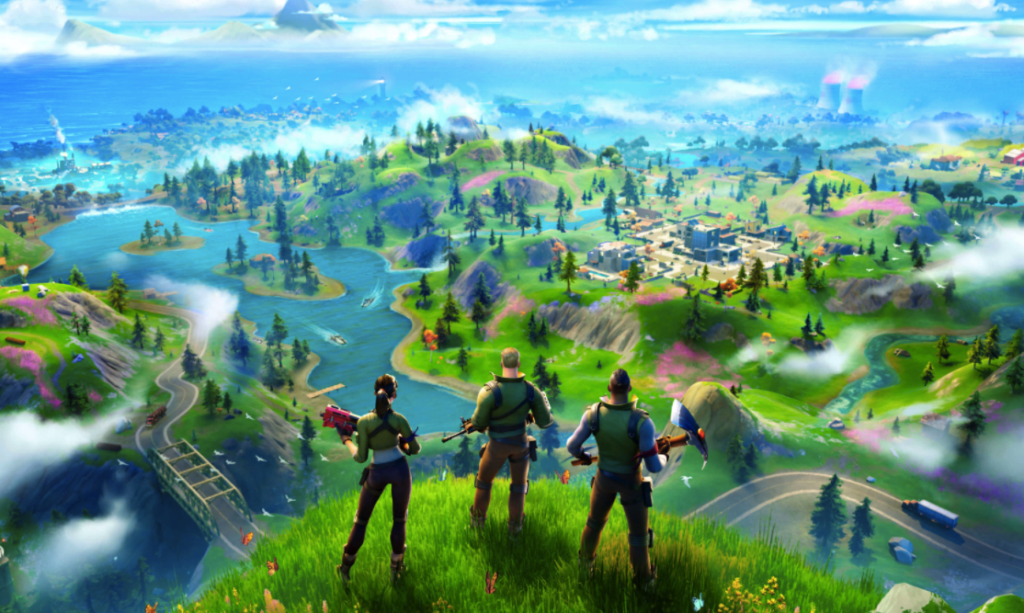 Fortnite Creative presents an endless world of opportunities. However, after some tinkering, you may find your endless world a little boring. With Fortnite Creative Codes, you can recreate your environment to suit your style.
The creative codes not only add aesthetic appeal to the game but also let you tweak the game to your preference. You can set up a less competitive situation to allow you to practice all thanks to the addition of the Creative Mode. In the Creative Mode, you can focus on building battles or enhance specific skills.
Why not also read: 10 Tips How to Get Better at Fortnite
How to Use Creative Codes
You have three options to choose from every time you load Fortnite: Save the World, Creative, or Battle Royale.
To use creative codes, select the creative option, then click Play followed by Create. Once the game is loaded, there's an orange rift that takes you to islands with custom maps. While here, look for featured portals that will put you in a custom portal area. Proceed to find the portals with the console in front of them.
At this point, you can select a code added to your favourites or pass a code that you recently came across. Click Accept and your island of choice will pop up.
Now that you're all set up, here are some great Fortnite Creative Codes that you can try.
Racoon City PD
Code: 9201-6033-0988
Racoon City PD is a great map to try out on Fortnite. There are tons of zombies and puzzles to keep you busy and scared at the same time, as you work your way around. It's an excellent map to get you going. Beware of the checkpoint that might be a little too much to bear.
Futuristic Factory – Gun Game
Code: 8443-3453-8209
The Futuristic Factory gun game is a flowy kind of map that feels more like a skate park than a setting in the future. If you love speed-packed, maps that get your adrenalin going, this code has plenty of options for you. There are speed boost areas that dip into the ramps and paths that will make those single-shot kills a lot cooler.
Rainbow Six Siege House Map Recreation
Code: 9315-3255-7086
You will quickly identify this map from the famous Rainbow Six Siege. It's an excellent recreation of the game's house map and one that pulls all the stops not just the appealing face part of it.
Despite the several walls that seem firmly locked in place, most of the other areas in the map are fair and you can easily enforce your scorched earth policy here.
There are various operator playstyles and spawn points to choose from and you will be spoilt for choice on the weapons available to you. There's everything from auto-shotguns to mini0turrets. In the map, one team defends two bomb points and another team breaks into the house – just like in the real Siege.
The Ridiculous Castle
Code: 6581-3124-9021
There are some crazy and impressive creators on Reddit and this map is a product of one of them. It features a spectacular castle with an outstanding courtyard fitted with water features and various exploration levels. There's nothing really different or new with the map. But one thing the creator does an excellent job at is making the map really pop and become a great background for your play.
Hide and Seek: The Invisible Man
Code: 8112-0478-9776
This Invisible Man inspired map goes for a spooky black and white horror movie vibe and pulls it off excellently. One of the players turns himself invisible and has a harvesting and a revolver. The goal of the other players is to avoid him by running an oddly built and ultimately frightening tower. It will definitely leave you with some goosebumps.
Cybernite
Code: 8179-7650-3099
In this puzzle and item hunt map, you're a member of a cybersecurity team running around looking for canisters housing some kind of virus. There are various side jobs to keep you occupied like hacking your way into mainframes and doing some other cyberpunk inspired stuff. It's the perfect map for geeks!
Gun Game – Vacant
Code: 3939-0057-1674
Some of the most outstanding features of this map are the architecture and the reflective surfaces around.  In the beautifully designed gun game map, you can easily find yourself in an underground tunnel since it's hard to see everything. The only thing that could have made this map even better is only if the players could levitate and get an aerial view of the map. It would be stunning.
Why not also read: Best Fortnite Keybinds and Settings
Loadout Warfare – Poseidon
Code: 0434-3221-0261
Loadout Warfare – Poseidon is a point capture map with plenty of interesting features. It is surprisingly dense with plenty of flanking routes for the teams to make their assault.
The map looks like the inside of a Star Wars destroyer with the boatload of the action taking place in the escapade to plant a bomb and run in a large room.
Players are at pains to secure and defend the point at all angles with no shortage of action. There are several loadouts at the beginning of the game that you can choose from depending on your playstyle.
The Avengers Helicarrier
Code: 9763-8388-5095
This map is a remake of one of the older models of the Avenger Helicarrier. It is the ingenious work of MakaMakes and does a good job of delivering a mind-blowing experience.
The map features a command room, Banner's Science lab and as you would expect, there's a ton of jets parked on the body of the carrier.
The most impressive thing about this map code is how realistic and close to the real deal it is. There's plenty of fun and exploration too which rounds up a really well laid out and thought map.
Resident Evil 7 Recreation
Code: 6496-9997-4696
For gamers that like to pack a little scream while gaming, this is a great Fortnite Creator Code to try out. It packs everything you need to wet your pants a little, including a big fat Fortnite zombie that welcomes you to the family.
In all honesty, the map is a close approximation of the opening chapters of the Resident Evil and does an excellent job of replicating the appeal and feel of the game.
Memory Quiz Chapter 2
Code 6422-6721-7141
The Memory quiz map is testament you don't have to be firing guns or screaming your lungs out for a game to be fun. This mini0game is fun and has plenty of challenges to stifle your brain. For those games that give your brain a run for its processing power and ability, this is a pretty neat game. Just be sure to love yourself enough after failing most of the challenges.
Complete Destruction Royale
Code: 8000-8899-6833
The battle royale map had plenty of destruction and mayhem. If you thought that was impressive, you will love what Destruction Royale has to offer.
Entire street blocks are designed from individual bricks making this the playground for destruction. In this map, everything is fair game. If you need a door, don't look for one, just create it! If you want some extra cover, shoot out the ground to create a crater that is six feet deep. For utter destruction and mayhem, this is the perfect Fortnite map code for you.
Whack a Zombie Arcade
Code: 0266-6811-8054
In this arcade-style classic, you have the option of shooting or confuse the zombies that shoot up from the chutes. Just as whack-a-mole, the game is not as easy as it sounds. Chasing your friends' high scores is definitely going to be a tall order in this game. But that's where all the fun is.
An Entire Dang Airport
Code: 6037-9905-6392
Are the confined spaces not doing it for you? How do you feel about all the action taking place in an airport?
Why not also read: 15 Best Sims 4 Mods
Another excellent creation by MakaMakes, this map shows it's possible to have vast spaces filled with enough detail to make it just as it would on Fortnite. The Airport map comes complete with two terminals, a bunch of planes and a runway.
The map is an exploration mode with player flight enabled. With so much space, it's easy to see why this would be an interesting challenge for you.
100 Kill Sniper
Code: 0377-1286-7849
It would be unfortunate to end a list without covering a single sniper map. This map offers you four times the fun with four separate modes: Sniper rifles, Bows, Rocket Launchers and Shotguns.
The architecture has a tropical feel with whitewashed stone with wind jump pads that will help you get up or across hurdles. It is an approximation of Quake. It's not quite there but definitely one of the more accurate approximations on Fortnite.
Why not check our online PC configurator.
Final Thoughts
Fortnite Creative Codes are the best way to enjoy your Fortnite in your own way. Whether you're looking to blow up people, tear down buildings and entire streets or even go exploring an entire airport, there's a map that is going to make it worth your time. The ability to keep switching things up is definitely a refreshing touch. Even better, you can always rely on the creators to come up with new and more exciting maps.