All the chatter around DDR5 RAM is finally becoming a reality. The new RAM is expected to deliver plenty of new features and an out-of-this-world performance, which is excellent news for gamers and PC enthusiasts.
But, to get a piece of this action, you will need a brand new DDR5 compatible motherboard because the pin design on the new RAM means it will not fit in the same socket as DDR4. Besides the motherboard, you will also need a compatible DDR5 CPU.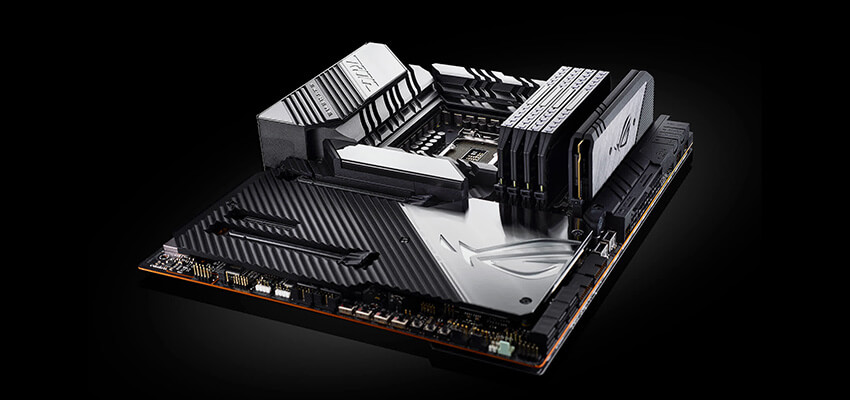 Choosing the right motherboard will ensure you get the best performance, features and aesthetics for your gaming experience. It's important to note that this is a relatively new market, and new motherboards will likely hit the market in quick succession. This review will help you find the best option depending on your budget and personal requirements.
Best DDR5 Motherboards
The DDR5 RAM technology might still be relatively new, but there are already some impressive motherboards you can consider buying. Here's a look at some of the best options you can consider:
ASUS ROG Maximus Z690 Hero WiFi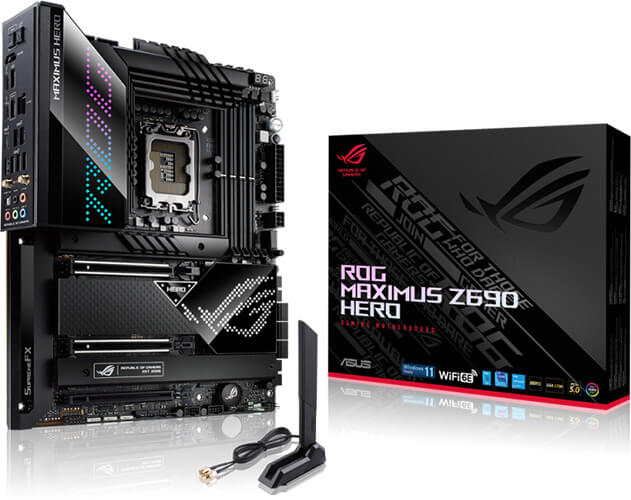 Form factor: ATX
Socket: LGA 1700
Chipset: Z690
DDR5: Compatible
The Asus ROG Maximus Z690 is easily one of the best DDR5 compatible motherboards on the market that money can buy currently. There are more premium options like the Z690 EXTREME that add even more features. But if you're looking for something practical and balances price and value, this ROG Maximus is the best option for you.
This motherboard features 4x DIMM slots for the DDR5 memory holding up to a maximum of 128GB and a max memory speed of 6400+MHz, which is way more than most people need.
Why not also read: DDR5 RAM review
The motherboard features ASUS' Intelligent Control technology, which is essentially considered AI overclocking. The water cooling zone, a sizeable VRM heat sink, and an integrated aluminium I/O cover with a conductive thermal pad ensure enthusiasts have all the support they need for overclocking.
The motherboard also features 3x M.2 heatsinks and 2x M.2 backplates. There is also some two-way noise cancellation features added into the motherboard, as well as Thunderbolt 4 USB-C and a ROG Hyper M.2 card that comes with a Gen 5 M.2 support.
For avid gamers, aesthetics are a critical part of the features. The ASUS ROG Maximus has the AURA Sync RGB lighting system. This includes one RGB header and three addressable Gen 2 RGB headers.
Lastly, you get 2.5GB Ethernet support which is sufficient for most users. This is a perfect motherboard for gamers looking for the best performance without blowing their budget out of the water. It still comes at a handsome price tag, but it is manageable compared to other premium options still offered by ASUS.
Pros
6400+ (OC)MHz max memory speed
4x 32 GB DDR5 DIMM slots for 128GB total
20+1 power stages
PCle Slot Q-Release
Dual Thunderbolt 4 USB-C
Cons
Doesn't have 10GB ethernet support
Fewer power stages compared to most premium models, which have 24+1.
Gigabyte Z690 Aorus Master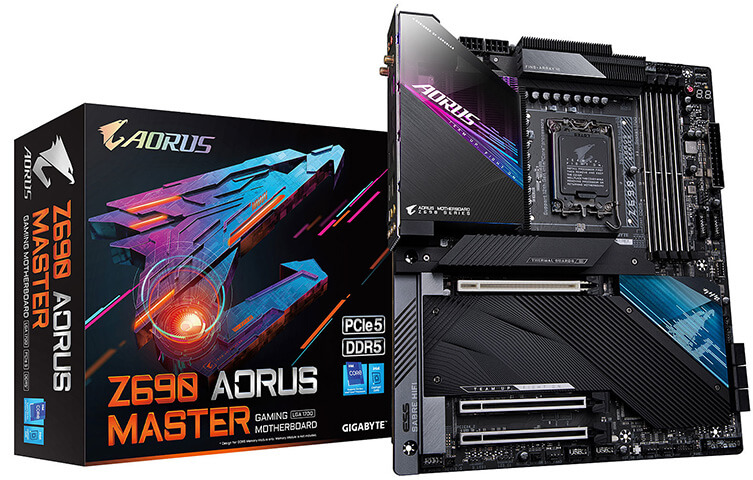 Form factor: ATX
Socket: LGA 1700
Chipset: Z690
DDR5: Compatible
The Gigabyte Z690 is a slight downgrade from other powerful DDR5 compatible motherboards in terms of performance. But, it has what most gamers are looking for and comes highly recommended for anyone willing to spend on a DDR5 motherboard that doesn't come with all the bells and whistles. It's not the cheapest one, but it is more affordable than some of the other premium options you might come across in the market. But the cost is definitely higher, which makes this a more practical option for those going for premium builds.
The collection of features this motherboard offers includes the highest possible RAM clock speeds, which makes it perfect for enthusiasts that want to push the DDR5 RAM to its limits. It has a 20+1+2 VRM design, giving it the most power stages of any of the other motherboards reviewed herein.
It has a thermal reactive armour with plenty of cool features that include the patented NanoCarbon fins-array III technology, a direct touch heat pipe II, NanoCarbon baseplate and M.2 sink – everything you need to test the overclocking limits.
Other than the impressive cooling features, the Gigabyte Aorus Master also features 2x Thunderbolt 4 USB-C, tantalum polymer capacitors and AQUANTIA 10GbE BASE-T LAN. This remarkable range of features shows you why the motherboard demands such a steep price. It is definitely worth it for any gamer who can afford it.
Pros
6600 (OC) MHz max memory speed
4x 32 GB DDR5 DIMM slots
2x Thunderbolt 4 USB-C
20+1+2 Direct Digital VRM design
AQUANTIA 10GbE BASE-T LAN
Cons
The motherboard is costly.
ASUS ROG Strix Z690-I Gaming WiFi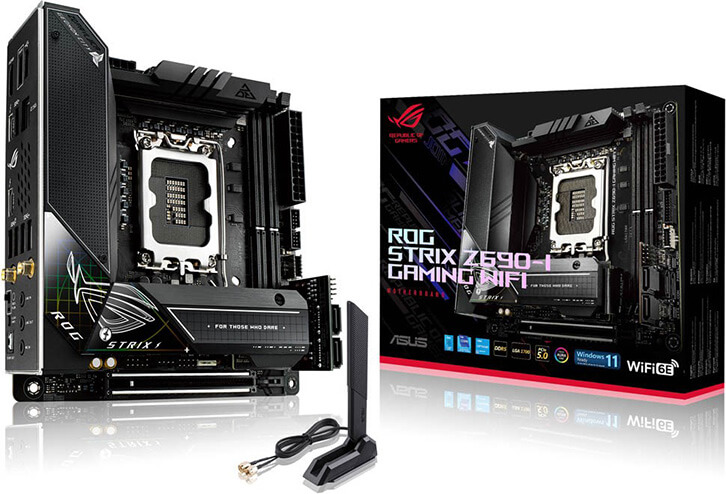 Form Factor: Mini-ITX
Socket: LGA 1700
Chipset Z690
DDR5: Compatible
The first two motherboards are perfect for gamers with ample space and want an ATX form factor. If space is a premium and you can't afford to have a large PC case in your work area, this mini-ITX form factor motherboard will fit right in for you.
The ASUS ROG Strix Z690-I stands out as one of the best mini-ITX motherboards packed with features and has a stunning design. It is also surprisingly reliable.
What is most impressive about this motherboard is that its DDR5 features are not limited or constricted by its size. It offers 64GB of RAM space which is more than most gamers will ever need in a lifetime and 6400+ OC MHz max RAM speed. It is right up there with the full-sized options.
With the smaller options, you can expect some limitations. These include the number of PCle lanes. For this motherboard, you have 1x PCle 5.0 x16. The power stages are also limited to 10+1. Consequently, that means that the overclocking potential of the CPU and RAM will suffer slightly.
The motherboard makes up for this by having a well-designed thermal design that is well optimised and comes with an integrated I/O cover as well as VRM heatsinks that are paired with high-conductivity thermal pads.
The board has PCle 5.0 support, comes with durable capacitors that will easily support multi-core CPUs, 2x Thunderbolt 4 USB Type-C ports, and a ProCool II power connector. Another delightful feature you get from this board is the HDMI 2.1 audio which makes gaming more immersive.
Pros
Space-saving mini-ITX design
6400+ (OC) MHz max memory speed
2X 32GB DDR5 DIMM slots
2X Thunderbold 4 USB Type-C
HDMI 2.1 Audio
Well-designed cooling system
Cons
10+1 power stages limit overclocking
Less features than ATX models of a similar price
ASUS Prime Z690-P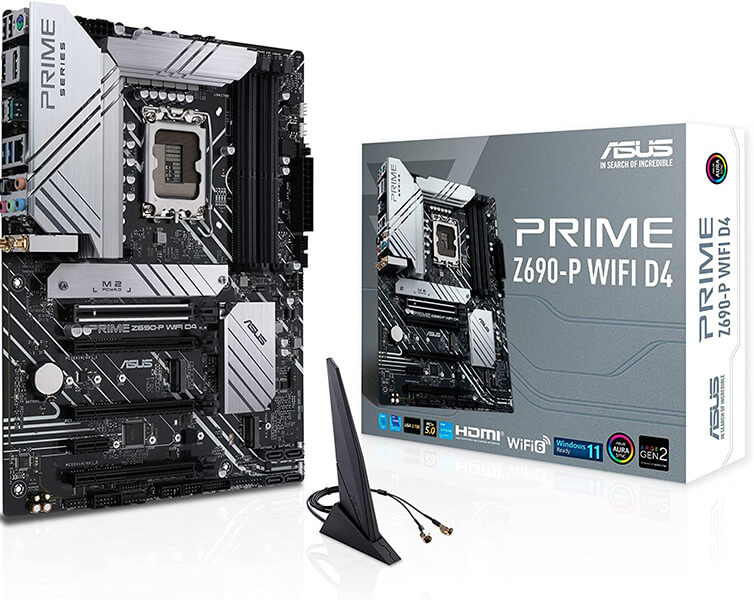 Form factor: ATX
Socket: LGA 1700
Chipset: Z690
DDR5: Compatible
The ASUS Prime Z690-P is the closest thing to a budget DDR5 motherboard in the Gaming PC market. It is also available as the Rocket Lake ASUS Prime Z590-P, but this version has been upgraded to support the Alder Lake CPU.
The previous version was known for its quality build and diversity. The upgraded version isn't too shabby either. It comes with Thunderbolt 4 support, but this is only limited to one port. It has a 2.5GB LAN Ethernet support and WiFi6, which is an excellent addition for the price.
Other features include the 14+1 Power Stages that will limit your ability to overclock your 12th Gen Intel CPU. However, you will still get respectable performance out of the motherboard. You can get up to 6000MHz max RAM speed. For most users, this is more than enough and above the capacity that most gamers can use. The motherboard can hold up to 128GB of RAM, which is more than enough for most gamers for years to come. If you're looking for a top performer that will deliver exceptionally well at all stages without spending too much, the ASUS Prime Z690-P is an excellent option.
Pros
It has 4X 32GB DDR55 DIMM Slots for 128GB in total.
It is relatively affordable for a Z690 motherboard.
2.5GB ethernet
One Thunderbolt 4 USB-C port
Good quality build for an affordable price.
Cons
It only supports DDR5 RAM up to 6000MHz
Only has 14+1 power stages
What To Consider When Buying a DDR5 Motherboard
Knowing what to look for when purchasing a new motherboard will help you narrow down your options and pick a motherboard that suits your needs and budget. Some of the options you should consider include:
The Price
At the moment, the cost of a DDR5 motherboard is quite steep. But as time goes by and more and more DDR5 motherboards are produced, the budget you will need for your DDR5 motherboard will reduce.
At the moment, only the Z690 series is compatible with the DDR5 RAM. These are largely high-end offerings ideal for enthusiast gamers and PC builders. They offer an exceptional range of features and are the only option available that can overclock the new Intel 12th Gen CPUs.
If you can't stretch your budget to fit this new motherboard, the highly anticipated H670, H610 and B660 set to arrive later on at a more affordable budget could be a more practical option.
Form Factor
Just like building any other PC, you will need to consider the form factor when choosing a motherboard you can pair with DDR5 RAM. There are several varieties of motherboards that include the large E-ATX to the small Mini-ITX.
The form factor is largely a choice based on your needs and preferences. If you have limited space, going for a small case makes more sense. However, with ample space as a constant, most builders prefer a mid-tower ATX range that makes upgrades easier and provides enough room for additional cooling and air circulation.
ATX motherboards aren't restricted in terms of features. They offer ample space so you can really push your new hardware using this form factor, and you don't have to worry about overspending on the larger E-ATX.
For gamers on a tight budget, the Z690 motherboard is out of the question. Perhaps waiting for other chipsets and considering an mATX form factor board could be a more practical decision.
Socket
DDR5 RAM is different in a lot of ways, and the socket is one of them. It is compatible with the LGA1700 socket, which at the moment, only the Intel Alder Lake processors use the same socket. This means that all DDR5 motherboards will need to come with the same socket.
The new LGA1700 socket has 500 more contact points compared to the LGA1200 and is larger in size. This also means your current cooler will not fit with your new setup unless you get an LGA1700 mounting bracket supplied by the manufacturer. This shouldn't be a problem because most manufacturers are giving away the supporting bracket free on compatible coolers. You just need to show proof of purchase.
If you don't have any proof of purchase, the mounting brackets are largely on sale, and the prices are pretty affordable.
Should You Buy a DDR5 Motherboard?
If you're intrigued by the new 12th Gen CPU from Intel, or you generally love picking up new technology, picking up a DDR5 motherboard will be inevitable. However, you might want to wait for a while for the prices to stabilize.
From a practical standpoint, you could also wait for the non-K Intel Alder Lake CPUs coming in 2022 or the lower-powered Intel 12400, which would allow you to stick to a DDR4 motherboard and still get some excellent performance out of it.
But if the goal is to wait for the AMD Zen 4 Ryzen CPU, then a DDR5 motherboard is the way to go to prevent bottlenecking the AMD processor.
DDR5 is the new age technology for enthusiast gamers and PC builders, and getting the right motherboard can set you up for quick upgrades as the new RAM and processors start being released.
The decision on whether to buy or not to buy largely depends on your preferences and budget. The applications of your PC could also determine whether investing in the new motherboard makes sense.
Closing Remarks
If you're in the market for a DDR5 motherboard, you can take comfort in knowing that there aren't many options that could confuse you. Nevertheless, you still have your work cut out for you because each option offers a unique range of features. You need to closely analyse each to determine which one provides the best experience.
You should also keep in mind the cost of the new motherboards. Besides the board, you will need to purchase the new RAM and CPU. The total cost can quickly add up. You have to ensure you're ready for the upgrade and have the proper hardware to guarantee the best possible experience.