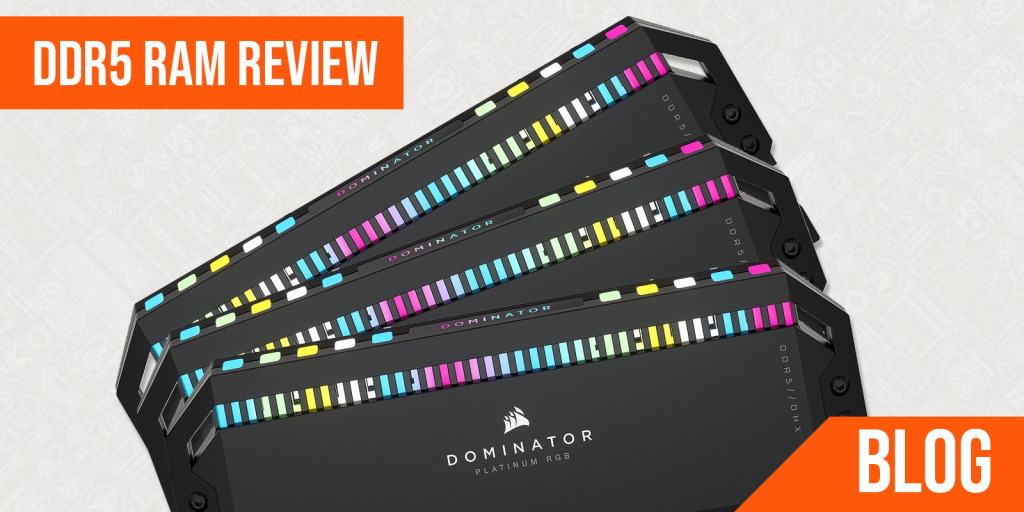 The release of the DDR5 was recently announced along with Intel's 12th generation processors – the Alder Lake series and the Z690 motherboards. Although the new RAM technology has been in the making for over four years, not much has happened around it since details of its existence first emerged.
The new DDR5 is set to supersede the current DDR4 RAM in every performance aspect and area. Over the last six months, there have been some breakthroughs regarding the DDR5 RAM. The last couple of weeks leading to the announcement of the release were particularly eventful, hosting some reveals from some of the leading memory manufacturers in the game.
At the moment, there is no official release date for the DDR5 memory modules. But some manufacturers are beginning to unveil fully functional DDR5 memory kits. Expectedly, there are tonnes of questions surrounding the new modules and technology, and this review will attempt to answer as many as possible.
What is DDR5 RAM?
DDR5 RAM is the successor to DDR4 RAM. As with other PC upgrades, the new RAM offers faster data speeds and better raw performance. The new DDR5 RAM also has more density and RAM bandwidth and keeps the power consumption low.
As it stands, you can use the DDR5 RAM with Intel's 12th generation desktops. Not to be outdone, it is possible that AMD will very soon launch its own line of processors that are compatible with DDR5 as early as 2022.
What Has Changed?
There are several key improvements on the DDR5 modules compared to previous generations. The new chips are faster, offer higher densities, and come equipped with intelligent features perfect for the next era of computing. Some of the changes include:
DIMM Pin layout
The notch location on the DDR5 module has changed. This prevents the new modules from being accidentally plugged into DDR4 sockets.
Power management integrated circuit (PMIC)
The PMIC module helps reduce the role of power management on the motherboard by handling most of it on the chip. The PMIC is the brain behind the intelligent voltage regulation system that facilitates the configuration of voltage ramps and current monitoring features.
Dual 32-bit subchannels
Standard DDR5 modules feature two 32-bit subchannels, which are independently addressable. This helps the multi-core processors to manage the retrieval of data from memory more efficiently.
ODECC memory
Also known as the On-Die Error Correction Code, memory corrects errors before a bad bit can leave the module. With the density of DDR5, there is a potential for data leakage within the module. This feature catches any such bad bits and corrects them.
Other notable changes on the new DDR5 DRAM module include lower power requirements, higher speeds and greater bandwidth, double banks and burst length.
How Much Better is DDR5 to DDR4?
The new DDR5 doesn't deviate from the DDR iteration. Undoubtedly, it has gotten a performance boost. The architecture has also received some upgrades. DDR5 RAM starts at a range of 4,800MHz to 5,600MHz. It is 1.8 times over its predecessor, the DDR4, in terms of performance.
Despite having more power and better performance, the DDR5 RAM is more power conservative. The latest iteration only uses 1.1V, while the DDR4 alternative uses 1.2V. It might not seem like a huge difference, but that is a 20% reduction in power requirements.
Price and Availability
DDR5 chips have been around since 2018 when they were first made. But were only officially released in 2020. The actual commercial kit would only become available mid 2021.
Typically, you would expect the DDR5 sticks to cost more than their predecessor, which they do, but not by much. The actual price of DDR5 kits is not clear yet because they are still in such high demand and are selling out as soon as they are in stock.
As the market calms down and the demand and supply of the new RAM technology balances out, the actual cost of the DDR5 RAM will come out. It's important to note that at the moment, only the Alder Lake CPUs can support the new RAM. But expect other manufacturers to jump in quickly.
Performance
DDR5 memory brings with it a number of performance improvements. The most notable is the greater frequency potential. The first kits won't have a bandwidth that is drastically higher than what you would find on the most advanced DDR4 sticks. Over time, this will be possible as official motherboards become more receptive to those higher frequencies.
The official specification of DDR4 memory speed is at 3.2Gbps. The first DDR5 sticks debuted at 4.8Gbps and are expected to reach 6.4Gbps. Overtime time, manufacturers could push the data rate to as far as 8GBp to adapt to increasing demands for speed.
DDR5 RAM sticks will also have looser timing because of the higher bandwidth memory. The first DDR5 modules to be released had timings as loose as 40-40-40-77. In comparison, the DDR4 G.Skill TridentZ DDR4-4800 had a timing of 20-30-30-50. Although this feature gives the DDR4 varieties an edge, you can expect that the performance will improve considerably with time.
The DDR5 RAM sticks also have a new channel architecture which will play a big role in improving performance by enhancing memory access efficiency. With the new RAM, each DIMM will have two channels instead of one, but the overall width of the channels will remain the same (64bits). The two smaller channels can drastically improve efficiency, which could, in turn, boost the performance and integrity of the signal.
Although in-depth reviews are not yet released, theoretically, the new technology should have a significant performance advantage over DDR4 at the same frequencies.
Capacity and Power
The DDR5 RAM can easily handle greater-capacity memory chips. DDR5 can reach up to 64GB per chip, while the DDR4 dies were caped at 16GB. Individual DDR5 sticks can reach capacities as high as 256GB. Although this doesn't mean much for mainstream PCs, it is a big boost for HEDT systems and other systems that need larger single CPU memory arrays like enterprise servers.
This unique feature increases the amount of data that powerful CPUs can access simultaneously. Even for mainstream PC owners, there are some benefits as well. Upgradeability will be easier because now you can run the system on a single 16 or 32GB stick which makes it easier to upgrade in the future with another stick.
This is more so critical for small Mini-ITX systems, which might have only two DIMM slots. Low power systems haven't been left out. They will benefit from DDR5 RAM because of its lower power consumption rating, which is just 1.1V. It's possible that DDR5 will offer additional performance advantages when running at higher voltages. But there is also the option of under-volting it to reduce power demands but still get higher speeds than most DDR4 kits are capable at the same power consumption.
For devices looking to boost battery life on new-generation hardware, this is excellent news because you can save at least 20% on power.
There is plenty to be excited about with DDR5 chips. As you would expect with new technology, there are designs and performance upgrades.
Better design
The DDR5 RAM offers better design and architecture. It supports most high-speed systems, including services. This is one of the reasons why there is a massive shift from DDR4 to DDR5 despite the latter being in the market for a short time.
Features
DDR5 offers better and more robust features than its predecessor. It has a buffer chip of 3.2GT per second and a clock rate of 1.6GHz. The clock rate can be enhanced to 3.2Ghz, and the buffer chip can go as high as 6.4 GT per second.
Power usage
The lower power usage of the DDR5 RAM has been highly raved about it and also previously mentioned in this review. It's amazing that a more powerful and faster chip can consume 20% less power. This also means there is better noise management in the system.
Channel architecture
DDR4 RAM has a channel architecture of 72 bits bus, 8 ECC and 64 data bits. DDR5, on the other hand, has two channels. Each channel has 32 bits and 8 ECC bits.
This design will have two channels of 40 bits each instead of a single 72 bits data channel. In total, you should have 80 bits on both channels.
Gain efficiency
The features and design of the DDR5 RAM will positively impact the efficiency of the system. Although the burst length of the DDR 4 RAM is limited, DDR5 RAM has its burst extended beyond it and also has a burst chop.
DRAM capacity
The DDR5 RAM can be as high as 32 GB on a single die package. DDR4 is limited to 16GB within the same parameters.
Support features
DDR5 has better, more applicable and more useful features compared to DDR4. The new chip can support Error Transparency Mode, On-die Error Correction Codes and read and write CRC model and post package repairs. These features enhance the capacity of the DRAM.
Scalability
The architecture and design of the DDR5 RAM mean it can scale up to 6,400 MT per second. The chip can easily meet your need for speed. DDR4 RAM has a limited DIMM speed of about 3,200 MT per second and a clock rate of 1.6GHz.
Design challenges
Being a new product, there are still plenty of challenges that need to be sorted, including the lower voltage, power usage, higher speed requirements and enhancing signal integrity. However, this has nothing to do with user experience. It is from the designers' point of view.
Costs
Expect to pay more for DDR5 RAM than you would DDR4. This is understandable and is perhaps the greatest bottleneck to the uptake of DDR5.
Uses of DDR5 RAM
Over the years, the demand for better and faster performance has always been on the rise. With the release of the DDR5 RAM, most of these demands have been met, and users now have the support they need to for different applications. Some of the most obvious use the DDR5 module is suited for include:
High-end gaming with complex features
Large frame buffers of personal computers
3D rendering
Video and music production
The chip can support high-resolution displays like the 4K display and can handle graphic-intensive applications and technologies.
How It Works
The higher performance of the DDR5 module is attributed to its higher bandwidth and increased high-density modules. Other configurations of this module include:
8Gbit per second per pin
256Gbit per second bandwidth per chip
X170 pins on the BGA package
X32 bits per I/O cycle
These features ensure the chip helps the system to function at optimum levels and speeds. The chips work in these steps:
The interface transfers two 32-bit wide data words per write clock or WCK cycle back and forth from the I/O pins.
The corresponding 8N prefetch, acts as the single read and write access has 256 bits wide two CK clock cycle data, transfers it to the internal memory core.
The corresponding 32-bit wide one-half WCK clock cycle transfers the data to the I/O pins.
The memory chips use two write clocks WCK01 and WCK23, with two bites and one command clock.
Is DDR5 Worth Buying?
At the moment, it is not clear how much the modules are going to cost after they are officially released. But you can expect to pay more for them than you would the DDR4 module.
Ideally, computer systems thrive when they have speedier RAMs, particularly the AMD CPUs. Although it's not clear what hardware will be compatible with the new modules, it is clear that they could make a substantial impact on performance.
For the moment, it could be best to wait to assess compatibility issues and cost. This will help you make a more informed decision on whether upgrading right now would be the best approach for you.