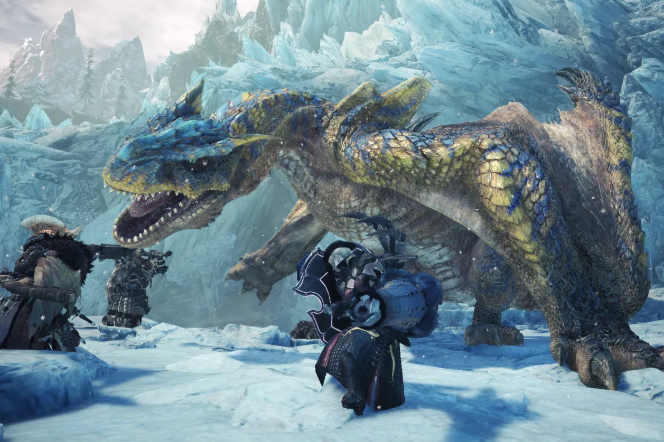 The internet is fertile with different Monster Hunter: World mods. With the diversity of mods available, you can choose anything from improving graphics and look of the game and even having custom quests.
The mods are so many you didn't even know some of them existed until now. Having unlimited options is not always great. This is especially true with mods. You can't install all the MHW mods. You have to choose wisely. So, we put together 10 of the best options that will improve your experience and give you a winning edge.
MHW Mod Manager
You need something to keep things tidy and neat. That's what a mod manager is for. It might not give you an edge, but it will make it easier for you to download, activate, deactivate, or delete the mods. With a mod manager, you can select a folder for all your mods. The new location will give you seamless management of all your mods.
Why should you use this mod?
It keeps your mods in order
It's easier to install and uninstall mods with a mod manager
All your mods are in one easy to find the location
How does this mod give you an edge?
You get notified if certain mods conflict
You don't have to modify game files with the mod manager
No risk of losing vital game files
Why not also read: The Future of VR Gaming
Improved NPC Location
There's not much to say about this mod. Its name describes what it's about. It helps you see all the NPCs in your gathering hub.
Why you should use this mod
All the NPCs are in one area
It super convenient
You save time when hunting
You can easily remember time events like the Argosy
You have the harvester within sight ready for fertilizations
How does this mod give you an edge?
You cut back on travel time and maximise on hunting time
Unlimited access from the gathering hub
Faster access to the Tail Raider
Souvenir's Light Pillar
Finding certain drops in the game can be challenging at times. Killing multiple Deviljhos is the easy part. It's finding the gem that proves to be a challenge. As much as there's a screen after the hunt that notifies you that the drop is close, that's all about you get. With the light pillar mod, you have an easy to see light pillar on all drops. Now you can save time finding drops. It's truly a godsend mod that will save you lots of time.
Why you should use this mod:
You get to find all the gems
The drops and materials stand out and are easier to find
How does this mod give you an edge?
You get more loot by locating more drops
You not only have eyes on the loot location but also when it disappears
Armory Mod
You want to stand out and have a diverse collection of amour sets. The only problem is, with so many things to choose from, it's easy to get confused. With the armour mod, you can plan and research the armour you need from all the skills and decorations.
It won't save you time but it allows you to be better prepared for the hunts and pick armoury and skills that give you an edge in the game.
Why should you use this mod?
The mod saves you the trouble of remembering every armour detail
You don't have to pay for theory craft
How does this mod give you an edge?
You know which creatures you need to hunt
You are better prepared for combat
All the data you need for the armour available are in one application
Blur-Be-Gone
One of the most annoying aspects not only on MHW but on all games with the motion blur. It's irritating and takes away all the gains of graphics. In MHW, it's slightly worse and even results in motion sickness sometimes. It's hard to disable it in the game, but with Blur-be-gone, you can disable the motion blur and even vignetting effect caused by the depth of filed.
But there's a catch! You can only use the blur-be-gone mod with Kaldaien's Special K Pack, which is another neat mod that we will cover next.
Kaldaien's Special K Performance Pack
One of the downsides of running MHW is its high appetite for CPU performance. It can easily take a toll on most gaming rigs. To fix that, the Special K performance mod was invented. It's a highly effective mod that helps to cut down on CPU usage particularly for lower-end machines.
Other than reducing demand on the CPU, the mod also helps to enhance re-shade options and it also helps to fix some full-screen problems.
Despite the several patches that have improved the performance of the game, this mod remains a must-have. It also happens to be one of the best performance mods in the market.
All Items in Shop
This is more of cheating than mod. But it does make life as a Monster Hunter easier and more productive. The game is all about slaying monsters, and getting parts to improve your itinerary. As with most games, you will rarely have everything you need to get the best armour and that's where things start to get a little frustrating.
With the 'All Items' in the shop, you have most of the materials and decorations to the in-game shop. You only need to have the money to have the tools you need.
You still have to go through plenty of hunting to scour the money so, it's best to save up this mode when things are not going your way.
With so many interconnected systems, Monster Hunter World has a litany of mods that you can choose from. You can't have them all, so you need to pick the ones that have the most impact for your gaming style. You have everything from mods that give you an edge in the game to improving graphics and working on that irritating blur. All you have to do is take your pick.
You will need a good gaming PC to keep up with your customised gaming and mods. Luckily here at Fierce PC, we have a wide variety of high-end gaming PCs for you.