EXPERIENCE SUPREME PERFORMANCE
WD_Black SN850 NVMe
Prepare for the next evolution of speed with the WD_BLACK™ SN850 NVMe™ SSD, giving you supreme PCIe® Gen4 technology for your PC so you don't lag out on the next generation of games.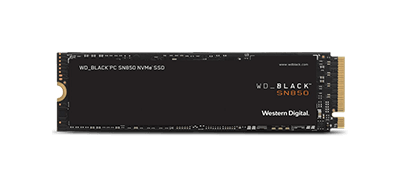 WD_BLACK SN850 NVMe
Speed Kills. This Decimates.
You asked for fast, we overdelivered. The WD_BLACK™ SN850 NVMe™ SSD reaches irrational 7000MB/s read speed and 5300MB/s write speed2 to get you in quicker, with up to 1,000,000 IOPS for a smooth, responsive and powerful gaming experience.1
Store More. Play More.
With up to 2TB2 capacity, the WD_BLACK™ SN850 NVMe™ SSD gives you the space to store your favorite games so you still have room for the next big title to store your large files and video games.
1. IOPS = input/output operations per second. Performance will vary depending on your hardware and software components and configurations. 2. As used for storage capacity, 1GB = 1 billion bytes and 1TB = one trillion bytes. Actual user capacity may be less depending on operating environment.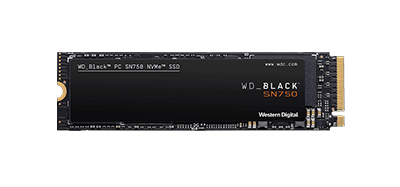 WD_BLACK SN750 NVMe
Performance Matters
Live life in the fast lane, whether you're looking to boost your system's overall responsiveness or load games and levels quickly, the WD_BLACK™ drive cuts down on your wait time to get back into action and gets you ahead of the game.
Space to Play
At the core of the WD_BLACK™ drive is its revolutionary NAND technology. By doubling the storage density from its previous generation, our 3D NAND pushes the limitations of storage and showcases the amazing feat of NAND innovation. This means extended capacity on a single-sided drive that's roughly the size of a gumstick, enough to store your large files and video games.
See How WD_Black Can Transform Your Game

PERFORMANCE
WD_BLACK™ drives are transforming the way you game when it comes to premium storage expansion and performance in consoles and PCs. Every feature, design, and material that goes into developing WD_BLACK™ products are purpose-built to provide gamers with the tools and equipment they need to perform their best.

COLLECTING
With expansive storage capabilities on WD_BLACK™ drives, your beloved titles can breathe a sigh of relief and relax in the background as you fire up that new game —no more sacrifices to the digital boneyard required.

TIME
Think of the countless minutes and hours you've spent in your lifetime staring at tedious loading screens, waiting for downloads to complete, or deleting files to make room for new games. Get that time back by increasing your console or PC's storage and speed with WD_BLACK™ drives. Because the game never waits.

CERTAINTY
WD_BLACK™ drives constantly raise the bar on what gamers can expect from a storage device. The power of certainty, built over years of product development and consumer feedback, gives you the unwavering confidence you need to play without apprehension, and the assurance that our hardware will be consistently reliable.

WINNING
Spend less time worrying about your hardware, and more time winning. WD_BLACK™ is breaking the mold when it comes to premium storage expansion and performance. Purpose-built for gamers, WD_BLACK™ gives your console or PC the trusted, reliable performance boost and capacity it needs.

Because The Game Never Waits