Who are GameMax?
GameMax is a company that offers an extensive range of gaming products that enables all individuals to have an incredible gaming experience without having to spend a considerable amount of money. The products that GameMax provide, all stem from their development team who are extremely passionate and have a deep love for gaming. These heart driven products span from Iceberg water cooling systems to gaming cases, coated with LEDs that illuminate and shine with brightness and luminosity.
Top 3 GameMax PCs
With the high-quality system of the Kawaii Kreation, gamers have the opportunity to stream with significant style with this beautiful case desig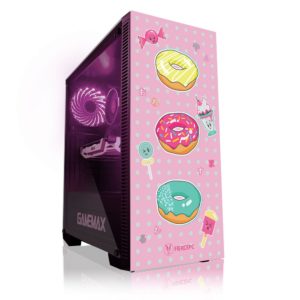 n bursting with colour and characteristic groove. In fact, the term Kawaii actually translates into cute and that's exactly what this design is! Reinforced with delicious donuts located on the front panel of the PC, which are implanted with brilliant LEDs that will illuminate, gleam, and burnish your gaming experience. Not only does the Kawaii Kreation look sensational but when it comes streaming your favourite game, this system really does deliver. You may ask, how is this possible? Well, this is made a heavenly reality thanks to the Intel Core i7 8700 3.2GHz (4.6GHz Turbo) 6-Core Processor and the prodigious NVIDIA GeForce GTX 1060 3GB Graphics Card, will ensure that this is all achievable and suitable for your gaming demands. Not only this, the Kawaii Kreation has 8GB of 2133MHz DDR4 Memory so you can successfully manage all of the applications that you need. Cool right? Now do not pass up the opportunity to get your hands on one of these remarkable Kawaii Kreation PCs and breeze by purchasing one of your own for the reasonable and affordable price of only £959.95 or finance from £23.98 per month.
The Witch Doctor. One of the most exceedingly powerful stated gaming PCs we have to offer, will ensure that you can stream all of your favourite games in sinister style with its unique light up LEDs fixed on the front panel of the system, converging together to create an astonishing and villainous image of a wicked witch doctor. Not only is this dark design classy, but it is also almost invisible as it is crafted from tempered glass, resulting in extensive resistance from damage. This remarkable PC has also received the Gamers Choice Award with gratitude. Not only is the menacing appearance of this PC impeccable, but what really makes this system award-winning, is the outstanding silky smooth and immense gameplay that runs on the Witch Doctor. With this PC you will experience a phenome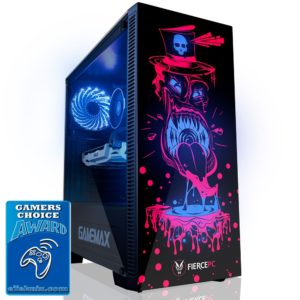 nal mix of free-flowing, unrestricted gameplay merged with delicately crisp graphics that will be sure to satisfy your eager gaming desires. How so? This is due to powering of the Intel Core i5 8600K 6-Core CPU overclocked to as high as it will go on all cores to ensure these expectations are achieved. This CPU is tested vigorously to the max so your overclock does not cause you any problems. Once you purchase this superlative, superior, system you will be set for many years to come as storage is presented in the shape of a 500GB M.2 Solid State to ensure the importance of both speed and efficiency. So why wait? Dive into an investment you will not regret and acquire the Witch Doctor today for the acceptable price of £1799.95 or Finance from as little as £44.97 per month.
The Blackfire Apex is one of the greatest and prolific PCs we have to offer thanks to its exclusive and extraordinary design on the front panel of the system. This noteworthy front panel of the PC is equipped with shimmering LEDs which are uniquely programmed to show diverse amounts of colour and creativity. Controlled by the RGB switch located at the top of this wonderful PC, this allows your imagination to run wild as you are able to have control over the entirety of the lighting at your own fingertips. This lighting has an impressive colour gradient as you can have the endless satisfaction of watching one tone of brilliant colour fade into another. Not only does the Blackfire Apex have stunning lighting and colour, but you can also count on this PC to run all of your personal favourite games and app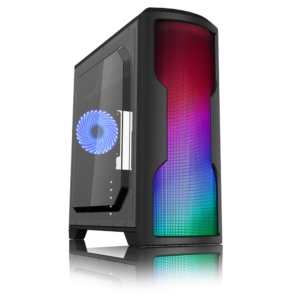 lications smoothly and fluently as it is Powered by an Intel Core i5 6500 running with a 3.6GHz boost clock. Furthermore, you can experience exquisite graphics with the compelling NVIDIA GeForce GTX 1060 6GB Graphics Card. Fearing memory might be an issue? Not to worry the Blackfire Apex is present with 16GB of 2133MHz Memory, and a 120GB solid-state drive for near-instant boots with a huge 1TB SATA3 hard drive enough for every single one of your cherished games and beloved applications. The awesome Blackfire Apex has been so highly regarded as such a successful PC, it has captured the consideration of Vortez, a website that evaluates and reviews Pcs and parts, have analysed the Blackfire Apex and have described it as "a good representation of a prebuilt system under the £1000 mark." And have proceeded to give the Blackfire apex a silver award! This fantastic PC is available for the quality price of £929.95 or £23.23 per month.
Outro
You can see several GameMax cases we have to offer on the Fierce PC website. Also, make sure to give us a follow on social media to ensure that you are updated with all the latest content and offers.
Twitter: https://twitter.com/FiercePCltd
Website:https://www.fiercepc.co.uk/
Why not also check out our other blog posts such as the BullGuard Cyber Security Review.