Your PC case is just as important as other components of your gaming rig. Unfortunately, for most gamers, buying the PC case is an afterthought and usually, it doesn't get the thought and consideration it needs to ensure your entire system comes together to deliver a stunning all-around performance.
Like other PC components, the PC cases market has thousands of options available that come in different configurations and have varying features. There are tonnes of factors to consider and at times, it can be a confusing and time-consuming task.
This blog aims at helping you make the best decision possible while spending the least time and going through the least trouble possible getting the ideal PC case for your PC.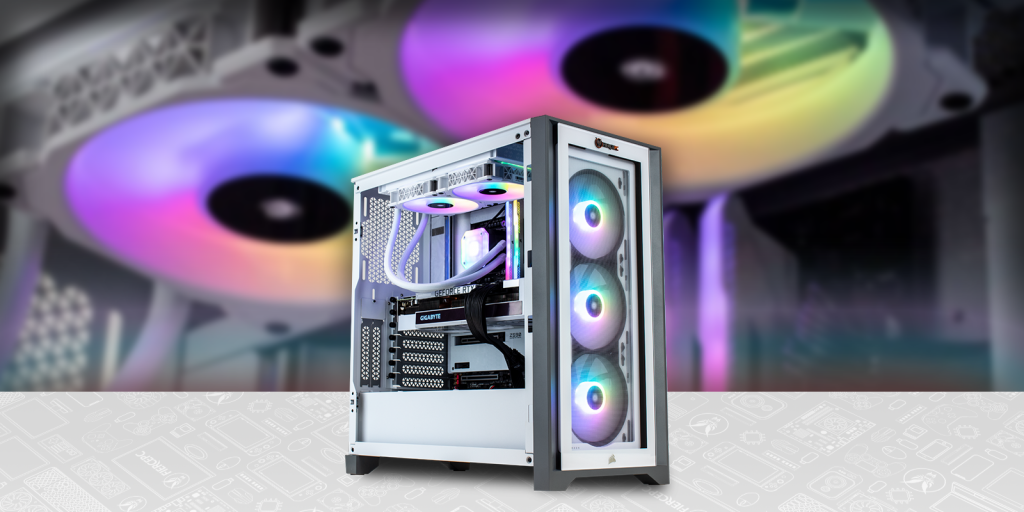 What To Consider When Buying a PC Case
There's no one-size-fits-all option with PC cases. Depending on your setup, the components you have and your budget, the best PC case can vary from gamer to gamer. That's why it's important to know the most important factors to consider when purchasing a PC case. These will guide you and help you get the best case possible for your needs.
Size and Form factor
Before delving into the various features and designs of form factors, you first have to consider the size and form factor of the PC case.
The size of the case will dictate the things you can and cannot install in your system. You shouldn't take the size of the PC case lightly either. You need to know how much space is available and the type of hardware you would like to install. Having an idea of the cooling system to use will also help you settle on a decent size that will work best for you.
Size of motherboard
When determining the size of the PC case that is best, consider the size of the motherboard you want to use. Different motherboard sizes accommodate the needs of different kinds of gamers depending on their long-term goals.
Gamers that want a compact build go for the mini-ITX motherboard. It is the smallest form factor motherboard in the market. However, you should know there are downsides to the space-saving size. For instance, upgrading on such a small board is limited not to mention there's also a bottleneck on performance.
Why not also read: Best Gaming Motherboards
Other varieties include the M-ATX (micro-ATX) motherboard which is slightly bigger than the mini-ITX, the ATX and the EATX (Extended-ATX). The EATX is the largest motherboard offering a full range of features and impressive customisation and upgrade options. The ATX is the standard offering a balance between size, features and price.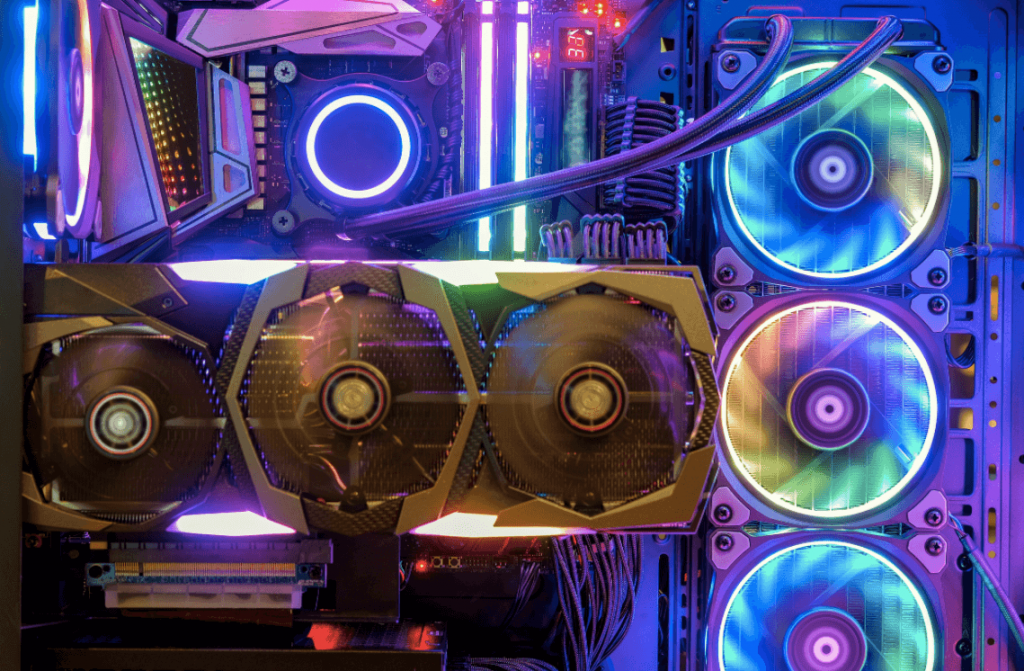 Full tower case
After selecting the motherboard, your focus now shifts the case. The full tower case has the perfect size to comfortably house the EATX motherboards. However, you can also use this type of tower case to house other smaller motherboards, though in some cases, you will be wasting most of the space.
Mid-tower case
Mid-tower cases are arguable the most popular PC case size. The cases are smaller than their full-tower counterparts, but with enough internal volumes to house all the internal components you want in your game. The mid-tower case can comfortably handle ATX and MATX motherboards, but you can also find varieties designed to support EATX motherboards as well.
When you're looking for a PC case that balances size, performance, features and can support future upgrades, the mid-tower case is an excellent choice.
Mini tower case
At this size you must be willing to compromise some internal components. Mini-tower cases cannot house all the internal components you might want. However, the cases are more compact and offer better compatibility because of their small stature. It's also worth noting that mini-tower cases cannot house a motherboard that is bigger than the MATX form factor.
Mini-ITX case
Mini-ITX cases are for gamers with severe space limitations. These cases will only house mini-ITX form factor motherboard and other mini-ITX components. Although severely constricted, these PC cases are perfect for gamers that want a powerful rig or workstation that is portable and can fit in tight spaces.
Modularity and Options
Modularity is becoming more popular because of its customising power and flexibility of upgrading different parts. Modular PC cases make it possible for gamers to add and remove parts like the mounts, trays and covers. The cases are more flexible and give the gamer more control over the appearance and aesthetics of the case.
However, just like other cases, you don't want to go overboard with modularity. While its easy to get fixated on the idea of adding and removing almost every part of the case, it's worse to get stuck with a non-modular case that has a constricting and standard design. Check around to see what the market has to offer and pick a PC case with the options you feel are most important for you.
As for the options, the basics are some onboard controls and ports that include a few USB 3.0 ports on the front, headphones and microphone jacks.
There's no limit to the range of options you can have on your PC case. The options can include a variety of port combinations and convenient additions like LCD panels, fan and light controllers and clocks among others. It goes without mentioning, the more advanced the modularity and options on your PC case, the more you're likely to pay for it.
For a premium experience, you can also consider going for a soundproof case. These are popular among high-end setups that have lots of fans running and you want to tone down the noise and make focusing easier.
Airflow
Airflow is an often-overlooked factor that can adversely affect how your PC works. Although the PC case might look great at first, if you want to build a powerful system, you need to look deeper. Exceptional airflow is critical to the functioning and health of any PC, especially gaming PCs that will frequently push the hardware to its limit. Having ample airflow makes it easier for the components to dissipate heat and keep within their optimum operating temperature.
The PC case should also have enough space to install additional fans when needed. If your budget allows, look for cases that have provisions for at least three fans.
Cooling systems
When purchasing a PC case, it's advisable to have an idea of the type of cooling system you intend to run on the PC. If you plan to use liquid AIO coolers or install custom liquid cooling for the GPU and CPU, the case needs to have the necessary openings and provisions for an easier and cleaner install.
If you already have the cooling system, check if the case can support the radiators in your system. Most PC cases will list the radiator size supported by the device so it shouldn't be hard to determine compatibility.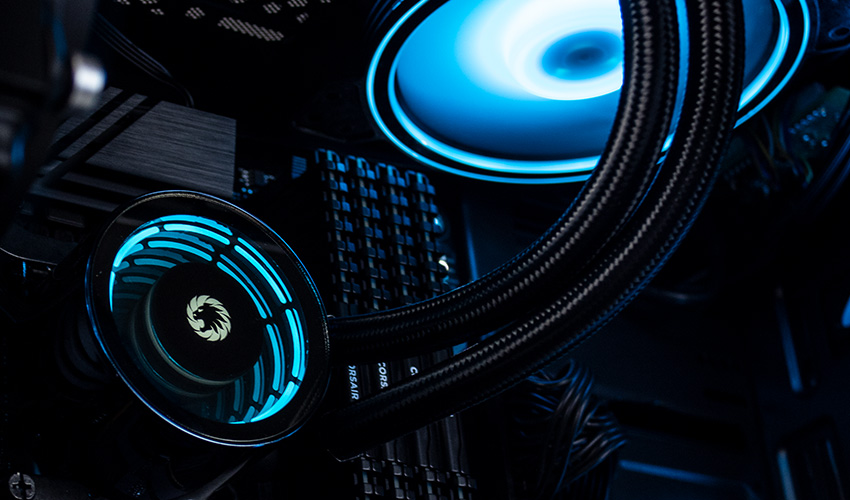 Cable management
PC cases with cable management features are becoming the norm. This feature makes you build neater and the cables are much easier to manage. Cable management gives your PC a cleaner interior and even in future, the modification and installation is much easier. Some of the features to look out for when considering good cable management include dedicated sections for hiding and routing cables and a removable backplate on the cabinet.
PSU
You can find PC cases that come with the PSU unit. It's quite tempting for gamers who are trying to pinch pennies. But it's not a good idea.
The PSU is an essential component of any gaming PC. It's not a component that you should be watching your budget for. If you're putting in some serious money on your build, you need a PSU that will deliver adequate power to each of the components. It's strongly advised to only get PSUs from reputable and reliable manufacturers.
Build quality
Build quality doesn't refer to the feature but the overall feel of the materials. Having a feature-filled PC case doesn't mean it has good build quality. Most gamers will often want to save on the PC case and might compromise on the quality to save a few pounds that you can later use to get better components.
It makes sense, but is it worth it? You don't want your gaming rig housed in a cheap, unsightly plastic case. The design has to be top-notch for proper airflow and high-quality plastic that is durable and long-lasting.
Aesthetics
Once you cover all the vital factors, you can now turn your attention to the appearance of the case. Most performance-oriented gamers won't care much about aesthetics, but it doesn't hurt to have a great performing gaming PC that looks even better. With regards to aesthetics, it's important to note that it's mainly personal preference. But you have several options you can consider;
Tempered glass panels – PC cases with tempered glass panels look stunning. To make the most out of the panels, you have to put in extra work putting away and managing the cables properly. If the build is done properly, having tempered glass panels can create a gorgeous look inside the PC.
RGB lighting – RGB lighting is a great way to add some pizzazz to your gaming rig. It's not everyone's cup of tea. Some gamers even find it too loud, annoying and distracting. But if you're the type of gamer that loves some light and colour with your rig, RGB lighting is a great way to get people to pay attention to your rig.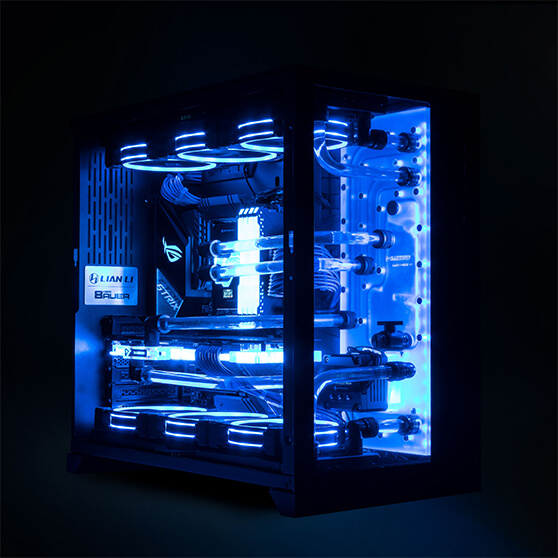 Front Panel Connectivity
Front panel connectivity isn't a priority, but a convenience. If you have a set of ports you would prefer to have on the front of the PC case, check to ensure the cabinet's front panel support them. Also note that these ports should be in the same location on your motherboard and in the same sequence. If you already have the motherboard, it's much easier to confirm the setup.
Price
It's impossible to discuss PC cases exhaustively without touching on the price. The cost of the PC case is what influences the mind of the buyer. While it's easier to purchase a more affordable option, it makes more sense to pay a little more for something that will serve you longer, makes upgrading easy and ensure your components are safe and performing at their best.
Best PC Cases
With a full list of factors to consider when purchasing a PC case, we can now start looking at the different options in the market. Using your list of features and factors, you can compare each of the cases to see which one best aligns with your needs and requirements.
Fierce PC Lumina Lightboard ARGB Gaming PC Case
The Fierce PC Lumina PC case is perfect for gamers that appreciate aesthetics especially when they come in the form of RGB lighting. Besides the impressive appearance this PC case offers, it also has a stunning selection of features that earn it the title of best overall gaming PC case.
Key Features
The Fierce PC Lumina is a mid-tower gaming PC case with enough room for an ATX motherboard. It's an all-black case with two 4mm tempered glass panels on the front and left side. A honeycomb pattern design for mounting of fans or water-cooling devices fitted with two ARGB strips sits on the right side, delivering functionality and a spectacle in any gamin environment.
The case has versatile cooling options offering a total of nine 120mm fans in total. It also comes with two GameMax Velocity fans and has enough room for multiple radiator configurations with room for up to a 360mm radiator at the top for optimum cooling. Whether you're looking to start simple or go all out right from the beginning the case has everything you need to set up your rig as you see fit.
The Lumina also comes with an ARGB motherboard 3-pin connector. When connected to the motherboard, you can use the Mobo software to sync your fans the way you like for a stunning light show. It also has LED lighting control for easier connection.
When choosing the motherboard, you want to choose one that allows you to spend more time doing what you love and less time cleaning. The Lumina has magnetic dust filters at the top and right-hand side of the case. These keep the dust from getting into your build and also help to improve the performance of the chassis. You don't have to worry about cleaning inside the case often.
Pros
Commendable size. It can hold an ATX motherboard
Tempered glass side panels
Plenty of fan and cooling mounting options
Excellent aesthetic with innovative features like motherboard sync
Can support liquid cooling setups.
Affordable price range
Cons
It might not fit in tight spaces
Slightly limited in terms of features
No cable management or PSU shrouds.
Lian Li PC-011 Dynamic
The Lian Li PC-011 is among the best PC cases in the market. The only reason why it's not a top contender is the price point.
The case is designed by Lian Li and DER8AUER. It looks special with impressive performance even when under load. Sublime – is the perfect way to describe this case.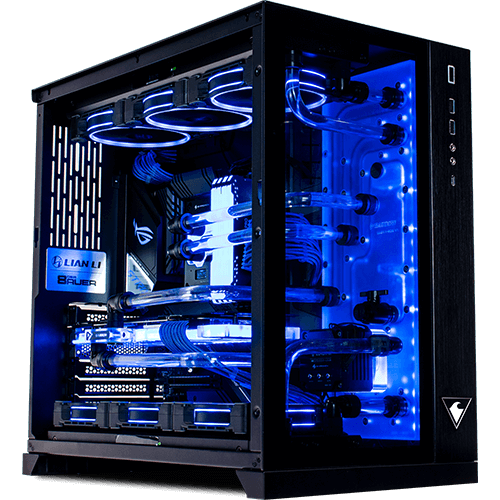 Key features
It's a mid-tower PC case with enough space to house an ATX motherboard downwards. It has six SSD bats, 8 PCIe ports, can hold up to nine 12omm fans, up to 360mm radiator and has front USB-A 3.0 and USB-C 3.1.
The Lian Li PC case is a straightforward build case with water cooling support and multiple radiator mounting options. The case is even large enough to handle two PSUs which is quite impressive.
Overall, the case looks like every other average PC case. When closely examined, this is a well-designed, sleek piece of engineering that will not only attract envious looks but also deliver in terms of performance.
The case has four filters for maximum airflow and to allow the fans to take away the hot air from the components quickly and effectively.
The striking design comprises of tempered glass, steel and aluminium to give the case a mix of durability and portability which is hard to find. The HDD cage is removable to create space for a second PSU and there are plenty of cable management features so you can create a clean interior and maximise the aesthetics courtesy of the tempered glass.
Although you might have to dig a little deeper to get this PC case, the fact that it comes with a 2-year warranty is definitely a plus since it shows the manufacturer's faith in their product.
This is an excellent case for gamers that want something with a stunning appearance but prefer to stay away from the loud RGB lighting but still want something that is enticing to look at. It's scalable and has plenty of space. It caters to average and experienced builders that want the most advanced components.
Pros
Amazing radiator support
Remarkable design
Compact ATX chassis
Easy to build inside
Ideal for AIO cooling
Has a 2-year warranty
Cons
It doesn't come with any fans included
Costs a pretty penny for its features
Corsair Obsidian 1000D Super Tower
The Corsair Obsidian 1000D is a PC case for gamers who will stop at nothing to have the most powerful rig with the latest components. For most gamers, this will feel like an overkill. But in the right hands, it brings value and flexibility.
Full tower cases are known for their sheer size. The Obsidian 1000D is not any different. In fact, it is one of the largest PC cases on the market. It is big enough to house two systems simultaneously. But size is not all that it offers.
For gamers that want to play and stream their gameplay, having a PC case like this can help you build a strong rig that will support streaming and gaming seamlessly in a single chassis. It might not look like it at first, but it could actually save you money and space. It is also easier to maintain a single case than two cases of entirely different rigs.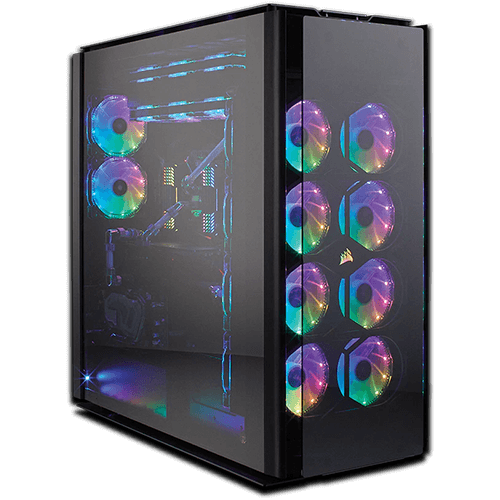 Key Features
For a gigantic case, the Obsidian 1000D passes as one of the best looking PC cases. Its range of features includes tempered glass panels that have a very unique look, a triple chamber design that makes the cases easy to work with not to mentions the tonnes of space to add fans and radiators for cooling.
With unique radiators trays, the Obsidian 1000D allows for easy installation of radiator mounts. The case can also support up to eight 120mm case fronts on the front, three 140mm fans on the top and two 120mm fans at the back.
You can install two 480mm radiators on the front, 420mm radiators at the top, and a 240mm radiator at the back. With this case, you will easily house a fully-fledged water-cooled PC with a custom loop.
For gamers who are critical about neatness and cable management, you can use this case to build your PC on one side and use the extra space to tuck away the cables, or even have a dual PSU setup.
The Obsidian 1000D also comes with built-in lighting and fan control given the number of fans that go into the case, it's a nifty and essential feature to have.
For connectivity, the case has 10 expansion slots, six 2.5" and five 3.5" drive bays. You can install a GPU with a max length of 400mm and a CPU cooler with a max height of 180mm. The case can support an EATX motherboard which makes it the perfect choice for gamers that want to splurge on performance.
The case has everything you need to put together the most aggressive build possible. For that added bling, you can add some RGB lights or RGB fans. Together with the tempered glass, you will have a phenomenal light show.
Pros
Tonnes of room for any cooling system
You can build two PC inside the case
Beautiful design
Impressive range of features
Cons
Quite heavy
Comes at a heavy price tag
ITX PC NZXT H210i
The NZXT H210i is an excellent case for gamers that are struggling to juggle performance and space. If your goal is to build a compact PC without compromising performance, cooling or aesthetics, the NZXT H210i PC case offers the perfect balance.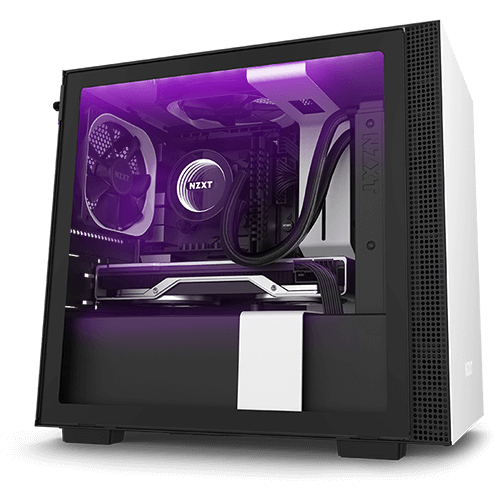 Key Features
It has an exquisite design, impeccable cable management and expansion. The case can hold a mini-ITX motherboard, has 2 PCIe expansions, holds up to four 120mm fans, one 280mm front and 120mm rear radiators, front USB-A 3.1 Gen 1 and USB-C 3.1 Gen 2 among other features.
Over the years, NZXT has made some compelling PC cases. The company has had some innovative designs that include concepts like the NZXT H1. However, the H210i is one of the best in the market for gamers looking for a small form factor chassis that has almost everything going for it.
The NZXT H210i has features that easily rival what some of the larger cases offer. It also comes in a variety of finishes that include all black, black and red and black and white.
You should know, this PC case will only fit mini-ITX motherboards. Therefore, you will only be able to use about two PCIe slots. The case will also fit most GPUs especially because it has a clearance that hits up to 325mm before going through the front of the panel.
Although the PC case is tight, it manages to work in two front 140mm fans and a single 120mm on top and another in the rear.
If you play your cards right, you could also have a 240mm radiator in the front, 280mm up top and 120mm in the rear. The configuration options in terms of cooling are limitless allowing you to build a powerful rig with exceptional performance in terms of cooling.
With the NZXT H210i, you can use more than one AIO loop and the case also features two dust filters. There is one in the front and the other one for the PSU intake.
With exceptional silence, the case will ensure the components run cool and silently. The cherry on top is the RGB lighting the case comes with. You can control the RGB lighting using the Windows 10 NZXT Cam software for that extra aesthetic appeal.
The PC case is definitely small in stature but keeps up with its larger competitors in terms of performance and diversity.
Pros
It has a gorgeous design that you will instantly fall in love with
Comes with cable management features
High-quality build
Excellent airflow with top-notch cooling features
Can take on larger GPUs.
Cons
It is larger than other ITX cases
The price tag is slightly hefty
Corsair iCUE 4000X RGB Case
The RGB lighting is a big deal in gaming circles. Some gamers might find it somewhat overwhelming and distracting, but others will live and die by it.
If you're an RGB afficionado looking for a PC case that will help you live out your wildest RGB dreams, the Corsair iCUE 4000X might be an excellent option for you.
Corsair has an entire line of RGC-enabled cases that are easily among the most popular in the market. The 4000X steals the show not only because of its impressive features but also because it is one of the highly ranked mid-tower gaming PC cases around. The case comes in iconic black or white coloured combinations.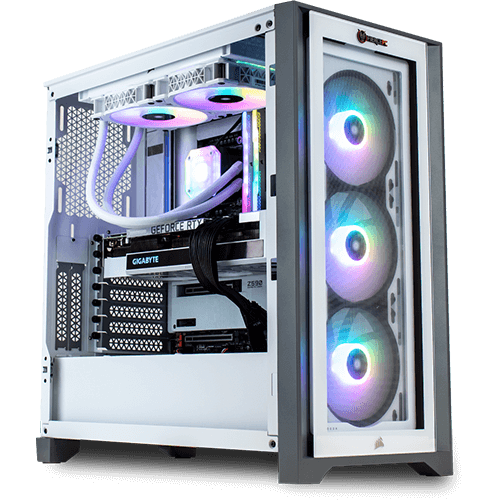 Key Features
The Corsair iCUE 400OX PC case sets off its range of features with tempered glass panels on the front and the side to give your unfettered visuals into the interior of the rig. The case also has airflow vents, where you can attach some fans to move air in and out of the chassis.
The outstanding fact about the 4000X is it comes with ARGB fans that are pre-installed out of the box. That allows you to start working on your build without worrying about spending extra on additional fans.
Should you choose to install additional fans, the case allows you to add two 120mm or 140mm fans on the top panel. You can also add a 120mm exhaust fan at the back. The case also offers decent radiator support for liquid cooling setups. You can add a 360mm radiator on the front and 240mm radiator on the top. For most gaming rigs that are not too power-hungry and don't run too hot, this set-up will get the job done and there are plenty of compatible options on the market. The case also has plenty of space behind the motherboard tray for cable management.
With the essentials out of the way, you can now shift focus to the RGB lighting. The 4000X allows you to control the lighting using the Corsair iCUE software. You can adjust various lighting parameters and combinations to suit your preference.
The 4000X does even better by supporting vertical GPU mounting thanks to a couple of expansion slots at the back of the case.
The PC case will easily hold a GPU with a max length of up to 360mm and a CPU cooler with a max height of 170mm. you also get two 3.5" and 2.5" drive bays for storage devices. Whether you're looking for performance or appearance, the 4000X has just the right features as long as you want a mid-tower PC case. If you want something bigger but with more or less the same features and a light show, you can consider the iCUE 5000X RGB case. It is a more suitable case if you're going the liquid cooling way and you want a case that will not limit you.
Pros
Comes with pre-installed ARGB fans
Has good fan and radiator support
Supports vertical GPU mounting
Cons
The tempered glass reduces air flow
It might be a little cramped up if you're going to a fully-fledged rig.
Best Case for Dual PC Setups: Phanteks Enthoo Pro 2
The Corsair Obsidian 1000D is quite big by any standards. But the Phanteks Enthoo Pro 2 is perhaps one of the largest cases in the market currently. The case is big enough to accommodate two PC builds inside it. In the primary build, you can use an E-ATX motherboard. You will still have plenty of space for a secondary ITX system at the bottom.
The case is a great choice for power users and streamers who can benefit from having a dual PC set up that will keep up with your performance demands. The Enthoo Pro 2 is widely used as an enterprise solution because of its ability to handle SSI EEB motherboards which speak to its diversity and feature richness.
For staunch gamers looking to put together a serious rig and want a case with plenty of space, the Enthroo is a perfect choice. It is big enough to accommodate a fully water-cooled build complete with a custom loop.
Even for gamers that aren't necessarily looking to have a dual PC setup, this case fits perfectly especially if you want to aggressively update your system with the latest equipment.
Key Features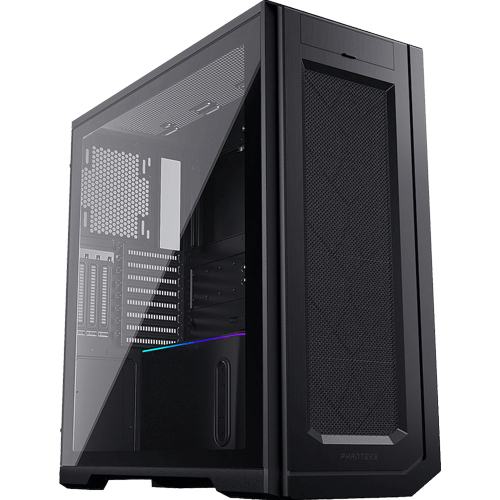 The Enthroo Pro 2 thrives on space. The additional space is perfect for managing cables, adding water cooling components like a pump or a reservoir. One of the highlights of the Enthroo Pro 2 case is the outstanding airflow performance. The case has a mesh front panel with Phanteks high-performance fabric material.
The mesh panel is made from rugged and durable nylon fibre to maximise airflow. It also keeps the dust from getting inside the chassis which is good.
The Entroo Pro 2 is big enough to hold as many as 15 120mm fans. You can install up to four 120mm or three 140mm fans on the front, the top panel can hold three 120mm or 140mm fans, and you can install four 120mm fans on the internal side of the panel with three 120mm or a single 140mm at the bottom of the case. For the exhaust you can add a single 120mm or 140mm at the back. There's also plenty of radiator support inside the case.
For radiators, you can mount a 480mm radiator on the front, a 360mm on the top panel and another 360mm radiator on the bottom panel. The back panel also has space for a 120 or 140mm radiator. It's a fully kitted chassis that will solve all your cooling problems regardless of how power-hungry your system is.
Besides the immense space and incredible cooling provisions, the Enthroo 2 also has massive storage support. You can add up to 11 2.5" SSDs and up to four 3.5" HDDs in the case.
Why not also read: SSD Vs HDD
Despite the impressive feature range, it's surprising that the Enthroo Pro 2 case comes at a modest price tag compared to other full tower PC cases from other competitors in the market.
If you're looking to build a high-performance PC and want to save a bit on the case without compromising performance and functionality, the Enthroo Pro 2 is a perfect choice.
Pros
You have enough space for two builds inside the case.
The case has excellent airflow performance
The price is affordable for a full tower case
Cons
Massive form factor. It might be a challenge for gamers with limited space.
Phanteks Eclipse P360A
The Phantex Eclipse P360A is considered one of the best PC cases on the market for several reasons. One, it's an ATX size case with numerous features that cater to different gamers at different levels, and two, it's easy on your pockets.
If you're considering a PC built on a budget, or you would like to skimp on the PC case without compromising on quality and performance, the Eclipse P360A is a forgiving case that will fit your budget while allowing you to put together an impressive build with unlimited upgrading options.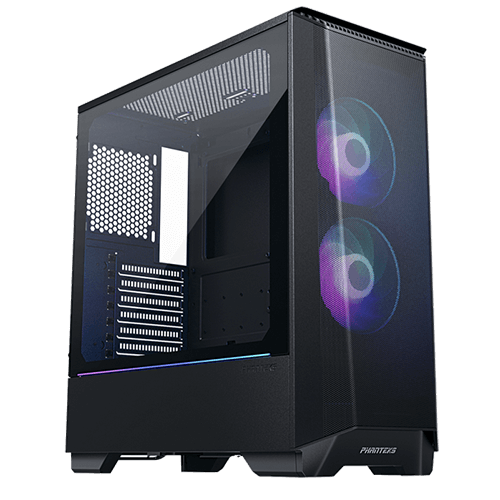 Key Features
The P360A is a mid-tower case. It has RGB tempered glass and enough room to support large-scale builds including an E-ATX motherboard and 400mm GPUs.
The case can hold up to five 120mm fans and if you're going for an AIO, it has a 280mm front-mounted radiator. You also get trays for 2.5" SSDs and a space for a third and a pair of 3.5" bays at the bottom. It is also worth mentioning that the case comes with two 120mm-D-RGB fans pre-installed out of the box. It is not something you see from a budget build.
The P360A case also comes with a built-in shroud. Overall, the case doesn't look like a budget build. The case has ¾ length glass panels and the PSU shrouds is at the bottom of the case. The case guarantees a clean look with all the cables well-hidden without breaking the bank.
The case has a mesh front panel for enhanced airflow. It's an excellent addition to tempered glass. The fans in this case also benefit from the positioning of the mesh panel because there is more ventilation.
The front of the case comes with a dust filter that will save you and the components from the trouble caused by dust and dirt.
Being a budget PC case, you would expect the P360A to have basic features. Instead it has impressive features that will make it an enviable addition to your gaming station. Besides coming with pre-installed features, the Eclipse P360A comes with D-RGB PWN fans. You can sync the fans with the motherboard and control it using third-party lighting software. The included RGB fans give the case a touch of bling.
The case comes with vertical expansion slots that let you mount the GPU vertically to the system. However, you need a vertical GPU bracket for the same if you don't already have one. The case can fit a GPU with a max length of 400mm and a CPU cooler of a max height of up to 160mm. the front panel has 10 ports that include two USB 3.0 audio ports, a power button and some buttons to change the LED modes and colours.
The P360A has to be the most flexible and feature-filled budget PC case in the market. Whether you're a beginner or an experienced gamer, the case has just the right features to keep up with some of the heavy hitters in the industry.
Pros
Pre-installed RGB fans
Mesh front panel for airflow
Plenty of space for fans, radiators and expansion
Cons
Best PC Case for Water Cooling: Thermaltake Tower 900
It's every gamer's dream to own a water-cooled rig at some point. Not just for how cool water-cooled rigs look but also for how efficiently they can manage the thermals inside the case. The Thermaltake Tower 900 is perhaps one of the best cases when putting together a water-cooled rig. It has all the right features in just the right places to make your build easier and neater.
Key Features
The case is a full-size tower case. It can fit E-ATX, ATX, micro-ATX and Mini-ATX motherboards. No matter the form factor of the PC you have in mind, the Thermaltake 900 has your back.
The case also has eight 2.5" SSD bays, eight PCIe slots. The case also has extreme cooling features that will handle the most demanding build. It can hold up to 14 120mm or 140mm fans and up to 560mm radiator. Other features include a USB 3.0 and HD audio on the front panel.
For your GPU needs, the case has enough room for a GPU of up to 400mm. Even with such an impressive range of features, the Thermaltake 900 still has a modest price tag and massive size. If you're going for a water-cooled behemoth with unlimited upgrade possibility the Thermaltake 900 is as good as it gets.
With the Thermaltake 900, you have enough space for plenty of pumps, pipes, reservoirs and your dream layout. The case comes in black and white variations. It's the ultimate case for an ambitious build.
The case has been around for quite a while. That means you won't find some of the more recent technologies like USB-C on the front or anything newer than USB 3.0. The case is quite hefty weighing about 24.5kgs. You will need a sturdy place to keep it on its own. The case comes in either white or black. Three of the sides are made using glass so you're assured of making this one killer build.
For gamers that are passionate about building a custom water-cooling loop, the Thermaltake 900 is the best place to start. Besides the impressive features that the case offers, the price is what stands out. For the features and quality of the case, you would expect it to cost a lot more but the price is quite modest for a premium quality build case.
Pros
It has a massive space for a water cooled set up.
It can support one of the biggest radiators and GPUs in the market
Unique and impressive design
You can choose to have the case in either black or white
Cons
The case is huge
It's a heavy setup
It doesn't come with a built-in USB-C
Best Open Bench PC Case: Thermaltake Core P3
Thermaltake has among the most impressive PC case designs. The Core P3 is one of the best open bench PC cases. The case is simply sublime for any system builder. Putting together an open bench build takes a bit more time because everything has to be in the right place. But the Thermaltake Core P3 makes it much easier with its array of features.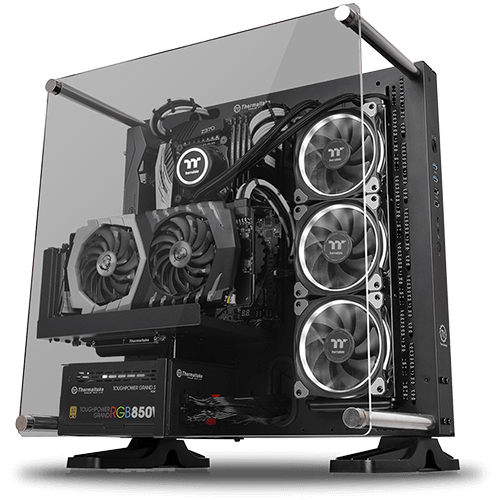 Key Features
The Thermaltake Core P3 is awash with features that any builder would die for. It is a mid-size tower case capable of fitting an ATX, Micro-ATX and Minit-ITX motherboards. The case has five SSD bays and eight PCIe slots.
The case has slots for three 120 or 140mm fans and a radiator of up to 420mm. the front panel features a USB-A port on the front panel. The case also has more vertical PCI slots than you can handle, excellent cable management and a killer finish.
To say that the Thermaltake Core P3 is something special is an understatement. It's a phenomenal open-air case. It doesn't have front, top, bottom or rear panels. The plastic side panel is removable by unscrewing it from the main chassis. It provides unmatched access to your PC's internal with exhilarating internals that will make other gamers envious.
The case comes in red, black and white finishes. Because of the open design, the case will easily fit a 420mm radiator for water-cooling builds. It would actually be an injustice to try anything else than a custom loop build on this case.
Although the case only allows three fans, the open-air design maximises airflow so you don't need as many fans. Also, the barebones approach of this PC case is perfect for modders that want to push the boundaries of PC making and prefer to start with a blank canvas with the least restrictions possible.
Besides the impressive structure and features, the case also comes with a three-year warranty and steel construction to guarantee exceptional performance. The best part about this case is that you can install the GPU using the bracket that comes with the case and the PCIe riser card. Although this is optional, it does give additional support for the heaviest GPUs in the market.
With the Thermaltake Core P3, you can proudly show off your PC's internals. Your guests can gaze as your PC fires up and gets to work. It's also an opportunity for you to show off your PC building skills.
Pros
Unique design
Good radiator support
Supports up to ATX motherboards
Great for modding
Easy access without the front, rear and top panels
Cons
Open air cases increase chances of damaging the components
Exposure to dust
Less airflow over VRMs and other critical parts
The Bottomline
Finding the best PC case for your new build shouldn't be so hard now. Whether you're looking for something on a budget or overkill, we have covered the best PC cases in each category to make it easier for you to pick something that best suits your needs and the goals you have for your new build. All you have to do now is pick the most appealing option.