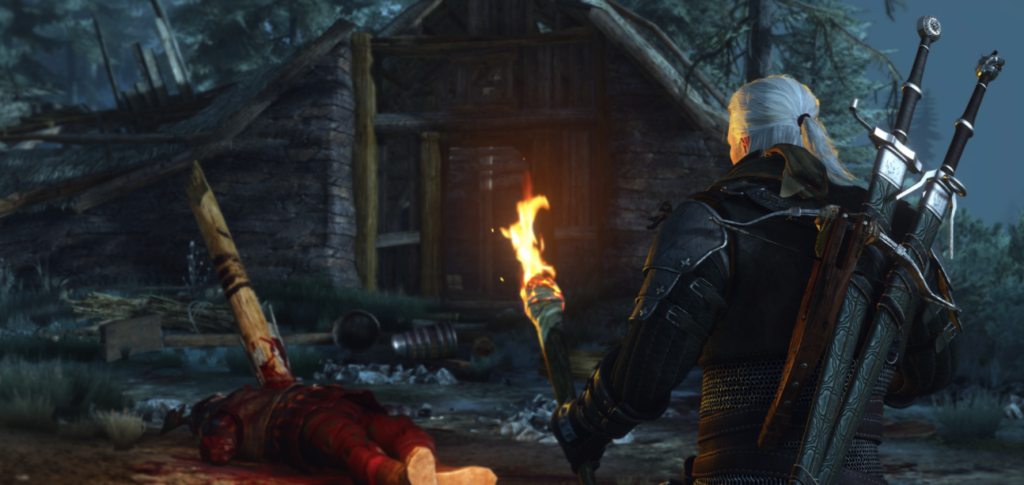 We are in the golden age of multiplayer games, but an excellent in-depth single-player adventure is always welcome and one of the aspects that make gaming great.
Every great player deserves an immersive single-player game where they can dive into a new world alone of even indulge themselves until their peers get back online.
If you're looking for that solo game that gets your blood pumping and adrenaline flowing, here are some impressive options you should try out in 2020.
Why not check out our range of cheap of Gaming PCs.
The Witcher 3: Wild Hunt
First released in 2015, The Witcher 3, follows Geralt, a monster-slaying bounty hunter as he fights his way across a medieval fantasy world.
The storyline of the game is well-written. It has a clever angle to it, and even better, it is one of the best open-world RPGs you can explore.
Why not read: Best Witcher 3 Mods
There's a ton of things for you to do on Witcher 3. There are ghouls, wraiths, and vampires to slaughter, and the people can be nasty as well. With so much size and depth in this world, you can take on several roles in one game. You can investigate a haunted farmhouse, go into war, and even become a witch brewing up special potions, which can give the game more of a centuries-old tradition.
In this world, you will be locked up with Geralt – your character. A funny and jaded guy and just who you need to kill some time. Even without having played the previous Witcher games, you will find the game quite riveting.
Celeste
Celeste is a by-product of one of the greatest multiplayer games around. It is a toned-down 2D game about climbing that offers a bigger rush than meets the eye.
The core mechanics of the game is the ability to rush in eight directions. As you progress, you will find yourself in a thicket of different challenges and obstacles.
There's a multitude of levels in the game to keep you engaged, and you can play in different iterations. The best part about the game is the touching story about friendship and tribulation that is the canvas that the game is written on.
If you're looking for a game that gives you that loner feel when you don't want to hear bullets flying or a crowded screen, this will fit right in.
Assassin's Creed: Odyssey
Assassin's Creed has been around for a while. In 2016, the developers of the game took a break to rethink and re-energize the game, and that much-needed break led to the release of the Odyssey.
The open-world adventure game is set in the scorched azure idyll of the Hellenic Peninsula and reflects the ancient Greek Architecture. The game's backdrop is one of the features that allow the game to remain enjoyable a few years after its initial release.
Why not read: Assassin's Creed Games in Order 
Every great game has a great storyline, and The Assassin's Creed: Odyssey is no different. The intriguing story of Alexios and Kassandra that weaves through myth and history is a joy to behold.
Don't expect the game to feature the Cloak and dagger assassin it was known for but expect much more when you decide to be a part of the game.
Total War: Warhammer 2
The Total War gaming franchise has not always had a smooth run. After the release of Rome 2, the sequel kind of stagnated a bit, but the developer made up for it after releasing the epic Warhammer.
Warhammer 2 embraces the asymmetry that the initial Warhammer came to be known for. Each of the factions in the game offers a distinctive, tactical, and narrative experience, and this sequel also represents all the major factions of the Grimdark world in Warhammer 1.
With each campaign lasting dozens of hours with endless clashes with some of the best-crafted and inventive armies seen in the gaming world, this game is the perfect way to blow a few hours as you get lost in the game.
Sekiro: Shadows Die Twice
From the game, you can easily guess that Sekiro is based on the mythical Japanese Samurais. It is tough, tense, and visually striking, with no shortage of destruction and anarchy.
Sekiro is very similar to Dark Souls or Bloodborne. If you have played either of these games before, you should have a clear idea of what to expect with Sekiro: Shadows Die Twice.
The mechanics of the game are meticulously put together. The game is much easier to understand and builds a connection with the player, unlike most of the other spiritual games. You will find the game's articulate narrative a joy to behold and much-needed addition to a mainstream action game that gives it more value.
Once you start playing the game, you have to go through vertically oriented levels with increasingly difficult quests, and there are plenty of shortcuts and secrets for you to find. There's plenty of combat, but to land that fatal Katana blow, it's about finding the right angle and timing.
Red Dead Redemption 2
The Red Dead Redemption 2 is not a fast-paced game and the momentum and feel of the game builds gradually. While it might not jump at you right off the gates, it's still one of the best single-player games on the market today.
The game has a short prequel to the original game that gives you a short overview of the game that surrounds the main character Arthur Morgan, a member of a notorious gang.
Arthur is looking to make amends for his dark past, and while you might not immediately get the drift of the narrative, you will remain awestruck as the narrative weaves through one of the most detailed open worlds with true mastery.
Other details of this game that you will also find riveting include animations, the sound, the supporting cast, and other little features that push the game over the edge.
What Remains of Edith Finch
What Remains of Edith Finch is a welcome break from the big-money games. The game revolves around Edith in her recently abandoned family home. The game is set on a haunted island in Washington State.
Your job in the game is to explore the richly detailed house, visit each of the family member's fully-furnished rooms where you get swept up in a surreal and dreamy haze of vignettes that show you how each of the members died.
You will find this meditative game a clean break from the noisy and often umped up FPS and other action and adventure games. The eerily spooky feel of the game makes it an excellent play at night as you uncover the pain of a family afflicted by a merciless curse.
Hollow Knight
In recent years, there's been a surge of games from the good old 90s gaming era. While some of these have been improved remakes of the originals, some of them are excellent evolutions in their own right.
Hollow Knight is one of those games that feels like the peak of the Metroidvania design. It has earned its place in the best single-player games for 2020 with plenty of activity and fun awaiting for any gamer that cares to tread here.
In the game, you traverse the enchanted Forlorn Subterranean Kingdom as a knight. As you cross through the kingdom, you gain abilities that allow you to go deeper into the world.
The game is both cute and daunting and downright magical.  It has plenty of thoughtful touches like Hollow pulling out a map whenever you look at the map screen, and these little details are what make a game excellent.
God of War
If your gaming fix surrounds chopping heads and fighting monsters, then God of War is for you. This soft reboot series brings back the fond memories of Kratos, the God of war. After the death of his wife, the antihero takes his son to the tallest mountain realm to cast the ashes of his wife. As you would expect, things don't go according to plan.
There's an entirely new pantheon of gods he has to go through. It's a bloodbath filled with incredible combat with no camera cuts.
Dishonored 2
In Dishonored 2, you play the role of a naturally skilled assassin with a hunger for vengeance in the city of Karnaca.
Within the city, you can explore the shops, cluttered rooms, and apartments from different angles and sneak up on your objectives.
The game features black-magic and blade combat. It has an ingenious design with a captivating and ever-shifting clockwork mansion and a time-travelling crack in the slab. This game will carry some of your fondest gaming memories in 2020.
Conclusion
If you find yourself with a few hours of downtime and none of your gaming buddies are online, these single-player games for 2020 should help you spend your hours constructively immersed in all kinds of action and gameplay.
See our range of PC Gaming Bundles.
The games feature a little bit of everything to suit every preference and mood from adventure, action, mystery, and horror.