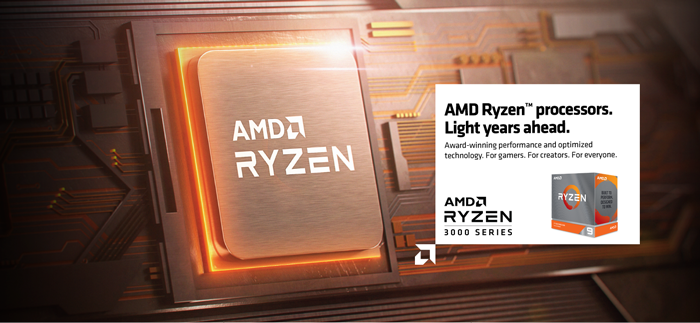 AMD Ryzen™ 3000 Series processors changed the PC industry with award-winning performance for gamers and artists. Now, the most advanced1 desktop processors in the world, have been further refined and optimized. AMD Ryzen™ 3000XT Series processors deliver even more of what PC enthusiasts love.
Elite Performance
3rd Gen AMD Ryzen™ processors with the 7nm "Zen 2" core2 set a new standard for high performance. Now the AMD Ryzen™ 3000XT series offers clock speeds up to 4.7GHz3 on select processors, new 6/8/12-core models, full overclocking support,4,5 and bigger caches. So, you can tear through all you do, from gaming to art to work.
Unmatched Platform
The AMD X570 and B550 chipsets offer everything an enthusiast needs: PCIe® 4.0 support, unlocked CPU and memory overclocking4,5 and unprecedented processor upgrade support. Now these motherboards have one more surprise in store for you: day-one support for the AMD Ryzen™ 3000XT Series processors.

Optimized Technology
With advanced 7nm processor manufacturing, AMD Ryzen™ 3000XT Series processors now offer higher clock speeds than previous models. Elite performance with upgraded technology? That's exactly what your next build needs.
AMD Ryzen™ 3000 Series processors give you access to unrivaled technologies for exceptional performance. Harness the power of AMD 500 Series chipsets and experience Precision Boost Overdrive5, Precision Boost 2, Pure Power and AMD StoreMI. Open a new world of possibilities in gaming and productivity.