Choosing the best motherboard for your computer is one of the most important parts of your PC build, although choosing the best GPU and CPU often get more attention. Every component of your PC plugs into the motherboard you choose. Many aspects of the motherboard determine what the rest of your system will be like, from the size of your case, to how much you can plug into it.

Motherboards, particularly high-end models, are often made up of a confusing collection of features, and can range in price from £50 to as much as £1000 or more. That's why we're here to help figure out what motherboard meets your needs, without blowing too much of your budget on one part.
A motherboard is a printed circuit board (PCB) that creates a kind of backbone allowing a variety of components to communicate, and that provides different connectors for components such as the central processing unit (CPU), graphics processing unit (GPU), memory, and storage. Most computers made today, including smartphones, tablets, notebooks, and desktop computers, use motherboards to pull everything together, but the only kind you'll typically purchase yourself are those made for desktop PCs.

Put simply, a motherboard is a printed circuit board (PCB) that creates a backbone allowing a variety of components to be connected together, and communicate with each other (for example, the CPU, GPU, and memory). Most PC's made today, and even tablets, notebooks and smartphones use motherboards to pull everything together.
Ensure you opt for a CPU that is in a similar league to your GPU. If you spend all your money on your graphics card and don't opt for a similarly compatible CPU, your system might score well on synthetic benchmarks but won't be able to do as well in real game play due to lower minimum frame rates.

Get the right socket for your CPU: You can find great CPUs from either Intel or AMD, but whatever CPU you buy, make sure that your motherboard has the correct socket to support it. If you are looking to purchase a pre-build from us, you won't need to worry about checking the compatibility, as we'll do it for you.

Smaller boards = Fewer slots and features: motherboards come in three main sizes, which we will discuss later. You can use a smaller chassi with the smaller boards, but you'll have to settle for fewer PCIe slots, RAM slots and other connectors. Decide before you buy what size you will be comfortable with having.

You can spend under £150: You can often find a decent motherboard for less than £150. But if you need a lot more ports, you will have to spend more, often more than £200. High-end desktop CPUs like AMD Threadripper require expensive £200-plus motherboards.

Pay for built-in Wi-Fi, high-end ports only if you need them: Don't spend extra for wireless if you are using a wired connection. You can future proof your PC by getting USB 3.1 Gen 2 and / or Thunderbolt 3 support, as well as PCIe 4.0.
If you're needing a refresher on motherboard basics, including the differences between RAM slots, Port features, motherboard sizes, and chipsets, you can find more information with our motherboard basics buying guide:
There we go over the complexities of the motherboard design and other features, so you'll know exactly what you should be looking for when buying a motherboard.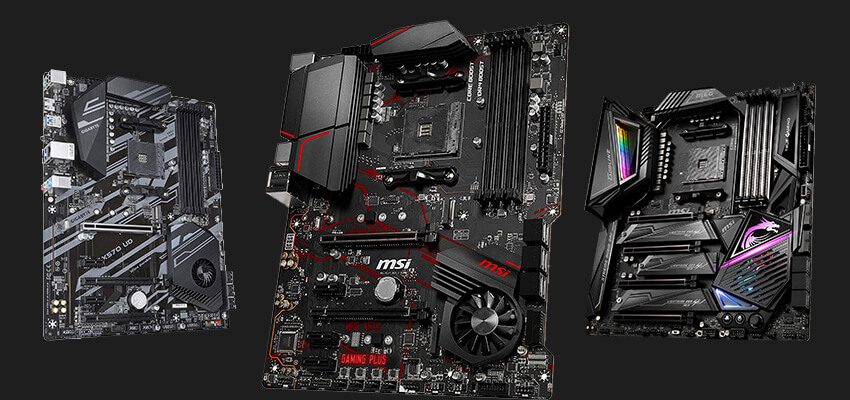 Prices generally range from £40 on the low end to over £750 for premium boards that support HEDT (high-end desktops) like Threadripper. Here's what you'll roughly get in each price range:

Up to £80
GPU memory is crucial to consider. Ensure you get a card with at least 6GB of space (even if you are not intending to use your PC for gaming), and preferably 8GB or more for gaming at 1080p. You'll need more memory if you want to play with all the settings turned up, or if you are intending to use lots of high-performance applications. If you're going to be playing at resolutions like 4k, more than 8GB is ideal.

Sub £140
Motherboards with Intel's Z490 and chipset, start at the low end of this range. You'll also see more AMD motherboards with higher-end chipsets (X570) and other features like RGB lights and Wi-Fi at this range.

Sub £180
As you start to climb more into the premium area of pricing, you'll see a lot more RGB lighting, better power phases, and more intense heatsinks. You'll also find a better selection of ports at this range, which may also include more USB 3.0/3.1 Gen 2 connectors. Intel's Z490 range also starts around this price point as well.

£180+
For this intensely high-range price, you'll see more of the best board components, bigger and better heatsinks, I/O covers that are designed to look premium and slick.

Also in this price tier, you'll find HEDT motherboards for CPUs with very high core counts (Intel Core X and AMD Threadripper). Threadripper boards in particular start at around £250. But, if you are after something a little bit more for general gaming or working from home on basic tasks, you won't particularly need to delve into this price area.
What CPU are You Using Your Motherboard for?
If you are looking to buy an Intel 10th or 11th Generation Processor, you'll need a motherboard with an LGA 1200 socket. Older 9th Generation processors need boards with an LGA 1151 socket. AMD, on the other hand, uses the same AM4 socket for all of its current generation chips, from Athlons all the way to 16-core Ryzen 9 parts. Intel tends to change sockets from one generation to the next, so bare this in mind when choosing your CPU.

(Although, if you decide to go for a pre-build from us here at Fierce PC, this compatibility won't be something you need to worry about, as we handle component compatibility for you).

If you are looking for something more high-end, for workstations as an example, both Intel and AMD have different sockets to accommodate the larger size and power draw of their processors. Keep this in mind when you are buying.

For more on processor considerations, see our CPU Buying Guide.
What Size Motherboard Do You Want?
We cover motherboard sizes in our motherboard basics buying guide, but generally there are three main motherboard sizes.

ATX is the most standard and offers the most space for plugs and slots.

Micro-ATX is 2.4-inches shorter, which means less room for expansion slots or other features.

Mini-ITX can make for a tiny PC, but you'll usually only have room for one add-in card (like a graphics card), and fewer connectors for storage and RAM.
Ensure you check the I/O area on a motherboard to make sure it has all the external connection options you want, but also check for USB headers. These will let you add more ports if you need to via your PC case, or expansion slot brackets at the back.
Here's a list of common ports:
USB 3 / USB 3.1 Gen1: You can never have too many of these, because they work with most peripherals.
USB 2: Slower than USB 3 / 3.1, but more than adequate for keyboards, mice and many other devices.
USB Type-C: These ports could be either USB 3.1 Gen1 or USB 3.1 Gen2 compatible and are designed for newer devices such as phones. A few are also just USB 2.0, and often get labeled as Audio USB-C ports, aimed at connecting USB-C headsets.
HDMI / DisplayPort Video out: You only need these if you plan to use integrated graphics. Most graphics cards have their own ports.
Audio ports: Important if you plan to connect analog speakers or headphones.
While you may not need many USB 3.1 Gen 2 or Type-C ports today, they are good ways to future-proof your PC.
Most motherboards have four RAM slots, although Mini-ITX boards often only have two, and high-end HEDT motherboards frequently have eight. The amount of slots of course limits the amount of RAM you can install.
What Expansion Slots Do You Need?
There are two main types of expansion slots you'll come across: PCIe x1 slot (short and often used for SATA expansion or USB), and PCIe x16 slot (longer, for GPUs, PCIe storage, etc). If you're only planning on installing one GPU, a few storage drives (or Solid State Drives / SSD), and even a video capture card, you should be fine with most ATX or even Micro-ATX boards.

If you are, however, planning on plugging quite a few drives or cards into your PC, it's worth considering a high-end HEDT platform instead, as they have more PCIe lanes to work with. For example, all of AMD's Threadripper processors have 64 lanes, and Intel's Core X has up to 44 lanes. So if you're planning on plugging multiple graphics cards or other bandwidth intensive hardware into your PC, these higher-end platforms are definitely the way to go.
What Chipset Should You Get?
The CPU you choose will affect the compatible chipsets you can have, and if you opt for higher end Intel or AMD, (threadripper for example), you'll only have one choice. X399 for AMD, or X299 for Intel. For mainstream uses, for working from home or gaming with a single graphics card, you can get these features with other chipsets.
What Extra Features Do You Need?
Given the sheer number of features that board makers sometimes slap on motherboards--particularly high-end models--it's impossible to discuss them all. But here are a few to keep an eye on:
There are some motherboards that have a whole host of features, particularly on high-end models you'll find a huge amount of features. With that in mind, it is difficult to explain them all, but we've compiled a list of the main ones to keep in mind:
On/Off switches
These can be handy in some circumstances. For example, in the initial build process, or if you are using an open case for benchmarking. But for most of you, on-board buttons aren't necessary, especially if you are considering buying a pre-build from us here at Fierce PC.
LED diagnostic readouts

Some motherboards include a tiny speaker to provide a diagnostic beep if something goes wrong. Some other boards include a two or three digit display for the same purpose, which gives you an alpha-numeric code when something goes wrong. Again, this feature is a real big help when building a PC or upgrading, but overall is not necessary if you are buying a pre-build.
Wi-Fi Card

If you don't have Ethernet near your computer, you want this. And if you plan on keeping your PC around for years to come, look into a board with Wi-Fi 6.
Dual Ethernet ports

A single Gigabit Ethernet port has plenty of bandwidth for Internet traffic, so this is helpful mainly if you plan to use the computer as a server and the board can aggregate the two connections into one. For those with heavy-duty wired network needs, look for a board with 2.5Gb or 10Gb Ethernet.
If you're getting a case that has no windows, there's no reason to opt for RGB lights or flashy covers and heatsinks, as you just won't see them. However, if you are going for a case that features a window, you should get a board that you're happy to look at.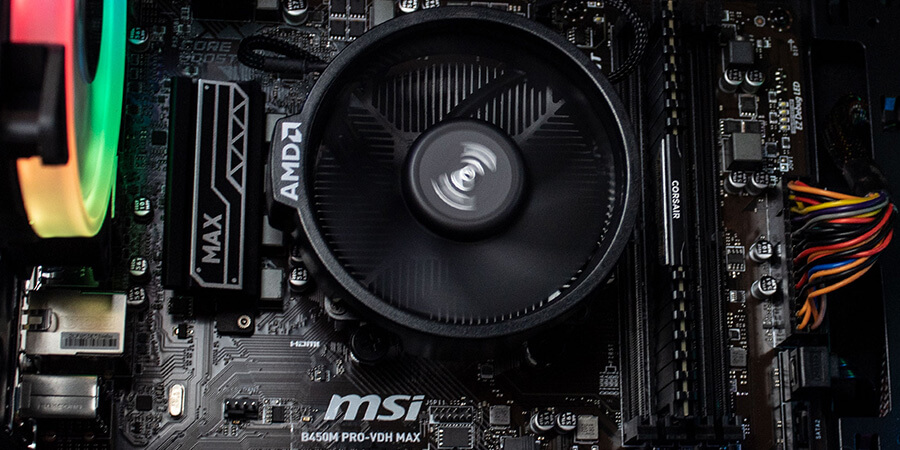 If you're a novice builder, a dark motherboard can be more difficult to use when building a system as the on-board labels will be harder to see.

If you want your system to look clean (with few visible wires, etc), then you want a motherboard that has its fan and USB headers placed around the edges, as well as USB 3 ports that point to the side, rather than sticking up vertically. This will help keep the build looking cleaner, and you can hide wires more easily.

If you want a clean, no-nonsense setup, you might want to opt for a board without RGB. However, if you want something a bit more flashy to look at, RGB is definitely the way to go.