The CPU is often referred to as the brain of the PC. A motherboard would then be the nervous system, connecting all the other components together. This could include the GPU, memory or hard drives, and enables them to communicate with one another.

Just like with most other components in a computer, you need to make sure that the motherboard you choose is compatible with your CPU and other components. In this guide, we will focus on motherboards for Intel CPUs.
There are three main considerations when choosing a motherboard. These include the socket, the chipset and the size. You can see each of these characteristics below and this guide will help you understand what you need to look out for.
The first consideration is the socket. The socket is where the CPU physically connects to the motherboard. CPUs are available in all shapes and sizes, and come with their own socket. This means it is highly important that you make sure the socket of the CPU and the motherboard is the same. Whilst Intel does change the socket design from time to time in their CPUs, most current ones fall into three main types of socket: Socket 1151, Socket 2066, and Socket 3647.
After checking the type of socket, you will also need to consider the chipset. A chipset determines most of the capabilities of the motherboard. This can include the number of slots, add-in cards, and USB ports. Some CPUs are only served by one chipset, while others give you a choice of chipsets.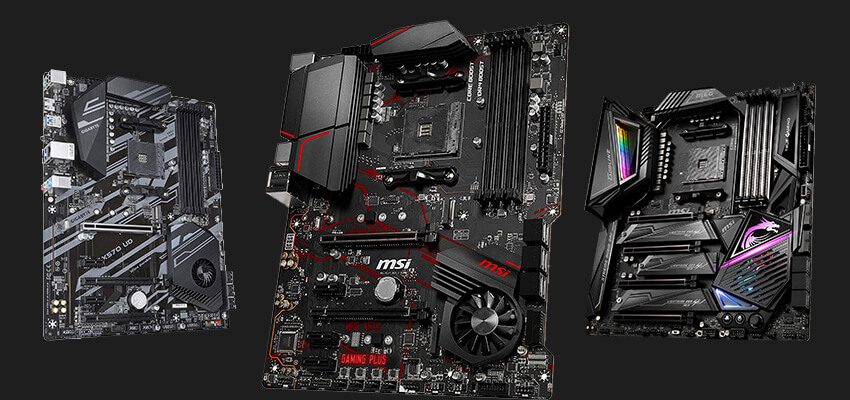 The last consideration is the size of the motherboard. Size is important because different sizes will fit in different cases. Larger motherboard sizes are beneficial as they tend to support more memory and slots, but will generally require a bigger case and may not fit in smaller cases. You can still build a very capable and high-performance system with smaller motherboards, however.

The computer industry uses code names to refer to the size of the motherboard, but the good news is that those same code names are used for the size of cases too. This diagram illustrates the dimensions of the most common motherboard sizes.
The latest socket type is Socket 1200, and is used by two Intel processor generations, based on the Rocket Lake and Comet Lake architecture. Whilst some 400-series Comet Lake motherboards will support Rocket Lake CPUs, we recommend opting for a 500-series motherboard to get the full benefits of a Rocket Lake CPU.
The second main type of CPU socket is Socket 2066, which is used by two families of high-end Intel desktop CPUs, Core i9 and Xeon W. The specs explain the most important differences between the two families so you can make the appropriate choice.
The last major type of motherboard for current Intel CPUs is Socket 3647, which supports Xeon Scalable CPUs. These are designed for high-end workstations and servers, with many, but not all Socket 3647 motherboards supporting two CPUs for massive amounts of performance. We do not recommend these for anyone who is looking at systems for general gaming use, or if you are working from home (only using word documents, excel sheets, and so on).

Ensure you opt for a CPU that is in a similar league to your GPU. If you spend all your money on your graphics card and don't opt for a similarly compatible CPU, your system might score well on synthetic benchmarks but won't be able to do as well in real game play due to lower minimum frame rates.

Get the right socket for your CPU: You can find great CPUs from either Intel or AMD, but whatever CPU you buy, make sure that your motherboard has the correct socket to support it. If you are looking to purchase a pre-build from us, you won't need to worry about checking the compatibility, as we'll do it for you.

Smaller boards = Fewer slots and features: motherboards come in three main sizes, which we will discuss later. You can use a smaller chassi with the smaller boards, but you'll have to settle for fewer PCIe slots, RAM slots and other connectors. Decide before you buy what size you will be comfortable with having.

You can spend under £150: You can often find a decent motherboard for less than £150. But if you need a lot more ports, you will have to spend more, often more than £200. High-end desktop CPUs like AMD Threadripper require expensive £200-plus motherboards.

Pay for built-in Wi-Fi, high-end ports only if you need them: Don't spend extra for wireless if you are using a wired connection. You can future proof your PC by getting USB 3.1 Gen 2 and / or Thunderbolt 3 support, as well as PCIe 4.0.