Pre-I62 Interview with Diabolus Esports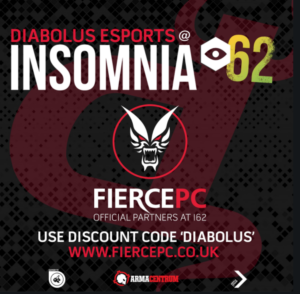 Many of us are heading to the NEC Arena in Birmingham to attend Insomnia 62. With us announcing our latest partnership with Diabolus Esports we got a pre-event interview asking them different questions from their expectations for their popular League of Legends team in addition to guessing their player's reactions to the custom PC cases we put together for them. We spoke with both owners of the organisation Ash Boycott @DBL_Ash and Nicholas Uttley @spikeenick.
Q1 – With I62 just around the corner, what are you most looking forward to at the event?
Ash - This will be my first insomnia event, so I'm really excited to join the team and experience the weekend.  I'm also looking forward to meeting all of the personalities, staff, and players we have met over the last couple of months from other teams too!
Nick - More than anything for myself it's a chance to let loose and interact with people who know the brand. Equally meeting all the player ( ours and the other teams ) in person is actually exciting. these are people we work with remotely and to meet them IRL is always cool
Q2 – With your team recently placing 3rd/4th in the LoL ESL Premiership are you looking to claim your crown this weekend with 1st place?
Ash - Devils never die!  We had a rough run during the premiership and we still have a lot to work on going into split 2 in the Summer.  The players have such an incredible individual skill level, it's just about nailing that team synergy which I hope to show we can do this weekend.
Nick - I can only echo what ash has said. i think where we have the edge is our players have strong LAN experience and are used to the stage where others don't have the same experience. It's going to be FIERCE but i believe we have what it take to be crowned I62 champions.
Q3 -  What would you say will be your biggest challenge this weekend (any particular rivals)?
Ash - I think the big challenge will be facing Excel again, they really turned up the heat in the quarter-finals so it would be a huge confidence boost to take a series against them. Enclave is also really good right now too!
Nick - Buying enough Twix to drown our rivals Enclave gaming. It may be a big task as I don't think there will be enough in the area to cover even there owner Phil. But we will try
Q4 – When we get to the event do you think we can get a remake of the "One Pound Fish" song as performed in our Gameblast18 Stream?
Ash - After being slapped in the face with a fish to teach people how to pronounce Diabolus I'm pretty much done with any sea-based creatures or songs.
Nick - Ill convince ash to do this and ill film it on my #Razerphone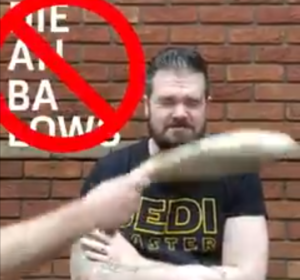 Q5 – You'll be fully equipped with Fierce PCs over the weekend are you looking forward to releasing your custom design to your players, how do you think they'll react?
Ash - I've been teasing the lads for weeks now, I genuinely don't think they have any idea what to expect!  After seeing the Fierce PC custom designs in all their glory, I'm pretty certain they will absolutely love them!
Nick - I think the players may have a small meltdown as i don't think any of them have had personalised product to this level of quality before. Very excited to see their reactions.
Q6 – We will be in attendance over the weekend conducting interviews with both a 9 and 11-year-old. If they were to challenge you to a dance-off what would be your 'Go to' move
Ash - I once managed to do the Napoleon Dynamite / World of Warcraft Blood Elf dance move for move.  I was much younger then and had bones that didn't creak. We shall see...
Nick - Dab all the way! I like to think I've still got the rave penguin skills.
A massive thank you for taking some time out to take part in this interview, the team at Fierce PC wish them all the best at I62 and fingers crossed they bring home the first placed trophy!
Just starting out as a beginner? Here at Fierce PC we have a variety of affordable Gaming Computers to suit all abilities and are happy to help if you have any questions. You'll also find help and cool tips on our blog such as which Overwatch Character to begin with.