Don't have an account?
Creating an account has many benefits: check out faster, keep more than one address, track orders and more.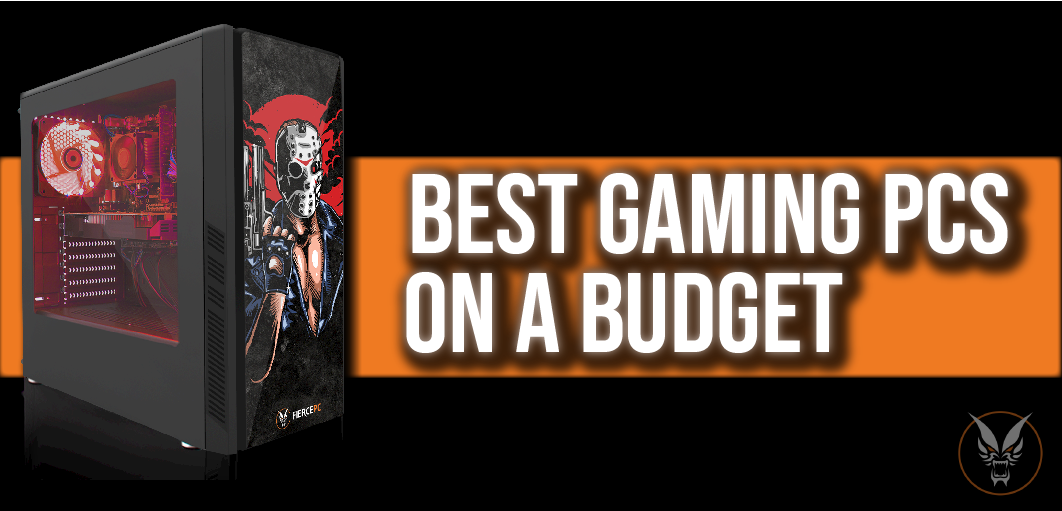 Fierce PCs Top 3 Budget Gaming PCs
We can understand that purchasing a Gaming PC to fit particular requirements can be expensive to pay up front. Which is why we've come up with a list of our favourite Fierce PC Budget Gaming PCs to help you get that extra step closer to getting your dream Gaming Computer!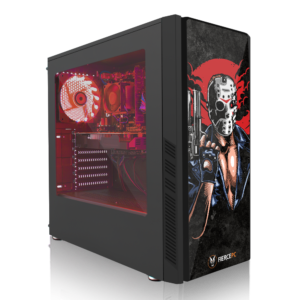 To kick start our list of Budget Gaming PCs, The Ironwing Bravo boasts a unique design with our bespoke 'Jason Will be Back' HD Armour Case and is the perfect PC if you're into gaming but don't want to break the bank.
- AMD Ryzen 3 2200G Quad-Core 3.5GHz (3.7GHz Turbo) Processor
- 16GB Corsair Vengeance LPX 3200MHz DDR4 Memory (2 x 8GB)
- 1TB Seagate FireCuda Solid State Hybrid Drive - 5x faster than HDD
- Aerocool Integrator 500W 80+ Power Supply
With this PC you can play some of the hottest titles out there in the games market today, such as Fortnite, PUBG, League of Legends and many more, which is why it's perfect to get your foot in the door with the Ironwing Bravo today!
As it's currently March Madness you can also save an additional £50 on the Ironwing Bravo for just this month only!
Take me to the Ironwing Bravo
Ironwing Armour Bundle - £599.95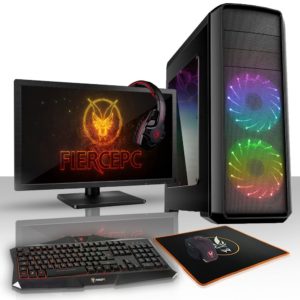 As we can understand when you buy a new Gaming PC, it's also nice to have a general refresh and add the likes of a monitor, gaming headset, and keyboard and mouse set. Which is why we're introducing the Ironwing Armour Bundle as our number two of our best Budget Gaming PCs!  This PC is great for an avid gamer and can run highly straining games such as PUGB so you can join your friends in getting those Winner Winner Chicken Dinners!
- AMD Athlon X4 880K 4.0GHz (4.2GHz Turbo) Quad Core CPU
- NVIDIA GeForce GTX 1050 2GB Graphics Card
- 8GB 1600MHz DDR3 (1 x 8GB) Memory
- 1TB SATA3 6Gbps Hard Drive
- Gaming Keyboard, Mouse, Headset and 21.5" Monitor Bundle
Not only that, it's also discounted by a whopping £100 at the moment in our March Madness sale!
Take me to the Ironwing Armour Bundle
Ironwing Rush Esports Series - £539.95
As number three on our Best Budget Gaming PCs list is The Ironwing Rush PC  was put together in celebration of huge growth in Esports and is one of the best value Esports Pcs on the market right now! Giving you capabilities to play some of the hottest games in Esports right now at a low price-tag. This PC will allow you to play games such as Overwatch, League of Legends, CS:GO and many more!
- AMD Athlon X4 880K 4.0GHz (4.20GHz Turbo) Quad-Core CPU
- NVIDIA Geforce GTX 1050 2GB Graphics Card
- 8GB 1600MHz DDR3 (1 x 8GB) Memory
- 1TB SATA3 6Gbps Hard Drive
To give you additional savings this March Madness this system currently has £60 marked off of the price!
Take me to the Ironwing Rush Esports Series
If none of these tickle your fancy, then be sure to head over to our March Madness sale page today to see what else we have in store to not only help you save money but to allow you to play some great gaming titles at a cost that suits you!

Budget Gaming Computers are perfect for beginners with a tight budget, we also offer help and guidance if you are unsure, just get in touch or visit our blog for cool hints and tips such as how to prioritise your weapons in Fortnite!