The war between AMD and Intel keeps intensifying, much to the benefit and excitement of gamers. The CPU giants are constantly coming up with new processors that open up the world of gaming and computing in general to new opportunities.
With the release of the Ryzen 5000 processors, AMD has hit a new milestone and with it comes a slew of other technologies, among them the X570 motherboard designed to fully exploit the Ryzen 5000 CPUs. The new motherboards come with a vast range of features, including PCIe support and double the performance.
X570 motherboards can also work with Ryzen 2000 and 3000 CPUs. Considering how gamers are attached to getting the latest technology, you have to wonder if you should be getting the X570 motherboard. This guide will walk you through everything you need to know about the X570 board.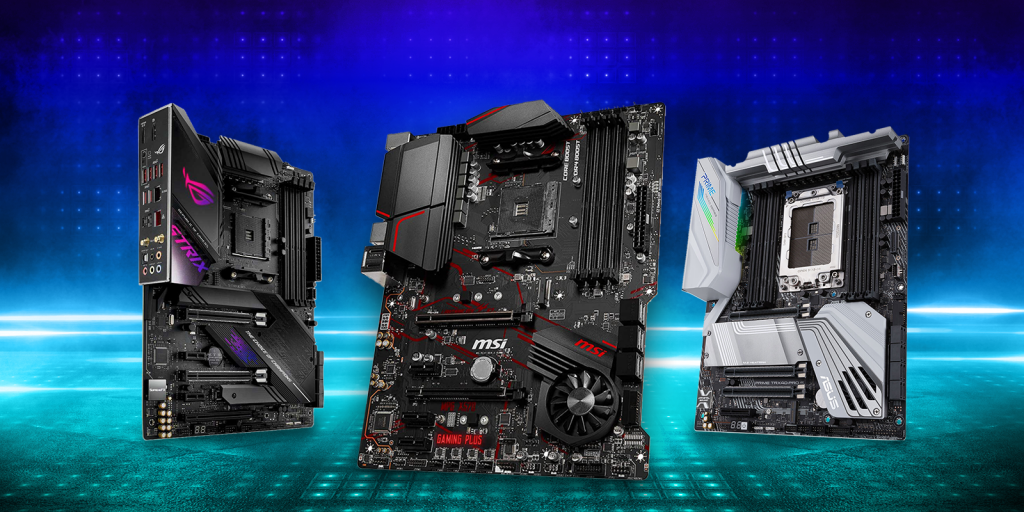 Things To Consider When Buying a X570 Motherboard
Like all other gaming components, what is good for you is not necessarily good for the next gamer. That is why you should know what to consider when choosing an X570 board to help you make the best choice.
The very first question gamers will ask themselves is whether they should get the X570 motherboard and why they should. Is the motherboard just for the new AMD chips?
The Ryzen 5000 chips are the main reason most consumers will consider getting the X570 motherboard. But, that is not the only reason. You can also use the board with 2nd Gen chips. The X570 board comes with a wide range of new and impressive features that can drastically enhance the performance of your PC, particularly in terms of connectivity and storage.
Some of the critical factors to consider when choosing an X570 motherboard include:
Form factor
The form factor is the physical size of the motherboard. The majority of the boards are ATX sized, but you can also find X570 boards that are E-ATX and Mini-ITX. Unless you're planning on going for a small form factor gaming PC, the ATX is the best size to consider. You will have maximum space for easier cooling, more features, and it is compatible with a majority of the mid-tower builds.
Form factor is one of the early, crucial decisions you will need to make because it will affect the entire building process, including the case and CPU you will use on your PC.
Socket
The X570 chipset has AMD's AM4 socket. The board design supports Ryzen 2nd and 3rd gen CPUs and, with BIOS updates, will also support the Ryzen 5000 series.
Memory
Memory can significantly affect your gaming experience, particularly with Ryzen CPUs. You need to ensure the motherboard you purchase is compatible with the RAM kit you intend or want to install. Check the motherboard specs to determine what RAM speed the motherboard can accommodate.
PCI slots
PCI or the Peripheral Component Interconnect are physical slots that allow you to expand the capability of your system. PCI slots can include a WiFi card, video card, NVMe expansion cards, and extra USB ports.
Other specifications and features
Before settling on the motherboard, closely look at the other features and specifications it offers and match them with your needs or the other components you intend to use with the motherboard. This will help you select the most compatible motherboard for your rig, delivering the best performance.
Best X570 Motherboards Reviews
There's no shortage of X570 motherboards. Although the boards are relatively new, manufacturers have taken turns trying to outdo each other. The results have been an increase in diversity and popularity. It's a double-edged sword because, on the one hand, gamers have a wealth of options to choose from, and on the other hand, finding the right motherboard becomes much harder.
If you're struggling or worried about going through most of the available options, this section will help you narrow down the variety by looking at some of the best X570 motherboards in the market for various applications.
ASUS ROG Strix X570 Motherboard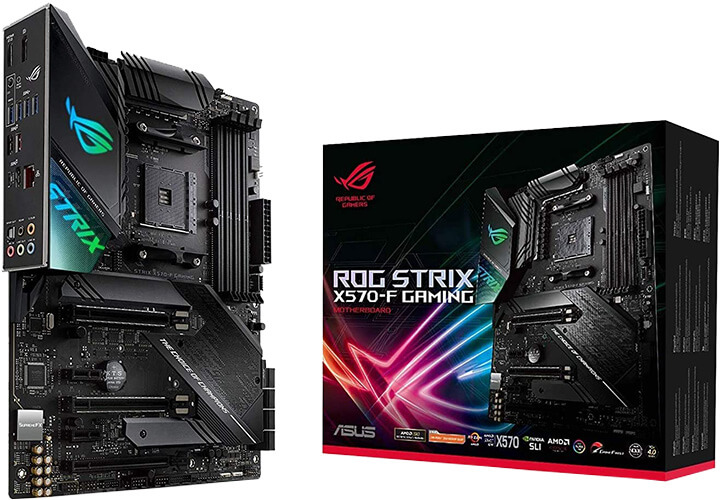 Specifications
| | |
| --- | --- |
| Socket | AMD AM4 |
| Chipset | AMD 570X |
| Form Factor | ATX |
| Voltage Regulator | 12+2 Phases |
| PCIe x16 | 3 |
| USB Ports | 15 |
| Warranty | 3 Year |
If you're straight shooting for the best X570 motherboard in the industry, the ASUS ROG Strix X570-F is your best bet. It is packed with features that include 14 stage power supply, PCIe 4.0 support, twin heatsinked M.2, support for Ryzen 2000, 3000, 4000 and 5000, and Intel Gigabit ethernet, among other features. All these for a mid-priced option that is becoming quite popular among gamers.
The ASUS ROG Strix X570 is not just a performer but is also one of the best AMD motherboards as far as value is concerned.
Asus has worked hard to create this board. One of the clever changes they have made is sacrificing one M.2 slot for four more SATA ports creating a total of eight SATA ports. The board also has a state-of-the-art cooling architecture that includes an actively cooled chipset, VRM heatsinks with a heat pipe, and multiple heatsinks for the M.2 SSDs.
There's no question the Strix is one of the finest, most affordable motherboards. It is well-balanced with features and performance with memory slots that can support up to DDR4-5100 with up to 128GB of capacity.
Pros
Incredible speed 6 WiFi
SupremeFX Hi-Fi audio
AM4 Socket compatibility
Overclocking support
Cons
The moboard doesn't have voltage monitoring
There's room for improving thermal efficiency
Gigabyte X570 Aorus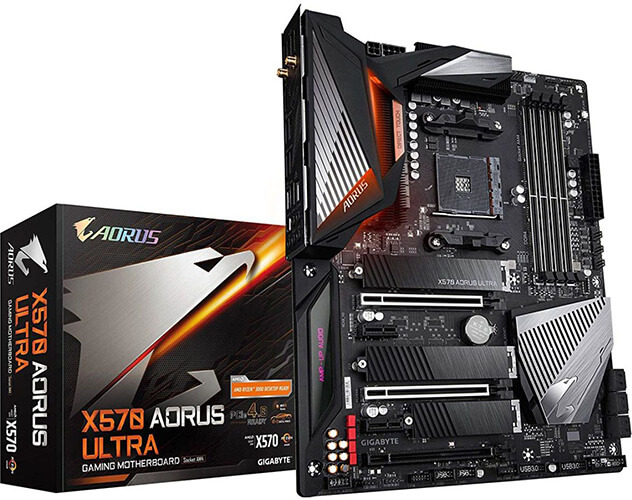 Specifications
| | |
| --- | --- |
| Socket | AMD AM4 |
| Chipset | AMD X570 |
| Form Factor | ATX |
| Voltage Regulator | 14 Phases |
| PCIe x16 | 3 |
| USB Ports | 15 |
| Warranty | 3 Years |
When money is no object and you prefer the finer things in life, the Gigabyte X570 Aorus Master motherboard is the ideal motherboard. It has a significant price tag for the slew of extras and support for up to the Ryzen 5000 series.
Besides the PCIe 4.0 function, Gigabyte has also fitted three M.2 slots that are all active at the same time, although the third slot means you lose four SATA connectors, so now the board has only four. The Gigabyte X570 Aorus Master is a game-centric board which means having more M.2 drives is more beneficial than having more SATA connections.
The motherboard also features WiFi, dual ethernet ports 2.4G and 2.5G for double-teaming, improved bandwidth and compatibility.
For its high price tag, the Gigabyte X570 Aorus Master motherboard offers consistent and easy overclocking, has 14 independent power stages, and has 50A MOSFETs that power the CPU. I/O ports are abundant, 4 USB3 G2 ports, 2 USB3 G1 and 4 USB 2.0 ports.
As an additional perk, the motherboard throws in the use of Audio Codel ALC 1220 for crystal clear audio quality. When going for high-end motherboard sets up, it rarely gets any better than what the Gigabyte X570 Aorus Master has to offer.
Pros
Bios is well-built and doesn't crash
Ethernet ports on either side of the board
5-way optimisation
Twice the bandwidth of PCIe 3.0
Cons
There is no WiFi
It doesn't come with a 2.5G Ethernet
Asus ROG Crosshair VIII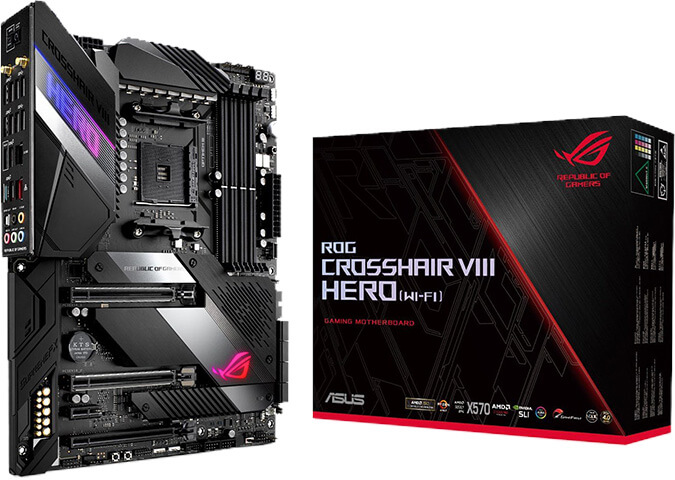 Specifications
| | |
| --- | --- |
| Socket | AMD AM4 |
| Chipset | AMD X570 |
| Form Factor | ATX |
| Voltage Regulator | 14+2 Phases |
| PCIe x16 | 3 |
| USB Ports | 15 |
| Warranty | 1 Year |
The ASUS ROG brand is well-known in the gaming community for producing some of the most impressive gaming hardware and motherboards. The ASUS ROG Crosshair VIII Hero isn't any different. It's considered one of the best premium X570 motherboards from ASUS ROG and an ideal pick for gamers setting up high-end gaming rigs.
The ASUS ROG Crosshair VIII Hero is an excellent option in overclocking the latest Ryzen CPUs. The price of the motherboard is reasonable and well below what other brands are offering for a rig with the same features and ability.
One of this motherboard's more impressive design aspects is the clear black theme that ASUS has painted the motherboard. Although this doesn't necessarily have performance benefits, it makes the board an excellent pick for gamers putting together a custom rig. The board has RGB managing the overall colours to choose what works for you.
The board has various modifying software that includes the AuraSync, Game First V and Armoury Crate. That motherboard is a viable option for the average user looking to save some money but get a premium experience out of their gaming PC.
Saying the Crosshair VIII is a joy to possess because of its thoughtful and capable technology is an understatement. The motherboard also packs creative aesthetics with high-end functionality. The motherboard packs everything you need for a gaming-centric board in one neat and clean layout.
Pros
High-quality audio
Pre-installed I/O shield
Aluminium M.2 heatsink
Cons
The chipset fan under the GPU is obstructed
It has no support for 8-channel audio
MSI MPG X570 Plus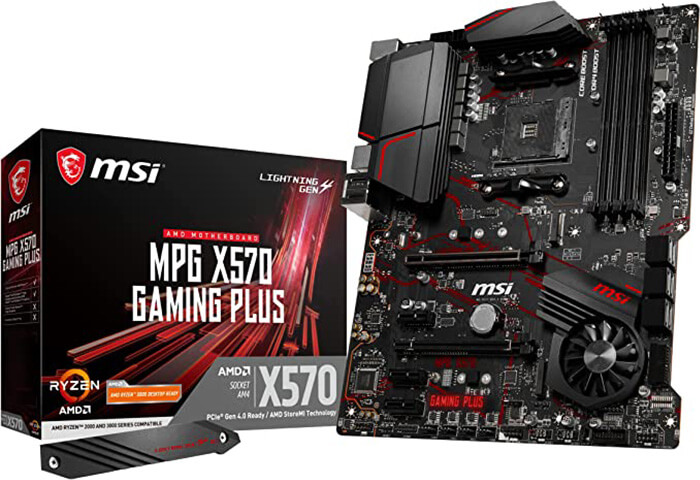 Specifications
| | |
| --- | --- |
| Socket | AMD AM4 |
| Chipset | AMD X570 |
| Form Factor | ATX |
| Voltage Regulator | 8+2 Phases |
| PCIe x16 | 2 |
| USB Ports | 17 |
| Warranty | 1 Year |
The idea behind the MSI MPG motherboard was to create a motherboard with only one goal in mind – to meet the demands of gamers with minimal financial costs. This makes the MPG Gaming Plus motherboard among the best entry-level X570 motherboards in the market.
Although a little basic, it still packs plenty of features that include an enlarged heatsink design, shielded power supply, a fanned chipset heatsink, FROZR M.2 heat spreaders and some new MSI optimisations.
If a super-fast SSD or a high-end next-gen graphics card, this motherboard will fit in perfectly. In addition to the hardware features, the MSI also has a unique Dragon Centre 2.0 software with customisation, optimisation, and personalisation tools. The in-game experience and performance of the motherboard is out of this world, particularly considering its price. It has a 46A per stage output that is consistent and suitable for most high-load conditions. It will easily boost a 3000 AMD CPU to its maximum without breaking a sweat.
MSI has added two full PCIe 4.0 sx16 slots into the motherboard and up to 4400MHz of overclocked DDR4 with a maximum size of 128GB. It's not something you will find in most entry-level motherboards. MSI has also added a USB3 G2, G1 type A/C port and a handful of 2.0ports on the motherboard. It also has exclusive features like Mystic lighting and AudioBoost 4.
Pros
PWM Digital IC
Features FROZR heatsink design
Quick and simple installation
Extended heatsink design
Cons
No SLI GPU support
Some BIOS functions are glitchy
MSI MPG X570 Gaming Pro Carbon WiFi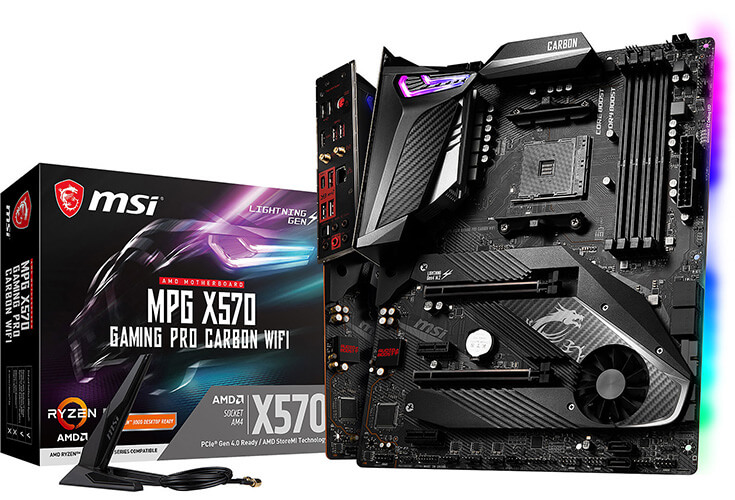 Specifications
| | |
| --- | --- |
| Socket | AMD AM4 |
| Chipset | AMD X570 |
| Form Factor | ATX |
| Voltage Regulator | 8+2 Phases |
| PCIe x16 | 2 |
| USB Ports | 16 |
| Warranty | 3 Years |
The MSI MPG X570 Gaming Pro Carbon WIFI motherboard balances top-of-the-line gaming-focused features for top-tier performance and mid-range pricing.
Its set of features includes two PCIe 4.0 slots, gigabit LAN and WiFi 6 for Lag-free online gaming. Improved connection and rounded performance give gamers total immersion. The design is inspired by Black Carbon and has a VRM heatsink and a FROZR M.2 heatsink that is cooled by a fan to avoid SSD throttling.
This particular motherboard comes in two configurations. One has WiFi, and the other doesn't. This particular version, as the name suggests, includes WiFi. Although there is no mention of SLI, the twin PCIe slots allow SMD crossfire.
With the MSI MPG X570 Gaming Pro Carbon WIFI motherboard, there are only two M.2 Slots with Carbon.
This is an amazing mid-range X570 motherboard with a big user base. It has a variety of features for connectivity and rapid data transfer. It also features the Nahimic Immersive audio and provides studio-grade sound quality, BIOS flash button and BIOS recovery.
The only thing keeping this motherboard from being one of the best in the market is that it lacks twin ethernet, which would have been the cream on the cake.
Pros
Highest quality VRM
Overclocking support
It has a Server level PCB stability
Slots for steel armoured expansion
Cons
The header fans could be bigger
There is no diagnostics panel
Asus Prime X570 Pro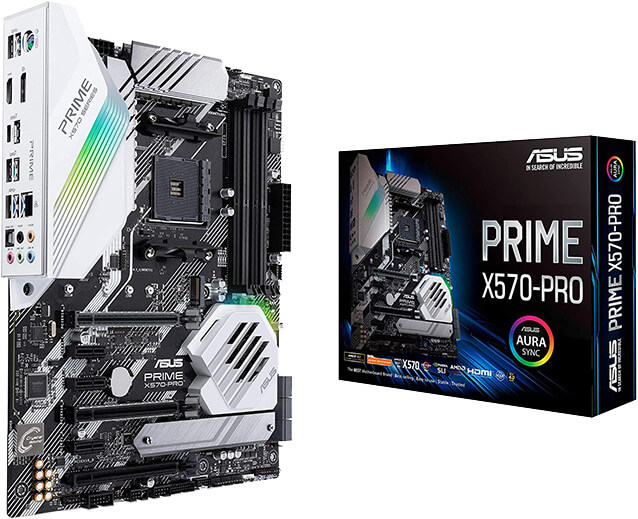 Specifications
| | |
| --- | --- |
| Socket | AMD AM4 |
| Chipset | AMD X570 |
| Form Factor | ATX |
| Voltage Regulator | 12+2 Phases |
| PCIe x16 | 2 |
| USB Ports | 15 |
| Warranty | 3 Years |
The Asus Prime X570-Pro was designed as a well-rounded motherboard with the Ryzen 3000 series CPUs in mind. The board delivers balanced performance, a clean layout and a feature-rich chipset at an affordable price. It is a professional-grade motherboard that can also be used for gaming and mid-level productivity tasks.
The board features distinctive architecture and a contrasting black and white colour scheme with AuraSync RGB.
The NVMe with RAID functionality works better with a quicker SSD performance, although there are PCIe 4.0 slots for more bandwidth and future-proofing. The presence of this feature makes this motherboard a steal among multimedia makers.
This isn't the most affordable motherboard on the market, but even as a mid-level motherboard, you would have expected to see a WiFi module that is conspicuously missing. Nonetheless, as much as many gamers would have loved to have the feature, the other more pronounced and more important features like the super-efficient heat sinks and the ASUS optimisation software compensate for this shortcoming.
The motherboard has two DIMM slots, and the BIOS updates and support have been excellent. Whether you're looking for a profitable mid-tier business machine or an average gaming rig, this unique motherboard from ASUS ticks on all the right boxes.
Pros
It offers a strong gaming performance
Has excellent memory overclocking capacity
EMI protection coverage
Audio specific PCB layers
Cons
It doesn't have WiFi
It doesn't have a thunderbolt port
Gigabyte AMD X570 UD
Specifications
| | |
| --- | --- |
| Socket | AMD AM4 |
| Chipset | AMD 570X |
| Form Factor | ATX |
| Voltage Regulator | 10+2 Phases |
| PCIe x16 | 3 |
| USB Ports | 14 |
| Warranty | 2 Years |
Enthusiast motherboards are among the hardest to come around. Finding a motherboard with all the bells and whistles is never easy. When you find one, the price is often out of this world, even for an enthusiast board.
The Gigabyte AMD X570 UD puts an end to your search for a moderately priced enthusiast bord. It is one of the least expensive boards on this list. But that doesn't mean you have to give up performance to save some coins.
On the contrary, the Gigabyte AMD X570 UD is a feature-rich board with commendable performance, especially when you use it with the Ryzen 3000 CPUs.
The Gigabyte AMD X570 UD has just the right features without being too overwhelming with what it can do. It epitomises simplicity in terms of design and components while getting as much functionality as possible out of every component.
Some of the features of the Gigabyte AMD X570 UD include the 12 power stages with upgraded MOSFETs for enhanced performance and optimal cooling complete with actively cooled heat sinks.
This X570 motherboard features three times the signal stability and doubles the bandwidth of the earlier PCIe 3.0. It has the newest M.2 4.0 slots. The chipset will not bottleneck the performance of the SSD. The RAM, just like the CPU, can be updated to about 4000MHz and supports XMP profiles. The Gigabyte AMD X570 UD is an excellent option for regular users who want to save money without their frugalness showing up on the performance of the rig.
Pros
The board has a BIOS flashing button
Fan speed sensing
HDMI 2.0 support include
Cons
No U.2 Port
No SATA controllers
X570 FAQs
Which is the best X570 motherboard?
There's no best X570 motherboard per se. The best varies depending on the needs of the user and their goals. You have to consider the type of rig you're building, then find an X570 motherboard with the features and components that will complement the functioning of your PC.
Can I repair an X570 motherboard?
X570 motherboards are not cheap. You can't afford to buy a new one every time the motherboard fails. In some cases, you can repair the motherboard. In others, you might need to replace it depending on the location and extent of the damage.
Sometimes the motherboard can malfunction because of incorrectly plugged connectors and components like RAM and video cards. Unplugging and plugging the components and connectors and plugging them correctly can remedy the problem.
If you have to try and fix the motherboard, it's highly recommended to seek the help of a knowledgeable technician because you will be interfering with fragile components like capacitors.
Should I Buy an X570 motherboard?
A quick look at the prices of the X570 motherboards can have you second-guessing whether you should buy this type of motherboard. Although little pricey, X570 motherboards come with top-of-the-line specs and features that are perfect for hardcore gamers and professional content creators.
The motherboards have improved VRMs that make overclocking and running high-end CPUs more efficient and stable. However, all these features mean increased heat production and power draw.
Other outstanding features of X570 motherboards include dual PCIe 4.0 M.2 slots which allow you to combine multiple drives on unique add-in cards for higher sequential read speeds. This feature is best for content creators for easier and smooth working with ultra-HD footage.
The motherboards also have reliable built-in chipset fans for cooling when under pressure. Considering all these features, spending extra to get an X570 motherboard may make sense.
Which is the best brand to consider when buying an X570 motherboard?
There are some brands that have created a rapport among gamers. But the brand doesn't always determine how good an X570 model is. It is better to focus on the quality and features offered. But, if you're not conversant with motherboards, buying one from a reputable brand is okay, but you should try to research different models and weigh what they have to offer.
You can never go wrong with finding a motherboard with the features you want, more so if you're not an average PC user. You can also check online reviews and gaming forums from buyers that have used the motherboards you're considering to get an idea of what to expect.
Is the X570 better than the X470?
There is no doubt about that. The X570 is a better motherboard than the X470 on multiple fronts. The X570 offers a broader range of features that are also more advanced and updated, including better cooling designs, PCI 4.0 compatibility, and overclocking compatibilities.
Final Thoughts
There you have it, the best X570 motherboards in the market. Keep in mind that it is only the best if it meets your needs and requirements for the gaming experience you're looking for. However, ensure you consider future-proofing when purchasing a motherboard. It will allow you to get the most value out of the motherboard before you need to replace it.