The motherboard is one of the critical pillars of your gaming PC. Even with the latest CPU and the best GPU, the motherboard still can make or break your gaming experience. It forms a strong base for your build.
In rare but reported cases, a bad motherboard has been known to damage all the expensive components in the PC. That's why you need to spend some time looking for the right motherboard that will deliver exceptional results without ravaging your finances. As with everything else about gaming, paying a premium price doesn't always mean you're getting the best.
The B550 motherboard is one of the most notable options from AMD's Ryzen series. It's a workhorse known for its stellar features and lean price tag. There are several of these motherboards in the market. Here is a look at some of the things you should consider when purchasing a B550 motherboard and a review of some of the best options to consider.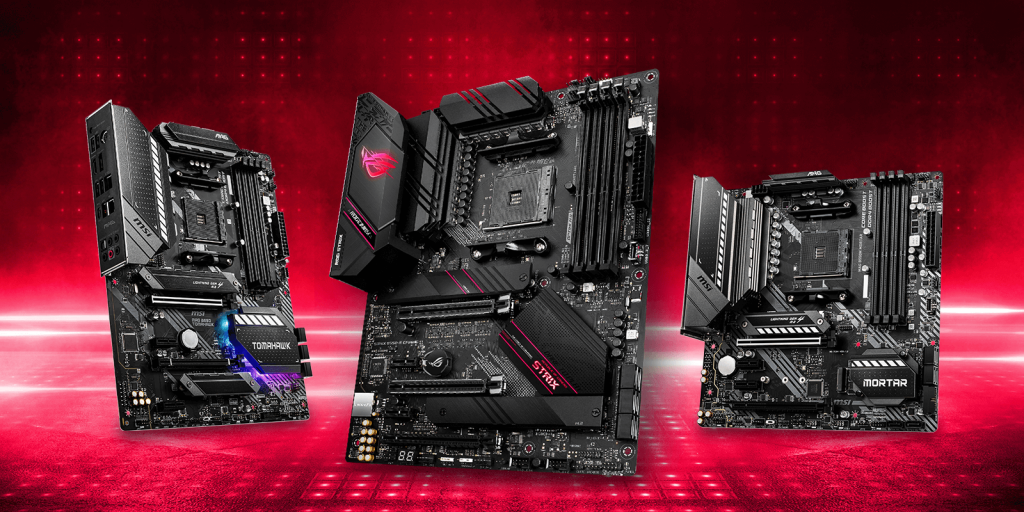 Things to Consider When Buying a B550 Motherboard
You can consider several things when looking for a B550 Motherboard that will help you narrow down your options and improve your chances of getting the best possible motherboard.
The B550 motherboard platform adds PCle 4.0 support for M.2SSD and GPU at pocket-friendly prices. It has an excellent price-to-performance ratio and is considered a sweet spot between the more affordable B450 and the high-end X570 for gamers that want something that strikes a balance between cost and performance.
The B550 brings dual GPU support and double the bandwidth for PCle lanes from 2.0 to 3.0. It's safe to say there is no shortage of features on this motherboard. But you still have your work cut out for you trying to find the best one for your budget and needs.
Form factor
You should match your motherboard to the size of your build. If you're building an ATX rig, you should go for an ATX B550 motherboard, and if you want a compact build, there are compatible Mini-ITX and Micro-ATX B550 motherboards as well.
However, it is not just about the size or form factor. Larger motherboards have more features, including more USB ports, larger heatsinks, and more PCIe slots.
Power delivery
Gamers who want to overclock their PCs have to seriously consider power delivery. It goes a long way in ensuring stability and reliability when you overclock. Get a motherboard with a good power delivery system to support your performance needs.
Advanced features
The B550 has an AM4 socket, which works with AMD Ryzen CPUs. That won't be a concern for you unless you want to use a different CPU. You should also consider the additional features which make the motherboard more functional.
Features like WiFi 6, Bluetooth, and onboard 2.5GB LAN are among the few that most B550 motherboards will have. Some premium options will also pack more ports and headers and will get close to what the X570 options offer.
Price
Price is always a concern because you don't have a bottomless money pit. The motherboard you choose has to be within your budget. Luckily, a majority of B550s are priced reasonably and still manage to pack an impressive feature set for amazing performance even on a budget.
There are low-end B550 motherboards that you can consider if you're on a tight budget. If your budget is more flexible, you can opt for a high-end motherboard with advanced features like Thunderbolt 4.
Now that you have a quick overview of what B550 motherboards have to offer and what you should consider when choosing one, here's a look at some of the best motherboards in this category, what they have to offer, and why you should consider them.
Best B550 Motherboards
Asus ROG Strix B550-E Gaming Motherboard
The Asus ROG Strix B550-E Gaming motherboard is perfect for gamers looking for the next-level gaming experience. The motherboard is packed with advanced features that make it an excellent option for gamers looking for an AMD CPU-compatible motherboard for 3rd Gen options. Some of the features this motherboard offers include;
Native PCle 4.0 support
This is among the most impressive features of this motherboard. It has two individual M.2 slots, with one designed for updated PCle 4.0 connectivity. Users can enjoy faster data transfer speeds and better storage flexibility courtesy of this feature.
Upgraded connectivity
If you've had networking and connectivity problems with your past motherboard, the Asus ROG Strix B550-E will be a significant improvement. The motherboard features integrated Ethernet and WiFi for faster internet speeds. The WiFi is WiFi6 for faster networking speeds, with improved performance and stability. With Ethernet, gamers can enjoy faster, wired connections that are up to 2.5x times faster.
Cooling design
Gaming PCs are performance machines that tend to produce quite a bit of heat. You need effective and efficient cooling features to ensure the PC keeps working for longer and doesn't fry itself. The Asus ROG Strix B550-E motherboard has an enhanced cooling design that keeps it cooler than its competitors.
It has multiple monitored temperature sources and has an AIO pump fan header. The chipset heat sink and the fanless VRM and four-pin PWM/DC fan header are enlarged too. These adjustments allow this motherboard to excel where others have failed.
Noise-canceling software
Asus makes it a point to add a noise-cancelling software to all their motherboards for a better-quality experience. The Asus ROG Strix B550-E comes with AI noise-cancelling technology for Bluetooth, 3.5mm and USB mics. The technology allows you to get rid of distracting environmental noise and mouse clicks and have a higher-quality audio input.
Optimisation options
The Asus 5-way optimisation makes wide tuning the entire system simple. You have access to a TurboV processing unit that is paired with AI suit 3 to manage system stats and the overclock settings.
You can also monitor the Energy Processing unit, enhance power consumption and adjust the cooling options. The motherboard also has the Digi+ Voltage regulator Mode that caters to real-time power efficiency controls. Finally, there's the Turbo App which lets you personalise the design.
Pros
High-quality IO layout
Impressive lighting design
Magnetic WiFi 6 antenna
Two M.2 slots with screws
Cons
Though improved, the heat dissipation is still inadequate
The PCle slot is delicate. It should be handled with extra care.
MSI MAG B550M Mortar Gaming Motherboard
The MSI MAG B550M Mortar gaming motherboard is perfect for users looking for an option to tackle more heavy-duty tasks while improving the user experience.
The motherboard has a simple, user-friendly interface that is merged with impressive stats that are perfect for entry-level and most mid-tier gamers. The range of features this motherboard offers includes;
Advanced cooling
The MSI MAG B550M Mortar gaming motherboard has impressive features that make managing your computer's cooling effortless. It follows the same mantra MSI has followed with its other motherboards that include an extended heat sink to keep the temperatures lower, enhanced power solutions for maximum efficiency of power consumption to reduce heat production, and it also has the M.2 SHIELD FROZR technology to improve the performance of the SSD and offer thermal protection.
There are user-friendly fan controls that adapt to specific settings of the cooling system depending on the computer's temperature.
Integrated boosts
This motherboard offers the Core and Game boosts. The Core boost improves the power design to enhance the precision of the CPU delivery. This feature proves vital if you have a multi-core CPU performing various operations.
The Game Boost is built for gamers and offers one-second overclocking. It is an intuitive technology that helps to improve the FPS, especially when playing online games.
Upgraded transfer speeds
The MSI MAG B550M Mortar gaming motherboard uses Lightning Gen 4 M.2 for faster transfer speeds. This is considered one of the fastest storage solutions on the market, with speeds of up to 64Gbps. The motherboard also comes with a second M.2 slot for 32Gbps data transfer.
MSI centre
This motherboard comes equipped with MSI Centre, which is a well-rounded software utility suit. It offers various customization options that include;
Live update – To help you stay up to date with the latest from MSI.
True Colour – To optimize the brightness and colour of the monitor
User scenario – customise your computer by creating profiles based on your preferences.
OC Setting – Adjust the motherboard settings for improved core and cooling performance.
Hardware monitor – Receive access to all important hardware information immediately.
Mystic light – Tailor the appearance of the setup using RGB-friendly controls.
Total fan control – adjust specific fan settings and target specific temperature parameters.
Improved shielding
The IO shielding on the MSI MAG B550M Mortar gaming motherboard is its most impressive feature. This feature makes the process of putting your rig together safer and easier to manage. You will have fully integrated protection to prevent electrostatic discharge from damaging the sensitive components.
Pros
The MSI MAG B550M Mortar gaming motherboard has impressive VRMs
User-friendly BIOS
High-quality PCB
Real-metal IO shield
Cons
The motherboard doesn't have rear USB ports
The Pins are fragile
ASRock B550 Taichi Motherboard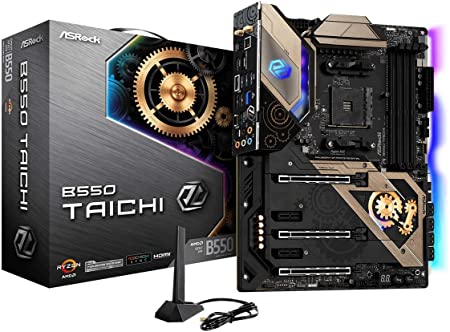 The ASRock B550 Taichi Motherboard is an excellent option if you're looking for a motherboard for the 3000 and 5000 Ryzen Series processors. It comes with plenty of features and functions, including dual graphics output options and five PCle slots, among other features like;
Integrated PCle 4.0
In line with other B550 motherboards, this one also features PCle 4.0. it has enhanced versatility with higher levels of bandwidth, speed and remarkable performance. This particular model comes AMD Ryzen 5000 ready. All you have to do is take advantage of the board.
Enhanced thermal protection
Among the best features, this board offers is the thermal protection motherboard that comes with heatsink armour.
The components are made from aluminium alloy, which delivers improved heat dissipation and a strong M.2 cover. The backplate is metal which further enhances airflow and optimizes heat dissipation.
Nahimic audio
The ASRock B550 Taichi Motherboard recently got an update that now adds Nahimic audio to its list of features for incredible audio performance. This program offers an engaging listening experience regardless of whether you're using internal speakers or headphones.
This technology was developed by SteelSeries and is designed to make environmental sounds and music become more vibrant. For an even more immersive experience, this feature has customizable features.
Improved game performance
Gamers will benefit from the addition of the PCle 4.0 x8/x8, which will allow you to install an x16 graphics card and maximise the potential of the PCI 4.0 x8/x8 technology. This feature arrives ready to use and is compatible with games that are Microsoft DirectX or Vulkan-ready.
WiFi 6 and Intel 2.5G LAN
The ASRock B550 Taichi Motherboard allows you to venture into the modern world of computing using the most advanced internet connection options for the fastest wireless internet speeds.
The built-in WiFi function is perfect for WiFi 6 802.11ax and offers speeds as high as 2.5Gbps. The adapter also works with 5GHz and 2.4Ghz networks simultaneously. If you prefer wired connections, the Intel 2.5G LAN will take good care of you. It offers higher bandwidth and faster connection speeds.
This feature is perfect for online gamers and those living in metro areas and prefer to get a more isolated signal. Together, these features give you better stability, throughput and lower CPU usage.
Pros
Impressive IO features
Durable board armor
High-quality RGB support
Easy and straightforward installation
Cons
The board doesn't come with a BIOS UI
The standoffs have dead space
ASRock B550M-HDV Motherboard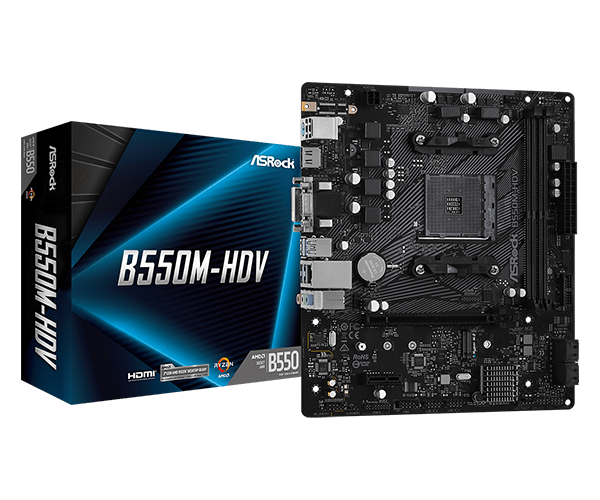 The ASRock B550M-HDV motherboard is an excellent option for entry-level gamers looking for a board offering basic and essential features. It is light on your pockets but has nearly everything you need to get started. Its range of features includes six USB ports, Gigabit LAN and a six-power phase design. Other notable features are;
Six power phase design
This board is designed with moderate computer power in mind. It makes an excellent office PC, but it also has adequate overclocking capabilities while maintaining a minimal thermal footprint. With the six-power phase design, you will also have a premium 50A power choke.
Hyper M.2 Integration
In terms of PCle slots, the board has it all. It has PCle4.0 m.2 slots for double the computer speeds, and it supports data transfer buffing to prevent lagging. It's an overall better model compared to what the old models offer.
AMD Smart Access Memory
This is a valuable feature on your motherboard, particularly for new gamers. It will allow you to maximise the full potential of the GPU and reduce bottlenecks. The feature will also help you improve the performance of your PC.
High-resolution graphics output
Visuals are a vital part of gaming. You want the best possible visual experience and the ASRock B550M-HDV motherboard offers just that. The board can manage 4K resolutions at 60Hz with the built-in HDMI port. The board also has a D-sub and DVI-D connection option.
Full Spike Protection
As a gamer, you need to protect your components against power surges which can happen often and cause substantial damage to your rig, which requires expensive fixes and replacements.
The Full Spike Protection features help you protect the system from voltage spikes over time. The feature is critical in ensuring your PC's longevity after years of use.
Superalloy durability
The ASRock B550M-HDV motherboard is a durable option which is one of the reasons why this is an excellent motherboard for first-time builds. Besides the 50A power chokes for enhanced Vcore voltage, the board also has a sleek matte black PCB with a mysterious allure that works with most rigs like the high-density glass fabric PCB.
Pros
This is a great motherboard for first-time builds
The motherboard has clear instructions
It can work with office PCs
Prioritises the essential functions
Cons
The fan headers could be better placed
The BIOS starts slowly
MSI MAG B550 TOMAHAWK Gaming Motherboard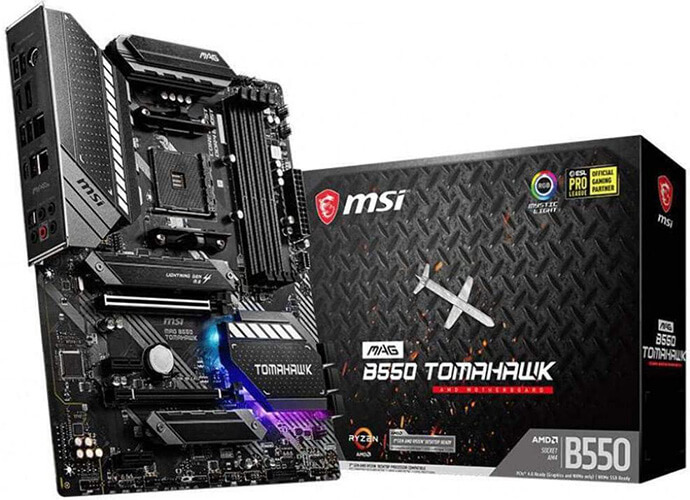 For the grittiest and the most seasoned gamers, the MSI MAG B550 tomahawk gaming motherboard is the best option. It is a premium motherboard that comes complete with user-friendly DIY features.
There are many useful functions built into this board, making it perfect for casual and professional gamers who can match its price tag. Some of its beneficial features are;
Cooling technology
The MSI MAG B550 tomahawk gaming motherboard has MSI cooling technology, which makes managing the temperature of the PC simpler. The range of thermal solutions that come with the motherboard includes an extended PMW heatsink and innovative circuit design. There's also the addition of the M.2 Shield Frozr that will keep the M.2 slot cool.
Complete fan control allows you to customise your rig's cooling settings. If that's not enough, you can take comfort in knowing this motherboard is also designed to be pump fan-ready.
Storage and connectivity
When setting up a gaming rig, you want to focus on the storage and connectivity options. The MSI MAG B550 tomahawk gaming motherboard has one Lightning Gen 4 M.2 Slot for 64Gbps data transfer paired with a 32 Gbps m.2 slot.
The motherboard also has six additional slots for 6Gbps data transfer speeds. These connectivity features are particularly tailored to meet the needs of demanding gamers. You also get to enjoy phenomenal audio and improved LAN networking.
The motherboard offers 2.5G and 1G LAN for connectivity with high bandwidth and low latency. It also uses the LAN manager, which allows you to optimise your gaming experience and prioritise various applications and traffic.
IO shielding
One of the major concerns gamers have when building a PC is electrostatic discharge. IO shielding helps to protect against this. It is a unique technology built into the MSI MAG B550 tomahawk gaming motherboard and helps to protect the components. Having this feature improves the EMI protection and gives you an easier time when putting the setup together.
Steel Armor PCle slots
The MSI MAG B550 tomahawk gaming motherboard does more than just have PCle 4.0. Each of the slots is designed with steel armour to ensure the most important components of your computer are adequately protected. This is particularly important if you want to set up a multi-GPU rig.
Pros
The MSI MAG B550 tomahawk gaming motherboard has an amazing BIOS UI
Fully integrated IO Shield
Reinforced PCle Slots
Superb onboard sound
Cons
The HD audio port is poorly placed
The motherboard could require flashing
Conclusion
There's no shortage of B550 motherboards in the market. This review has looked at the best motherboards in almost every aspect. The best one depends on what your needs and gaming aspirations are. By focusing on your gaming needs, you're better equipped to select a motherboard that provides solutions to those needs and pick the best option for you.