AMD has been on a tear in the gaming world. First, it was Intel. After many years of being in the shadows, AMD found a way to go toe to toe with Intel, although there is still some work to be done there. With the release of the RX 6800XT, AMD is set to take the competition to Nvidia – one of the best GPU manufacturers currently.
The 6800XT compares to the Nvidia RTX 3080, which is another high-end graphics. If you're going for the best-in-class GPUs, you will likely end up with these two as the finalists. This comparison should help you make the right choice and get the most value for your money.
AMD RX 6800-XT vs Nvidia RTX 3080 Overview
Before going over all the details of what each GPU has to offer, here is a quick overview that should shed light on what to expect from each.
GeForce RTX 3080
For hardcore gamers looking to game at 4K resolution, the RTX 3080 is the best option in its class. The 3080 is not just an impressive GPU now but will also be an excellent option in the next generation. The GPU has impressive ray tracing capabilities that easily outpace the 6800, and its DLSS feature is unmatched. Using the DLSS feature, the GPU can boost framerates in compatible games. However, you should be prepared to fork out more to grab the RTX 3080.
Pros
Mature ray-tracing capabilities
DLSS for better performance
Designed and powered for high-end 4K gaming
It comes with HDMI 2.1, AV1 decode
Cons
It can set you back a pretty penny
It's not easy to find this particular GPU
It's overkill for many users, even gamers.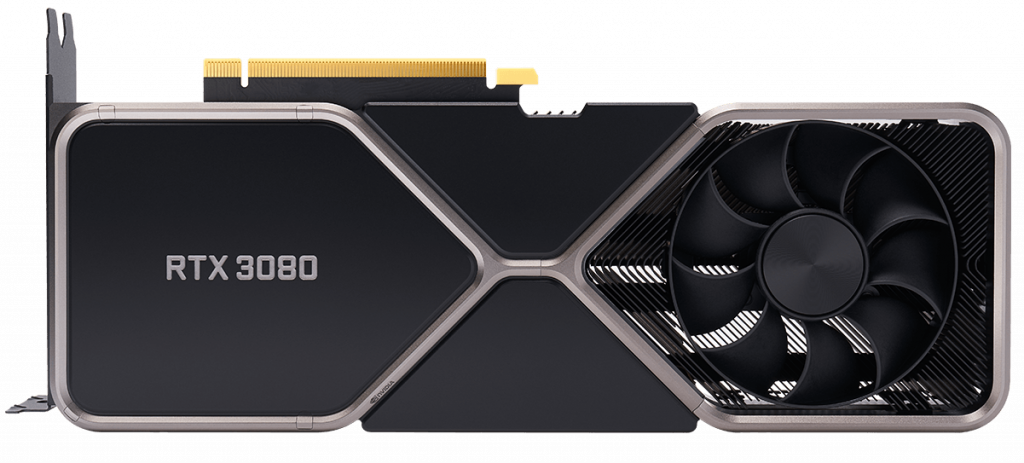 RX 6800XT
AMD's RX 6800 is also a powerful graphics card. But not to the degree of the RTX 3080. The 6800 is geared for high-end gaming and 1440p in particular. The 6800 XT is capable of ray tracing but not to the same degree as the RTX 3080. It also doesn't have a feature that is as impressive as the 3080's DLSS. However, the 6800 still presents a good case for gamers looking for a high-end gaming experience at 1440p resolution.
Pros
Potent 1440 performance
Can handle entry-level 4K gaming
More affordable than the RTX 3080
Less power consumption
HDMI 2.1, AV1 decode
Cons
Ray tracing is not as refined
Limited availability
Doesn't have a DLSS equivalent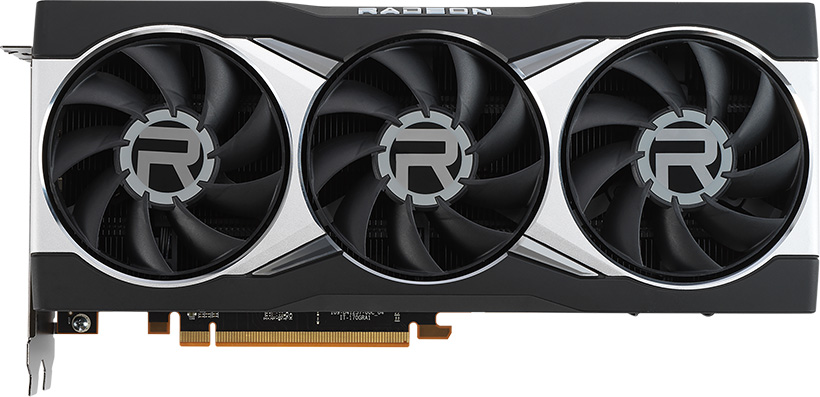 3080 Vs 6800 Tech Specs
| | | |
| --- | --- | --- |
| | 3080 | 6800 |
| Architecture | Ampere | RDNA 2 |
| Shader/Stream | 8,704 | 3,840 |
| Tensor/Texture | 272 | 240 |
| Clock | 1,440MHz | 1,700MHz |
| Boost clock | 1,710MHz | 2,105MHz |
| Memory | 10GB GDDR6X | 16GB GDDR6 |
| Bus width | 320-bit | 256-bit |
| Transistors | 28.3 billion | 26.8 billion |
| Node | 8nm | 7nm |
| TDP | 320W | 250W |
| Recommended PSU | 750W | 650W |
| Slot size | Two | Two |
Performance and Features
After quickly browsing what both GPUs have to offer, you can start looking at what each offers closely if you're considering purchasing either of them.
The Nvidia GeForce RTX 3080 is driven by the Ampere architecture. It is currently the best GPU for 4K gaming in the market. Compared to the RTX 20 series, the 3080 offers massive gains, thanks to the addition of streaming multi-processors with double the throughput, 2nd generation ray-tracing cores with improved performance and 3rd gen Tensor cores to enhance AI accompaniment. This also comes with features Deep Learning Super Sampling (DLSS) and also the NVIDIA Broadcast. Both of these technologies are game-changers. If you haven't come across them before or don't know how they can change your game, it's worth taking some time to find out more about them.
The AMD Radeon RX 6800 GPU comes with the RDNA 2 architecture. It has its own ray tracing capabilities, which are impressive and will work with games compatible with Ray tracing. Not to be left behind, AMD has also introduced its own technology to rival DLSS from Nvidia called the FidelityFX Super Resolution. However, it is still under development. Therefore, it would be impractical to expect it to have as much impact as the DLSS. But it does create a difference.
The 6800 also has the Rage Mode overclocking. But this is only available on the XT variants of the GPU. The 6800 also has the Smart Access Memory (SAM) and infinity Cache. Using this feature, you can boost the base performance in most games as long as you're using the Ryzen 3000 or Ryzen 5000 processors with the RX6000-series GPU processors.
Although AMD has put together a spirited fight and brought forward a worthy opponent, Nvidia's 3080 GPU series is a force to reckon with that performs better than the 6800 in most, if not all, performance categories. The AMD 6800 isn't all that bad. It's still an excellent option but only for 1440p gaming and utmost entry-level 4K gaming.
Winner: 3080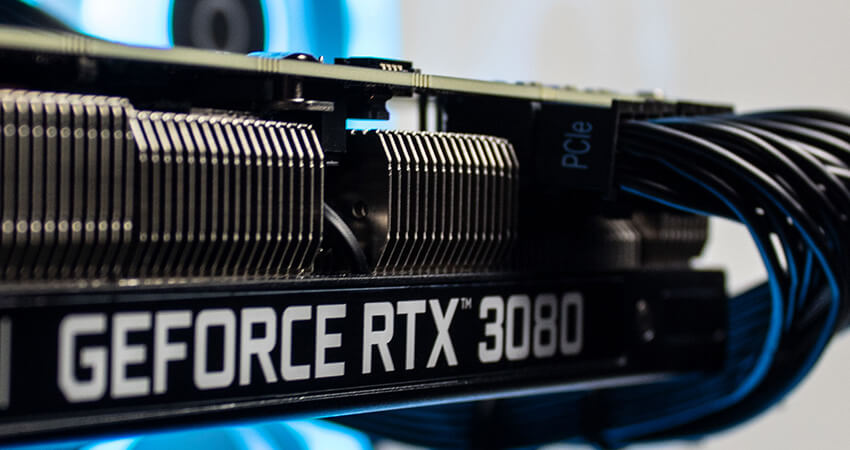 Drivers and Software
It's common practice for manufacturers to release new driver updates regularly. AMD and Nvidia are not any different.
In the case of AMD, there are annual overhauls of its Radeon drivers. The updates will often include new features and a UI update. AMD also has monthly updates to address bugs and improve performance in some games. AMD might also add some extra updates for new game releases.
Nvidia has a similar schedule for the GeForce drivers. The updates are not always monthly. But Nvidia ensures you have a game-ready GPU on the day for most major releases.
AMD can push updates more frequently because the Radeon GPUs are not Windows Hard Quality Labs (WHQL)certified. That also means it's easier for bugs to slip through the cracks with the updates that come in so quickly. Nvidia, on the other hand, is WHQL certified.
In terms of GPU user interfaces, the manufacturers have taken different approaches. On the on hand, Nvidia splits the UI of the 3080 into two applications. There is the Nvidia Control Panel that takes care of the GPU settings like the resolution, vertical sync, texture filtering, power management and low latency mode, among others. The control panel is also tasked with handling the display configuration and tackles things like colour, multi-display setups and rotation.
The second application is the Nvidia GeForce Experience. This handles game settings, game streaming, driver updates and recording features. You can only access this application when you log into your Nvidia user account.
Nvidia also offers Nvidia Broadcast. This is an AI-enhanced broadcasting solution that uses the Tensor cores in the RTX GPUs to clean up the noise from the microphone and remove the background without a green screen. Although it hasn't been perfected, it is quite impressive.
AMD has a more streamlined approach with its Radeon 6800 GPU UI. Its software is a one-stop-shop for all your GPU settings and features. The Adrenaline software suite has automatic driver updates, game performance profiles, and built-in broadcasting software that you can use to stream and record your gameplay.
For animated images of your most memorable gaming moments, AMD throws in an instant GIF button. The AMD software has other impressive features that include metrics logging and a tuning section with automatic overclocking profiles with settings for manual adjustment.
Each approach from either manufacturer pays off and offers various benefits. Ultimately, the experience using either software and the user interface is largely the same. Both options offer commendable monitoring, streaming and broadcasting features. With regular update releases, you're always assured of the best performance and the most updated features on either GPU.
Winner: Tie
Power Consumption and Efficiency
At the level that the 3080 and the 6800 GPUs perform, you can expect them to draw quite a bit of power to deliver the right gaming experience. But while selecting, you will also need to consider the efficiency of the GPU because the power requirements of your GPU will affect your power supply requirements, especially if you're keen on the carbon footprint of your gaming rig.
In the Past, AMD GPUs were known for being more power-hungry than their Nvidia counterparts. But AMD seems to have done a lot to change its standing on that front. The current line-up actually draws less power.
The Nvidia 3080 GPU even draws more power than AMD's RX6900 XT, which is a better performer. The turnaround by AMD GPU consumption is because of the use of the TSMC 7nm N7 lithography. Nvidia uses the Samsung "8nm" 8N Tech. However, the TSMC costs more but is still in higher demand and is harder to find.
Although AMD has done an excellent job of cutting back on the power hungriness of its GPUs, the gap isn't that wide. This is more so when you consider other third-party cards that can pull up to 10% more from the socket.
If you're using either card for games that don't support ray tracing, the performance difference doesn't justify the additional power consumption of the GeForce. However, when you bring in compatible games, the DLSS and ray tracing superiority of Nvidia more than make up for the difference.
The AMD 6800 draws less power than the RTX 3080 while keeping the performance number very close. Unless you want to leverage Nvidia's ray tracing and DLSS, you will make more savings with AMD without compromising gaming quality.
Winner: 6800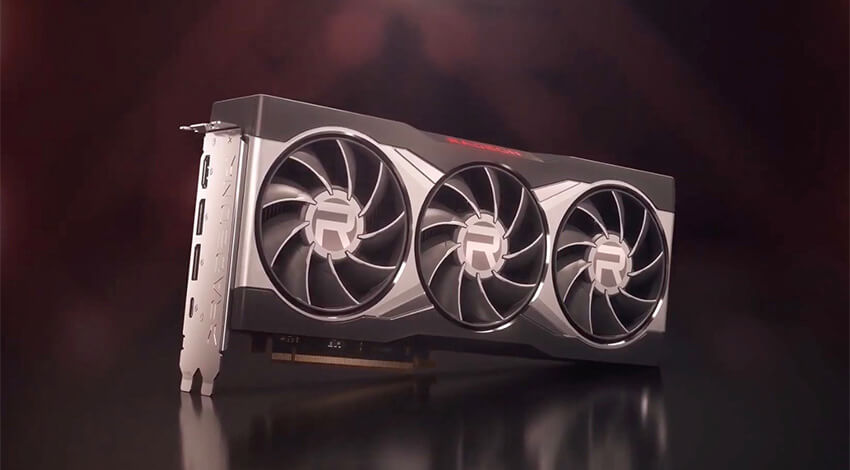 Price
Price has a significant effect in convincing buyers. Although most gamers will usually buy a GPU based on price alone, it is not a recommended practice. Nonetheless, the role of pricing when selecting the right GPU to buy cannot be overlooked.
Nvidia's RTX 3080 hit the market with a recommended retail price of about £649. AMD's 6800 came a bit later with a recommended retail price of roughly £600.
However, these are only the manufacturer's recommended retail prices. They are nowhere near the actual market price for either GPU. The GPUs have extremely limited availability, which has massively inflated their prices. Despite each company's best efforts, it's almost impossible to keep up with demand, and the prices keep getting out of hand.
Third-party online stores are selling GPUs at insanely high prices. You're likely to pay double or triple the official price. Both GPUs have been hard to find since they were released, and the situation is not likely to change anytime soon.
With the average cost of the 6800 being just slightly above the MRSP, Nvidia cards are more affected, with buyers paying up to three times the MSRP. That leaves the 6800 as the winner as it is more affordable, but also it doesn't hold its value well, and it is worth mentioning in case you want to upgrade soon.
Winner: 6800
Which is the Best GPU For You?
Although finding either of the GPUs will take time and a lot of luck, it's still amazing to have high-performance GPUs with the features that these two have to offer. It's also great to see another brand breaking into a field that is highly dominated by Nvidia.
In most cases, when buying a GPU, what you choose is often determined by your budget and needs. In this case, your budget will most likely be strained regardless of what you choose.
With that in mind, it's best to consider what you can get after spending out of your budget. The 6800 option puts up a valiant effort but the 3080 checks on all the right performance benchmarks and easily sneaks by for the win.
It's important to note the 3080 has lower VRAM. But it more than makes up for that with unique features like ray tracing and DLSS performance for a maxed-out visual experience.
The Nvidia 3080 really shines with impressive features, including the Nvenc encoding and G Sync, which ensure you know where to go.
The 6800 isn't far behind. It's right up there as well, especially if you're chasing a high refresh rate in the 1080p and the 1440p gaming range. The 6800 doesn't have the best ray tracing, so you might have to give up some features if you settle for the 6800.
The 6800 doesn't hold its value as well as the 3080. If you're willing to go for a used option, you're likely to save a fortune if you go for the 6800. The 3080 will still cost you an arm and a leg even if you buy it used.