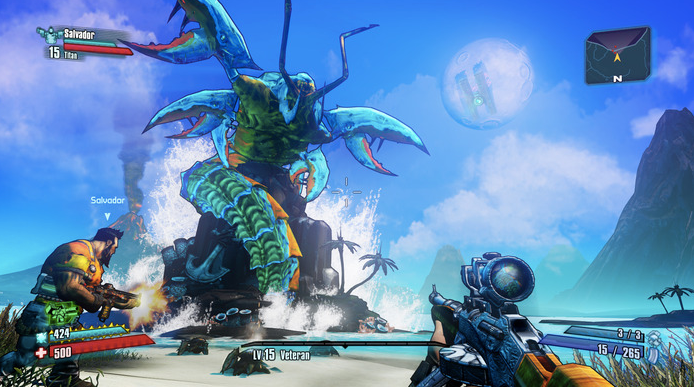 The recent announcement by Gearbox about the release of Borderlands 3 has sent shivers of anticipation across the gaming world. Even though Borderlands 2 was released in 2012, it has been a ton of fun driven on Steam.
The popularity of the game is primarily driven by the idea of having shift codes that players can find and use to get an edge on the game. Using the codes, players can unlock rare weapons and different looks for the characters within the game.
Since the game was first unveiled, Gearbox has always unveiled new shift codes some of which are still active and you can unleash.
Before we delve into the different shift codes, you should know the codes come in two varieties;
Special skins: these are unique heads and skins that you can apply on the various characters on Borderlands 2. These unique looks can only be unlocked with shift codes.
Golden Keys – when you get to the city of Sanctuary, you can open a special crate using these keys. With billions of guns randomly generated, using the golden keys is a great way to pick up some rare power-packing guns.
Whether you just got wind of the new revelation and decided to give Borderlands 2 a try or you're an avid player looking for a more adrenalin packed PC gaming experience, these shift codes are all you need.
How to Use Borderlands 2 Shift codes
Before you start rummaging through the different codes, you need to know how to apply them. There are a few different ways you can use the shift codes for special skins and Golden Keys.
Online – if you want to use the shift codes online, you first create a free account at shift.GearboxSoftware.com. You can also login using your Steam account. You need to link the Shift and Steam accounts, then proceed to the rewards tab. To redeem a key, just copy and paste the key.
In-game – the second method to use shift keys is in-game. In Borderlands 2 go to the Main Menu, then Extras then Shift Code. There is a list of other shift codes previously redeemed. At the bottom of the window, click the Shift Code button and paste in the 25-digit shift code. Just like that, you're done.
Shift codes typically expire after three weeks. You have to regularly check for new ones if you want to build a stockpile for them.
New 2019 Shift Codes
There are new, impressive shift codes for Borderlands 2. These are perfect when you're trying to peek around at what Borderlands 3 might have in store. The latest hot codes include;
W3KJB-H9CBW-XRBRW-JTBTJ-9JRXK - 25 Golden Keys
53KBB-KXXRC-RZ66Z-WFJBB-WSRZ3 - 5 Golden Keys, Zero's Community Day Skin
C3W33-RZ6ZJ-TFJ6C-TTJ33-RFHX5 - 100 Golden Keys
C35TB-WS6ST-TXBRK-TTTJT-JJH6H - 5 Golden Keys, Salvador's Community Day Skin
5B3BJ-XZWFW-T3KRZ-JBJTB-6WST9 - Maya's Community Day Skin
These keys are a big deal because of the sheer number of keys they're worth or their ability to unlock rare and exclusive skins.
If you've been on Borderlands 2 for some time and on the lookout for some new shift codes, there were a few recent releases. They include;
C3K3J-CH59J-XFT6K-T33J3-9WTJ9 - 5 Golden Keys, good through 5/13
CJKTT-FS5ZT-FXB6K-BBBBJ-93RCT - 5 Golden Keys, good through 5/13
Cosmetic Borderlands 2 Shift Codes
Despite being around for some time, Borderlands 2 has not become obsolete thanks to the shift codes for character skins that keep the game and characters fresh. Most of the cosmetic shift codes haven't been deactivated and most work to date.
Some of the links will work on the PC version of Borderlands 2 while others will only work on the console version. To get you started, here are some of the top cosmetic shift codes you can use.
Another Interesting read: History of eSports
Tiny Tina's Assault on Dragon Keep
Salvador's Bear Naked skin - 5J5TT-RCJBS-ZXWCJ-TJ3BJ-TK3FB
Gaige's Summoner Sickness Skin - 535BB-3R3BZ-HF5K3-JJB33-3BF3J
Axton's Natural Twenty skin - KTK3J-FR3JS-ZX55B-B3BJ3-HSRB6
Zero's The Pandora Chainmail Massacre skin - CTKJ3-9CBJS-9R5WT-JBJ3T-WKXKF
Krieg's My Fantasies Involve Blood skin - CBKJ3-5FT39-ZRCCT-JTJB3-RFJ5B
Maya's Her Violent Nature skin - CBCJ3-W5TT9-S65K3-BJJ3B-XHWWC
Borderlands the Pre-Sequel
Gaige as Moon Moxxi skin - 53WT3-59KJX-95B65-3J333-S9JW9
Salvador as Wilhelm skin - CTWTB-RXKTR-SKJXW-3TBTJ-KXKKH
Krieg as a Scav skin - CTKTJ-JSWJF-SCJXK-3TJJ3-RWTKX
Maya as Nisha skin - KBWT3-WF5TR-SC3XW-T333B-TSCTS
Axton as Athena skin - CJKBJ-3XWTF-HCJ6K-JJB3T-SB35X
Zero as Claptrap skin - W3C33-H653X-9CTR5-3TBJ3-HZ99S
Luck of the Zafords
Luck of the Zafords skins & Chulainn SMG - 5JWT3-3H5FB-SCBX5-TJ3JB-H5R6X
Heads
Salvador's The Beast Within head WBCJJ-33KWR-S5Z33-BJTTB-65WJJ
Gaige's Wayfarer Wizard head - CBKBJ-6ZJW6-HKH3T-B3T33-F5ZRS
Axton's Warrior of Light head - KJKJT-WHBKX-HC9BT-TJBJ3-XJFSJ
Zero's G0ry Gh0ul head - CT5BB-XTW5X-9CSBT-3BTTJ-FT5X5
Krieg's My Ears Are Ringing head - CBKBB-ZHJC6-SWHJT-JJ3BB-3CXHS
Maya's Elven Eliminator head - KTC3T-WTW5F-ZCHB3-BT3B3-XJ9WR
Loverpalooza
Krieg's Loverpalooza skin - WTCBJ-FTCXF-5TXCT-3TJ33-TZXW6
Loverpalooza skins & gun - 5T53B-6K9KT-Z5B65-BTJJ3-655CZ
Golden Key Shift Codes
There are still loads of Golden key shift codes that work, but, you can never be too sure. Most are pretty decent with bundles of up to five golden keys. With Golden keys, you have unlimited options but, here are some shift codes for keys you should definitely consider activating;
20 Golden Keys - 5BW3B-F96CT-KXJFK-TB3B3-39BWZ
25 Golden Keys - W3KJB-H9CBW-XRBRW-JTBTJ-9JRXK
25 Golden Keys - WBK3T-BKW6T-TXTRK-JTTBT-C6BS5
Class Mod Shift Codes
Looking for something with a little more impact and not just reduced to cosmetics and appearance? Class Mods are it! They change how the characters play, add bonuses and boost skills. Class Mods are perfect when you're looking to open up new ways to play or looking to breeze through Borderlands 2.
Some of the best mods you can consider in this case include;
Krieg Class Mod - WTCJT-J653B-C3TKF-5X333-F6JRH
Axton Class Mod - 5JKBJ-K9WHW-WBZTJ-T3TTB-TW9HR
Gaige Class Mod - W3C3B-5JRZC-WJH33-JBJJB-9S6CJ
Maya Class Mod - WJWJ3-FXC33-KT3CR-KR33J-J9B35
Zero Class Mod - CBWJ3-S5CJ3-WTTCF-WX333-9STBF
Salvador Class Mod - WJKBB-KXC3J-5BBCR-5X33J-XZ6RZ
As you wait for the Borderlands 3 launch, these shift codes will keep the old but still gold Borderlands 2 game as exciting as ever with a fresh look all the time. Remember that the codes expire every one or two weeks. However, most of them are never deactivated and some of the old ones might still work. Most of the ones listed here are the new releases, they have a higher chance of working.
Even with a small budget, you can enjoy all the wonders of PC Gaming. Check out our wide range of Budget Gaming PCs.