Incoming titles of June: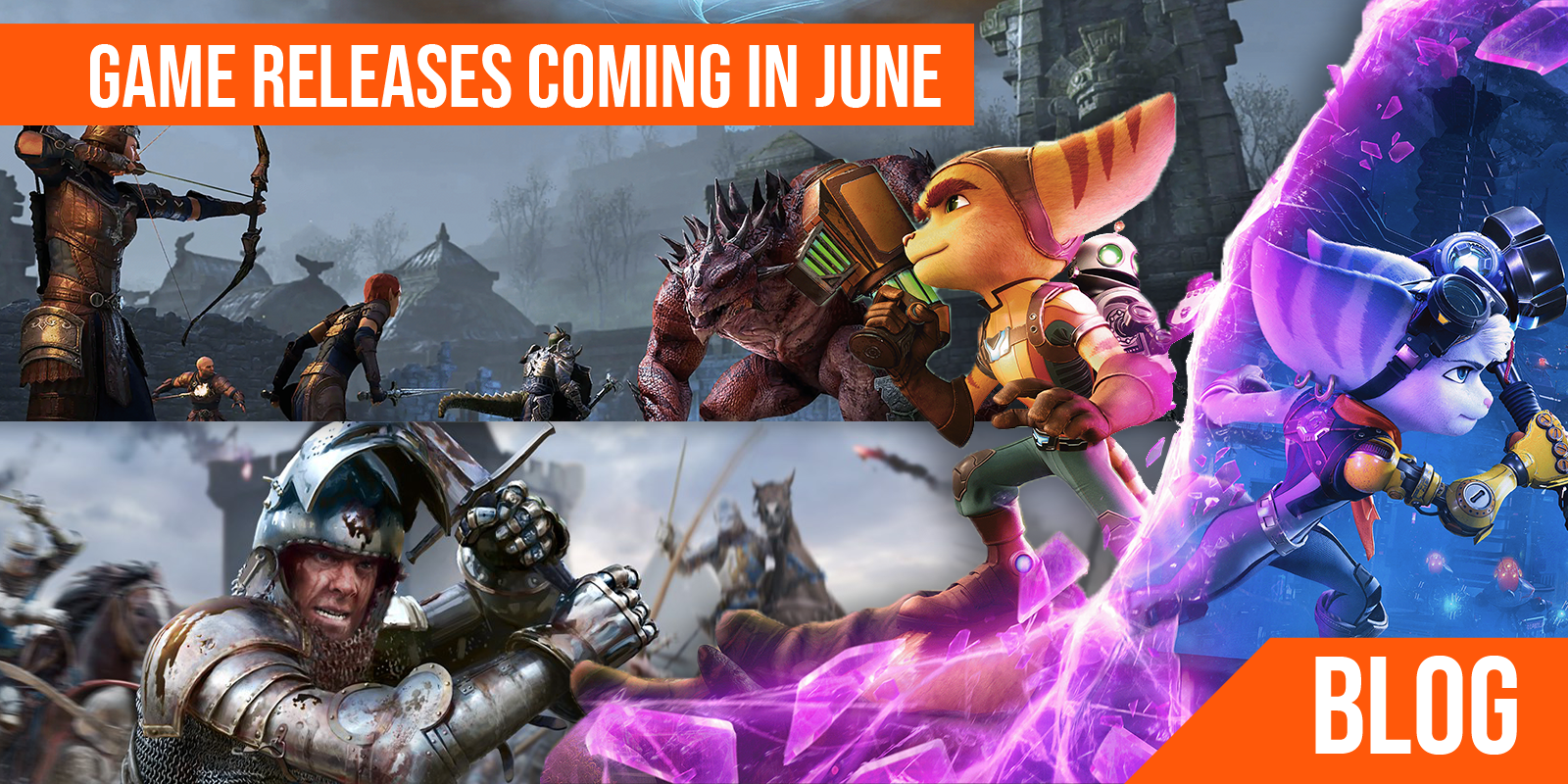 Check out upcoming June Game Releases!
---
The Elder Scrolls Online: Blackwood
Release date: 1st June 2021
Platform(s): PC, PS4, Xbox One
"UNCOVER A DAEDRIC PLOT"
Uncover the schemes of the Daedric Prince Mehrunes Dagon 800 years before the events of The Elder Scrolls IV in Gates of Oblivion, a new year-long adventure for The Elder Scrolls Online. In the upcoming Blackwood Chapter, you can continue the saga that begins with the Flames of Ambition DLC and investigate a conspiracy where all paths lead to the Deadlands.
---
Chivalry 2
Release date: 8th June 2021
Platform(s): PS4, PC, Xbox One, PS5, Xbox Series X
"RETURN TO THE ULTIMATE MEDIEVAL BATTLEFIELD"
Chivalry 2 is a multiplayer first person slasher inspired by epic medieval movie battles. Players are thrust into the action of every iconic moment of the era - from the thunder of cavalry charges, to storms of flaming arrows, sprawling castle sieges and more.
---
Ratchet and Clank: Rift Apart
Release date: 11th June 2021
Platform(s): PS5
"Blast your way through an interdimensional adventure with Ratchet and Clank"
Go dimension-hopping with Ratchet and Clank as they take on an evil emperor from another reality. Jump between action-packed worlds and beyond at mind-blowing speeds – complete with dazzling visuals and an insane arsenal – as the intergalactic adventurers blast onto the PS5™ console.
---
Dungeons and Dragons: Dark Alliance
Release date: 22nd June 2021
Platform(s): PC, PS4, PS5, Xbox One, Xbox Series X
"Your Party. Their Funeral."
Band together with friends, near or far, and fight against vicious monsters in the new co-op action RPG from Dungeons & Dragons.
---
Mario Golf: Super Rush
Release date: 25th June 2021
Platform(s): Switch
"Tee off with family and friends in the biggest Mario Golf game yet
Hit the green with up to four players locally or online and golf with familiar Mushroom Kingdom characters. Modes range from Standard Golf to the energetic Speed Golf and an RPG-like golf adventure in story mode. Intuitive motion or button controls, a shot gauge that adapts to the curve of the course, and other new features make it easy for both new players and seasoned pros to drive and putt with power.
---
Other game releases in June:
The Elder Scrolls Online: Blackwood (PC) - 1st June 2021
Necromunda: Hired Gun (Xbox One) - 1st June 2021
Wing of Darkness (PC, PS4) - 3rd June 2021
Sniper: Ghost Warrior Contracts 2 (PC, PS4) - 4th June 2021
DC Super Hero Girls: Teen Power (Switch) - 4th June 2021
Chivalry 2 (Xbox Series X) - 8th June 2021
Neptunia ReVerse (PS5) - 8th June 2021
Ninja Gaiden: Master Collection (PS4, PC) - 10th June 2021
Final Fantasy VII Remake (PS5) - 10th June 2021
Ratchet and Clank: Rift Apart (PS5) - 11th June 2021
Guilty Gear: Strive (PS4, PC) - 11th June 2021
Curved Space (PS5, Xbox One) - 18th June 2021
Hitman 3 (Switch) - 20th June 2021
Back 4 Blood (PS5) - 22nd June 2021
Dungeons and Dragons: Dark Alliance (PS4, PC) - 22nd June 2021
Legends of Mana Remastered (PS4, Switch) - 24th June 2021
Roguebook (PC) - 24th June 2021
Mario Gold: Super Rush (Switch) - 25th June 2021
Ever Forward (Xbox One, PS4) - 29th June 2021
Disgaea 6: Defiance of Destiny (Switch) - 29th June 2021
Imp of the Sun (PC) - 30th June 2021
Solar Ash (PS5, PC) - June 2021
RICO London (PS5, PS4) - June 2021
---
Top 3 Build Picks for June: