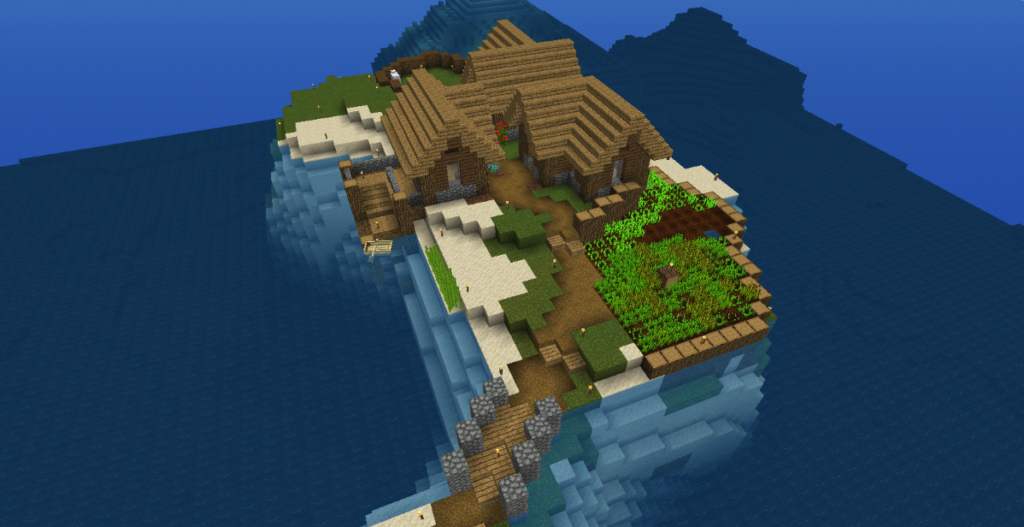 If you always love the thought of staying at some isolated island when playing Minecraft, you have come to the right place. We have all the dope and best Minecraft island seeds that will help you make your dreams come true.
By using these seeds, you will have a rich collection of islands where you can build your villa or village home.
Large Island
This is a Java-based seed. It happens to be one of the best seeds you can come across. You enter the game on a huge island that has mountainous features and a lush green forest with excellent white beaches on the forefront where you can set up your home.
If you want to cross the waters, the shipwreck in an iceberg at the same location will help you get to the other side with ease. But you have to find the ship first.
Village Island
If you have something more traditional in mind, this island seed will come in handy. You spawn on an island with a village attached to it. If you want, you can set up a settlement to match your new neighbourhood.
If you would like to go ancient, there's a cave in the middle of the island that you can explore. You also have an alternative to head out into the thick forest nearby that has another large village. This Island seed is also Java-Based.
Three Ruin Island
The Three Ruin Island seed is a little different. You don't spawn on the Island ruins but near an ocean biome with an island on it. The ruined islands are just nearby.
With this seed, you not only get to spawn on an island but, each of the islands has a chest, which means you get some easy loot that will come in handy in helping you start building. Around you, you will find other islands and also a landmass that has a ravine with a mineshaft and a couple of villages.
This seed is Bedrock-based!
Another Village Island Seed
Want to start on an island with a village? You have just found the right seed for you, especially if you're using Bedrock. Unfortunately, you won't start on seed island. You have to find it.
The village island has a dungeon spawner, which is quite deep, so you will want to build yourself before exploring the dungeon.
Tom Hanks
This seed is based on the movie Cast Away, where movie star Tom Hanks is stranded on an island. On the island where you start, you will find ocean monuments and shipwrecks. You spawn on a different island and work your way to the intended island. Where you can start building.
Massive Island
This seed works for Java. When you use the seed, you spawn on a mega island that is better described as a small continent. It has a massive coral reef, shipwrecks and you will be spoilt for resources if you go on survival mode.
Pillager Outpost Island
Not every island seeds materialise into a big and extensive island. This one has a bit of a twist. Instead of spawning on a big island, the island is actually small, with a pillager outpost on it. It's not what most gamers are looking for, but it's a great addition nonetheless if you would consider it. This seed is also for Java.
Who Left This Ship Here?
You don't have to worry about foraging for the coordinates to the island from the spawn point. In this game, you spawn right on the intended island. The said island is small with a village and a shipwreck inside it.
Vast Plains and a Large Roofed Forest Island
There are many benefits to starting on this island. The forest provides you with numerous resources that you can use to build, and the vast plains are perfect for building your city or castle. This Minecraft Island seed works on Minecraft Java edition 1.14 or greater.
Huge Island
There's a massive Island and a huge island seed. Each of them is different. This doesn't have as many villages but, there's plenty of lands to build, and it has a more mountainous terrain. There's also a mineshaft and a swamp biome you can explore.
Why not view our range of Gaming PCs
Conclusion
Before trying out any Minecraft Island seed, check to make sure it's designed for your operating system and the version of Minecraft. In the list, we've mixed them up a little bit to cover most players and provide everyone with a solution.