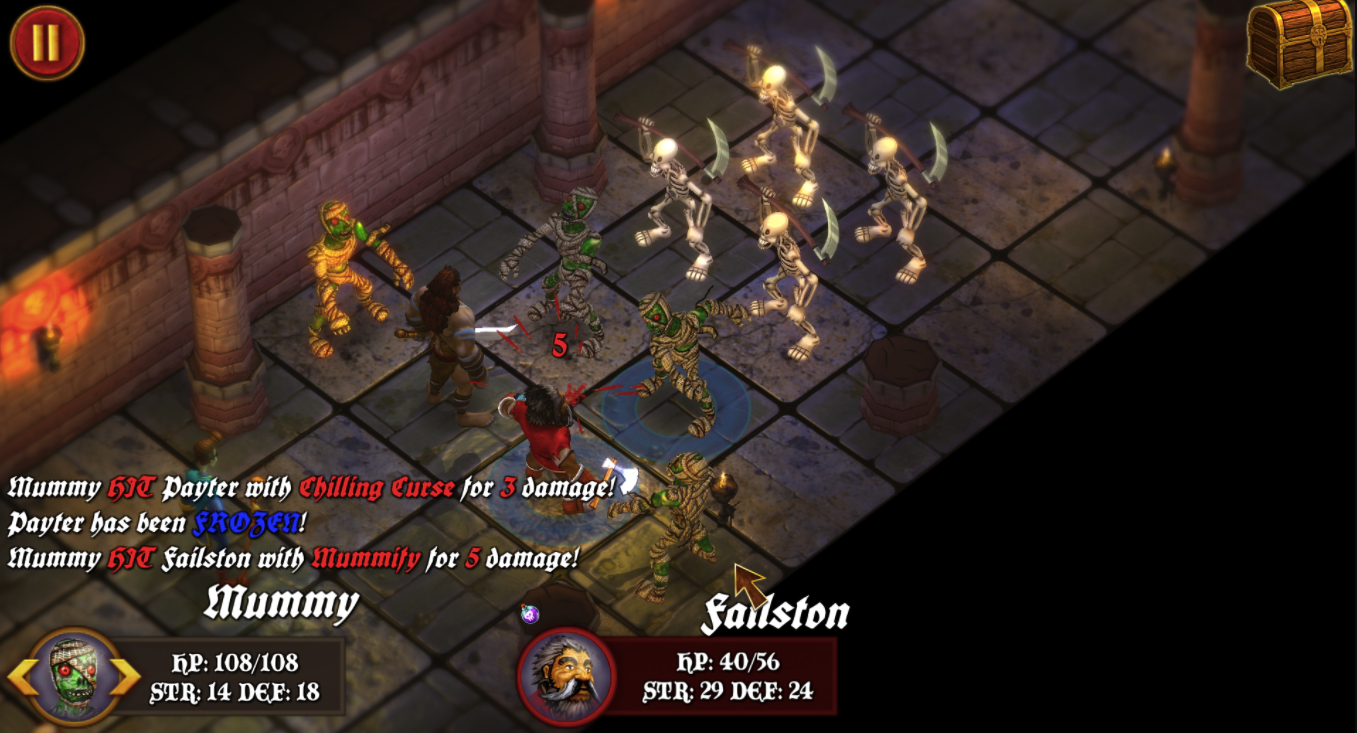 The dungeon crawler genre allows you to bring your dream of becoming a sword-wielding treasure hunter in the dark, spider-filled, and spooky dungeons. You can choose from multiple games for your dose of claustrophobic dungeons filled with all types of monsters.
If you're chasing the thrill created by the dungeon crawler games with the intricately designed levels, quests and immersive storylines, here are some of the dungeon crawler games that are a must-play.
Diablo II
The original release of Diablo detailed the horrifying adventures that await as soon as you enter a dungeon. The game had gruesome monsters lurking in the dark, and the atmosphere was gloomy with no sign of hope.
Diablo II has a lighter and more animated approach to the game. But it is still a significant upgrade from the original. In the new release, you get to fight through swarms of demons through the five classes.
Diablo II also offers a smoother and broader experience and doesn't feel as dated as its predecessor. You can try out the new multiplayer mode with the new game, which is a perfect addition to the sequel.
Baldur's Gate II: Shadows of AMN
A product of Bioware, Baldur's Gate II: Shadow of AMN is a testament to the quality that this game developer has become known for.
With the second release, you can import characters from the previous game saving all the progress you made in the previous sequel.
Shadows of AMN offer more features and a faster-paced but more fluid game littered with combat that appeals to a larger audience. There's no shortage of monsters to slay, and the storyline offers a more immersive experience. For players looking for more than the spookiness and the edginess of not knowing what could pop around the corner, this is the perfect game for you.
Children of Morta
Children of Morta is a unique dungeon crawling game that is story-centric that details the adventures of a heroic family (The Bergson family) as they take on an evil power called The Corruption. The family has unique abilities and specialities that include magic, martial arts, incredible strength and archery.
In the game, the player has the option of investing in one member of the family or distributing their resources evenly among all the members of the Bergson clan. Children of Morta boasts eye-catching graphics that drive home that enhance the fast-paced, hack n' slash combat approach of the game.
You can play the game on PS4, Xbox One, Switch and PC. On each platform, you get to enjoy the full features of the game and a chance to delve deep into the dungeons as you battle the powers within.
Wally and the Fantastic Predators
Wally and the Fantastic Predators is a high-speed profile game available only on PC. The game is a blend of Legend of Zelda and the Sonic Hedgehog. Unlike most dungeon crawling games with mean-looking protagonists, this one has an adorable sword-wielding fox called Wally.
With your new fuzzy friend, you explore the randomly generated dungeons with new rules for each level in the game.
On one floor, it might be impossible to see around corners, giving your enemies the element of surprise. In contrast, on another floor, you have giant boulders continually coming down on you. This same approach of changing gaming rules extends to the game's weapons and upgrade system.
While you explore the dungeon, you can unlock various abilities that can change the game. The most exciting of them is an upgrade that gives you the stamina to fire projectiles.
Wally and the Fantastic Predators is an excellent choice for gamers that are not buying into the gloomy and horrific layout of dungeon games. It's a little whimsical but very entertaining and engaging to play.
Pillars of Eternity 2
You can take your hunger for the dungeon experience full circle with this fantastic dungeon crawling game from Obsidian Entertainment.
It not only has demons but gods as well, which makes for excellent supernatural fights. The storyline features Eothas, the god of light and rebirth who awakens under the watcher stronghold. The violent god rampages across the world of Eora, which faces an imminent threat of rain.
Your job is to assume the role of the water from Pillars of Eternity and try to put an end to the tyranny and rage of Eotha's reign.
You're not alone in your journey. You're accompanied by powerful spells, and you get to choose the companions you want to take on the journey and build relationships that shape the game as you play.
Pillars of Eternity II is an upgrade from its upgrade. A worthy consideration as well. But if you're looking for enhanced graphics, deeper mechanics and more intricate storylines that will keep you coming back again, then Pillars of Eternity II is a more practical choice.
Torchlight II
Torchlight II is a PS4, Xbox One, PC and Switch-based dungeon crawling game that also happens to be an award-winning action RPG. It is set in a fantasy world where players get to choose one of four character classes: Embermage, Outlander, Berserker, and Engineer.
Using your selected character class, you explore the procedurally-generated dungeons. Your goal is to track down the Alchemist who has gone mad and is reigning havoc on the town.
It's not your everyday dungeon game considering there are no demons and monsters in this one. But it does have a 4-player online co-op with replayability and a robust character customisation tool that gives you access to a wide selection of skills and tools. Using these, you can craft builds suitable to different playing styles.
Darkest Dungeon
Darkest Dungeon is for players who value Lovecraftian horror as much as dungeon crawling. This turn-based RPG game has done a phenomenal job in blending the two genres and providing players with the best of both worlds.
Players are tasked with recruiting and training a team of heroes. Together, they roam the dreaded environment of the game filled with mental and physical dangers. The game has created a disturbing world featuring hand-drawn visuals of gothic crow quills, and if that isn't horrifying enough, then the supernatural twists will get it done for you.
There are over 16 character classes in the game. Each of them comes equipped with unique flaws and skills, allowing the player to make customised combinations that can have consequential damage to either the player or the enemies. For that dose of action, there are challenging turn-based battles that have become more intense with the addition of features like the affliction system and permadeath. These new additions assess characters with mental debuffs like masochism, fear, paranoia and irrationality.
The Binding of Isaac
Binding of Isaac is an out of the box dungeon crawler game that is the creation of non-other than Edmund McMillen. The game has a unique play mode that features a juvenile titular character who battles through nightmarish experiences as he explores the dungeons tucked beneath his basement.
It's not every day you get to play a game based on the bible. But this one is. The story is inspired by the occurrences in Genesis 22 of the Hebrew Bible. It details the story of Isaac when his mother is persuaded to kill her son by a mysterious voice from above.
In the game, Isaac doesn't like the outcome and decides to try living with the horrifying monsters that live beneath his basement.
The game has procedurally generated levels. Each full of horrifying creatures hell-bent on eating the small hero. But Isaac has a powerful defence mechanism – his tears.
Experience this dungeon crawler game like never before. It is a twin-stick shooter fast-paced game filled with fun, useful upgrades and some detrimental buffs. There are 13 endings to earn, giving every player a reason to come back and give the game another try.
Enter the Gungeon
The Gungeon is a procedurally generated labyrinth filled with dark and fierce forces. In the game, you control one of the four protagonists and together, you explore the hellish underground filled with environmental hazards as you search for the valuable loot.
As you progress, the game rewards you for your achievements by ramping up the difficulty level and placing more traps and enemies along the way.
Each of the game's characters has a unique modifier to spice things up. Some of these include the ability to pick chest locks, extended dodge and reduced reload time. You also have an arsenal of bizarre weaponry at your disposal to face the dark forces like handguns that have bouncing bullets, target seeking beehives and cactus powered rifles. You can choose your preferred method of making your enemies pay!
Final Thoughts
There's a wealth of dungeon crawler games out there. Not all of them are worth your time and effort. In this list, we've picked the ones that have created a buzz and offer a unique experience. Whether you're looking for something that will keep you at the edge of your seat waiting to see what pops from the next corner or an action-packed game filled with blood spatter as you fight other-worldly creatures, this list of the best dungeon crawler games offers a bit of everything.