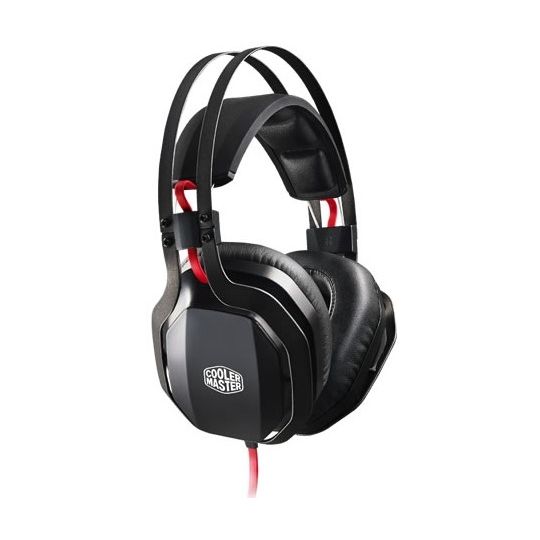 Cooler Master MasterPulse MH530 Gaming Headset
Cooler Master MasterPulse MH530 Gaming Headset
Product Overview
MASTERPULSE OVER-EAR HEADSET WITH FOCUS FX
The MasterPulse Over-ear headset conveniently delivers high-quality sound in two distinct modes. It's a headset that allows you to tailor your own listening experience. Whether you're gaming, traveling, or gaming while traveling, this is the headset for you.

What is Focus FX
Imagine Focus FX as being an easy to use voice changer for your ears. When the panels are removed, sound opens up and the quality of lower frequencies is significantly enhanced. This can be seen, or heard, by the noticeably enriched bass tones. When the panels are on, the MasterPulse will provide you with clear and balanced sound at normal bass levels.

Focus FX Off
PLAYING GAMES
Enhance the explosions, growls and other low frequency effects.
Feel the impact of missiles destroying your shields or your character's heart beating as you sneak around a zombie infested mansion.

MUSIC
Immerse yourself in a whirlpool of bass and never miss a beat.

- Focus FX On
PLAYING GAMES
Enjoy the natural sound of voices, effects in open spaces and clearer spatial orientation.
Distinguish where the footsteps of your enemies are coming from faster so you can shoot first.
Side panels also increase isolation, reducing the sound heard by those around you.

MUSIC
Listening to music and don't want certain instruments drowned out? Put the side panels on for a crisp, clean symphony of notes.

Extreme Comfort
A lightweight aluminum frame equipped with a flexible headband provides comfort for even the longest listening sessions.Five individual cushions provide a better fit and feel for your head.Extra padded ear cups provide a higher level of comfort while blocking unwanted external noise. Cups can also be removed.

Not Just Headphones
Don't leave MasterPulse at home. You can use it with mobile devices too through its 3.5mm gold-plated headphone jack.

IN-LINE REMOTE CONTROL BOX.
A conveniently placed controller allows you to change the volume or turn on/off the mic with little effort.

HIDDEN MICROPHONE
The MasterPulse comes complete with a hidden microphone and analog four pole plug that fits most mobile devices. An adaptor is also included for PC use.

TANGLE FREE CABLE
Allows you to move about freely without headaches.