Don't have an account?
Creating an account has many benefits: check out faster, keep more than one address, track orders and more.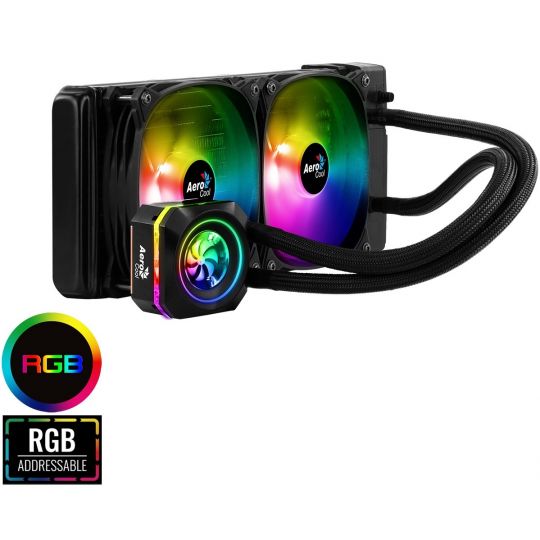 * Clearance * Aerocool Pulse L240F ARGB 240mm AIO Liquid Cooler
* Clearance * Aerocool Pulse L240F ARGB 240mm AIO Liquid Cooler
One of the most affordable liquid coling solutions on the market, with looks to boot. Eight unique RGB lighting modes can be adjusted using a convenient LED control switch. Built-in Addressable RGB compatibility allows you to connect directly to Addressable RGB motherboards as well as your Addressable RGB fans. Equipped with two-performance Addressable RGB Fans. The Pulse is built to meet the highest engineering standards, ensuring your system will stay cool even under the most demanding conditions.
Key Features


Halo RGB LED Lighting - Featuring a stylish Halo LED design and 8 unique RGB lighting modes that can be adjusted using a convenient LED control button, this liquid cooler breathes life into your PC build while delivering high-performance liquid cooling.
Equipped With Two Addressable RGB Fans - Comes equipped with two 12cm Addressable RGB fans that can be controlled using Addressable RGB motherboard or LED control button.
Addressable RGB Compatible - Stylise and personalise your lighting experience with 16.8 million colours. This liquid cooler is fully compatible with Addressable RGB motherboards (Asus Aura Sync, MSI Mystic Light Sync, Gigabyte RGB Fusion and ASRock RGB Sync).
Cables and Connectors - The Pulse comes with three connectors for maximum compatibility. Set up your liquid cooler using any one of the following methods. Addressable RGB Motherboard Connector For access to your Addressable RGB motherboard's RGB functions. SATA Power Connector with Addressable +5V RGB Fan Connector For access to the Pulse's built-in LED lighting effects and an additional Addressable RGB fan or other 3rd party Addressable RGB products. SATA Power Connector For access to the Pulse's built-in LED lighting effects.
Micro Channel Design Water Block - Water block is built with pure copper for a superior heat conductivity. The block's micro channel design allows for faster heat dissipation, keeping your CPU at the ideal temperature under standard and overclocking performance scenarios.
Pump Coupled With Radiator - The pump is placed together with the radiator instead of the water block to reduce vibrations to the CPU. This lessens stress on the CPU, helping to extend its lifetime.
Low-Density Fins Per Inch Radiator - Low-density fins per inch radiator (LFPI) allows for air generated by the fans to pass through nearly unobstructed while providing just the right heat dissipation surface needed for the system. This achieves a perfect balance between cooling performance and noise reduction.
Motor - The motor of this liquid cooler is built with a balanced impeller and high-quality bearings that allow for near-silent performance. Comes with a built-in, cosmetic fan that spins when the motor is turned on.
Tubes - This liquid cooler is built with the highest quality tubing and fittings made of soft and durable material. Teflon coating on the tubing allows for ultra-low water loss, helping to extend the product lifetime.
Flower-Shaped Fan Design - Unique Flower-Shaped fan design increases air pressure and reduces air resistance for superior cooling performance.
High-Efficiency Cooling - High-performance silent fan designed to maximise cooling efficiency while minimising noise.
Anti-Vibration Pads - Anti-Vibration pads absorb and dampen vibrations caused by fan rotation.