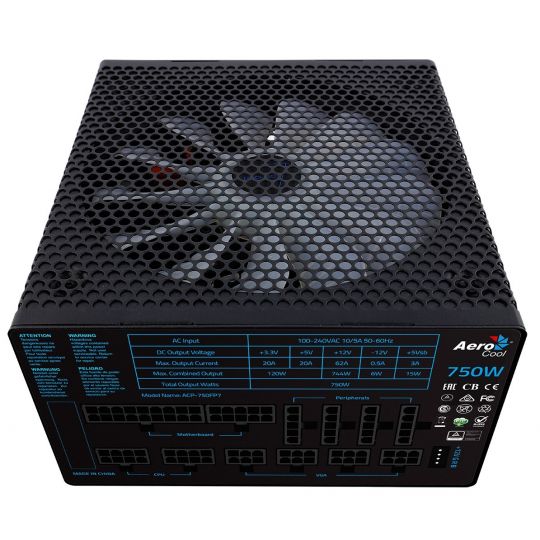 * Clearance * Aerocool Project 7 P750 RGB Full Modular 750W Platinum Power Supply
* Clearance * Aerocool Project 7 P750 RGB Full Modular 750W Platinum Power Supply
Product Overview
Certified and recognized by Cybenetics to have almost zero noise output (LAMBDA -A+) and an efficient rating of ETA-B, in addition to the 80 PLUS Platinum certification, the P7-750W has a stamp of approval that breaks new ground for Aerocool's PSUs.
Designed to work efficiently even at 50°C ambient temperature with high-quality Japanese capacitors, this PSU has an RGB fan that can be controlled through RGB compatible motherboards such as Asus, MSI or Gigabyte and/or the P7-Hub (P7-H1).
The RGB fan only spins up on 60% load thereby ensuring that, as long as your system is running below load, the fans remain still. The fan spins at less than 500 RPM before 80% load. The fully modular and soft black flat cables make cable management a cinch and deliver an easier installation experience.
Certified to provide protection including OVP (Over Voltage Protection), UVP (Under Voltage Protection), OCP (Over Current Protection) and OPP (Over Power Protection).

Key Features


80 Plus Platinum certified for highest efficiency: Under typical load, efficiency is at 92% when 115VAC and efficiency is around 94% when 230VAC.
Designed to work efficiently even at 50°C ambient temperature.
High-quality Japanese capacitors provide uncompromised performance and reliability.
RGB fan on PSU can be controlled through P7-Hub (P7-H1) and motherboard including "Asus Aura", "Gigabyte RGB Fusion" and "MSI Mystic Light Sync".
Super Quiet PSU function as fans only spin up on 60% load and fans spin at less than 500 RPM before 80% load.
Certified to provide protection including OVP (Over Voltage Protection), UVP (Under Voltage Protection), OCP (Over Current Protection) and OPP (Over Power Protection).
The fully modular and soft black flat cables make cable management a cinch and deliver an easier installation experience.
14cm fan provides excellent airflow and the FDB (Fluid Dynamic Bearing) dust proof design protects the bearing and keeps it operating smoothly.
Conforms to ATX12V v2.4 and EPS v2.92 standards and is backward compatible with the ATX12V v2.2 and ATX12V v2.01 standards.
Fully compatible with the latest generation Intel Core series processors starting from the 4th Generation CPU Intel 'Haswell' platform's C6/C7 power saving mode.
Standby power draw less than 0.1W which over-accomplishes the requirements for the latest EU ErP2014 Lot6 and Energy Star 6.0 (<0,25W standby power consumption, >50% standby efficiency).