Don't have an account?
Creating an account has many benefits: check out faster, keep more than one address, track orders and more.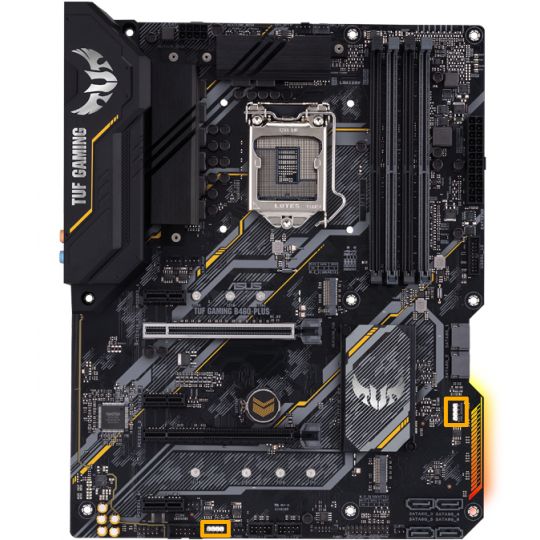 ASUS TUF GAMING B460-PLUS
ASUS TUF GAMING B460-PLUS
DURABLE. STABLE. RELIABLE. TUF Gaming B460-Plus distills essential elements of the latest Intel® platform and combines them with game-ready features and proven durability. Engineered with military-grade components, an upgraded power solution and a comprehensive set of cooling options, this motherboard delivers rock-solid performance with unwavering gaming stability. When you build with a TUF Gaming motherboard, you also benefit from the TUF Gaming Alliance — an ASUS collaboration with trusted industry partners that ensures easier building, best compatibility, and complementary aesthetics from components to case. ROCK-SOLID PERFORMANCE With upgraded power delivery and comprehensive cooling options to fuel the latest Intel® CPUs, plus support for faster memory and storage, TUF Gaming B460-Plus is the perfect foundation for your next high-core-count battle rig. TUF CHOKES Certified military-grade TUF chokes deliver rock-steady power to the CPU, improving system stability. TUF CAPACITORS Proprietary capacitors provide up to 20% greater temperature tolerance and 5X-longer EASY PC DIY TUF Gaming motherboards are designed to be easy to set up and configure just the way you want —even for first-time builders. The TUF Gaming Alliance ecosystem makes selecting compatible parts easy, while Armoury Crate software offers full control of system settings via a single dashboard. TUF Gaming motherboards give you everything you need to build your dream gaming rig without adding complexity. Build with confidence TUF Gaming Alliance is a collaboration between ASUS and trusted PC-component brands to ensure compatibility with a wide range of parts, such as PC cases, power supplies, CPU coolers, memory kits and more. With more partnerships and components being added regularly, the TUF Gaming Alliance will continue to grow even stronger. IMMERSIVE GAMING TUF Gaming B460-Plus provides a complete, high-performance gaming package with a long list of features to improve your experience, including ultrafast networking for smoother online gameplay, pristine audio with positional cues for FPS gaming, and onboard RGB lighting that syncs with attached accessories to help you create a personalized gaming atmosphere. INTEL ETHERNET Intel Ethernet Connection I219-V reduces CPU overhead and offers exceptionally high TCP and UDP throughput for faster, smoother data transfer. Turbo LAN NETWORK-OPTIMIZATION SOFTWARE FOR CUSTOMIZABLE PACKET PRIORITIZATION Turbo LAN with cFosSpeed traffic-shaping technology allows you to configure application priority via an intuitive interface, and reduces network lag.