Break free from the render bar. Realize your creative vision with the world's most powerful desktop processor*.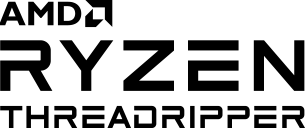 3rd Gen AMD Ryzen™ Threadripper™ The World's Most Powerful Desktop Processor for Creators.*
---
Command Your Creative Time
Turn the clock from dreaded enemy to deadline friendly. For those who create, composite, render, encode, and deliver — we give you Threadripper™. Get unprecedented multitasking power to edit footage, animate characters, and fine tune a design without sacrificing your vision.
---
Now there's a processor powerful enough to stream your game content to your audience, without skipping frames; strong enough to handle your creative vision in three dimensions; and fast enough to compile your code while you play.

---
The Only Platform for the Ultimate PC
Coupled with the new TRX40 desktop platform, 3rd Gen AMD Ryzen™ Threadripper™ processors deliver bleeding-edge efficiency and expandability — including next-gen PCIe® 4.0 connectivity that the competition can't even support yet.
---
Unrivaled Architecture Exclusive to AMD
Editing, creating, intense gaming, modeling, and designing demands a PC that runs cooler, quieter, and faster. With an advanced technological innovation only available from AMD — the 7nm "Zen 2" core — 3rd Gen AMD Ryzen™ Threadripper™ processors are ready to do it all.